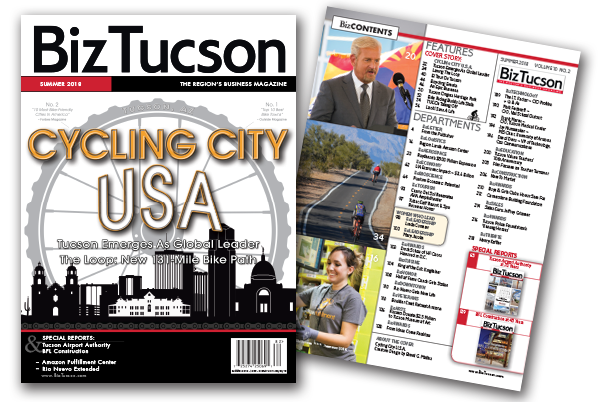 BIZTUCSON SUMMER 2018 ISSUE
From The Publisher –
Tucson has emerged as a world-class city for cycling. With Pima County's recent opening of The Loop, a 131-mile, beautifully paved and landscaped pathway encircling the perimeter of the entire metro area, it's pure paradise for anyone riding a bike – or for that matter running, walking, roller-blading or horseback riding.
Journalist Romi Carrell Wittman provides in-depth coverage of the many aspects of bike riding in our town: the events, the venues, business ventures, nonprofits and future projects. In addition,  you'll learn about the economic impact, tourism and economic development advantages for the community.
The event that started it all 36 years ago was El Tour de Tucson, which now  attracts an average of 9,000 riders each year from all over the world and has raised $90 million for local charities.
Anthony Gimino files a report on what he calls the "Big Bang" theory of cycling. El Tour Founder Richard DeBernardis started a movement with the Perimeter Bicycling Association.
Just before press time, Amazon announced its plans to open a fulfillment center, which will be located at Port of Tucson. The economic development team that included Sun Corridor Inc., Pima County, the City of Tucson and Port of Tucson, should be congratulated as this global powerhouse brings 1,500 new jobs to the region. Jay Gonzales covers this breaking news for our region's transportation and logistics sector.
And there's more exciting news on the economic development front as our region's largest private sector employer, Raytheon Missile Systems, plans a $500 million expansion, growing their campus with new buildings and 2,000 new employees.
There's yet more good news to report as Rio Nuevo was granted a 10-year extension by the Arizona legislature and Gov. Doug Ducey, with the approval of the special taxing district through 2035. In the past decade, much of downtown Tucson's revitalization, commercial construction and business attraction success can be credited to Rio Nuevo.
This issue we celebrate the 70th anniversary of the Tucson Airport Authority, with a special report. A newly released economic impact study reports that TAA has a $7.4 billion annual impact on the region. The report covers the $47 million renovation and construction project at the Tucson International Airport, the first municipal airport in the U.S. It includes new local eateries,  infrastructure, public art displays, a focus on safety and sustainability, plus plans for the future.
Another milestone business success is BFL Construction's 45th anniversary, the focus of a special report on the  company founded by local entrepreneur Garry Brav. The breaking news is that  BFL has been acquired by JV Driver  Group, one of North America's leading  commercial construction companies. The report offers a glimpse into this well-diversified company that continues to grow in a number of areas of construction and now, real estate development.
And finally, prepare to be inspired by Boulder Crest Retreat, a new facility for veterans of war, located in Sonoita. David Pittman provides compelling coverage. According to the American Foundation for Suicide Prevention, 123 Americans, on average, commit suicide every day – and the U.S. Department of Veterans Affairs calculates that roughly 20 of those suicides are committed by military vets.
Pittman writes, "Yet there is a glimmer of hope that those distressing statistics regarding suicide and PTSD among  combat veterans can be reversed. That optimism is not originating from research hospitals, patient clinics or traditional mental health treatment centers – but rather from a pair of innovative nonprofit retreats in the foothills of the Blue Ridge Mountains in Virginia and Arizona's Coronado National Forest 45 miles south of Tucson in Sonoita."
Steven E. Rosenberg
Publisher & Owner
BizTucson