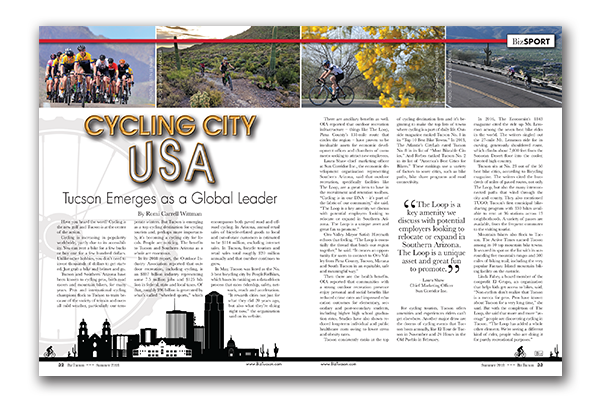 By Romi Carrell Wittman –
Tucson Emerges as a Global Leader
Have you heard the word? Cycling is the new golf and Tucson is at the center of the action. 
Cycling is increasing in popularity worldwide, partly due to its accessibility. You can rent a bike for a few bucks or buy one for a few hundred dollars. Unlike other hobbies, you don't need to invest thousands of dollars to get started. Just grab a bike and helmet and go. 
Tucson and Southern Arizona have been known to cycling pros, both road racers and mountain bikers, for many years. Pros and international cycling champions flock to Tucson to train because of the variety of terrain and overall mild weather, particularly our temperate winters. But Tucson is emerging as a top cycling destination for cycling tourists and, perhaps more importantly, it's becoming a cycling city for locals. People are noticing. The benefits to Tucson and Southern Arizona as a whole are enormous. 
In its 2018 report, the Outdoor Industry Association reported that outdoor recreation, including cycling, is an $887 billion industry representing some 7.5 million jobs and $125 billion in federal, state and local taxes. Of that, roughly $96 billion is generated by what's called "wheeled sports," which encompasses both paved road and off-road cycling. In Arizona, annual retail sales of bicycle-related goods to local and out-of-state customers is estimated to be $114 million, excluding internet sales. In Tucson, bicycle tourism and retail sales total roughly $20 million annually and that number continues to grow. 
In May, Tucson was listed as the No. 5 best bicycling city by PeopleForBikes, which bases its ranking on a data-driven process that rates ridership, safety, network, reach and acceleration. "It rewards cities not just for what they did 20 years ago, but also what they're doing right now," the organization said on its website.
There are ancillary benefits as well. OIA reported that outdoor recreation infrastructure – things like The Loop, Pima County's 131-mile route that circles the region – have proven to be invaluable assets for economic development offices and chambers of commerce seeking to attract new employees. 
Laura Shaw chief marketing officer at Sun Corridor Inc., the economic development organization representing Southern Arizona, said that outdoor recreation, specifically facilities like The Loop, are a great item to have in the recruitment and retention toolbox. "Cycling is in our DNA – it's part of the fabric of our community," she said. "The Loop is a key amenity we discuss with potential employers looking to relocate or expand in Southern Arizona. The Loop is a unique asset and great fun to promote."
Oro Valley Mayor Satish Hiremath echoes that feeling. "The Loop is essentially the thread that binds our region together," he said. "It creates an opportunity for users to connect to Oro Valley from Pima County, Tucson, Marana and South Tucson in an equitable, safe and meaningful way." 
Then there are the health benefits. OIA reported that communities with a strong outdoor recreation presence enjoy personal and social benefits like reduced crime rates and improved education outcomes for elementary, secondary and post-secondary students, including higher high school graduation rates. Studies have also shown reduced long-term individual and public healthcare costs owing to lower stress and obesity rates. 
Tucson consistently ranks at the top of cycling destination lists and it's beginning to make the top lists of towns where cycling is a part of daily life. Outside magazine ranked Tucson No. 1 in its "Top 10 Best Bike Towns." In 2013, The Atlantic's CityLab rated Tucson No. 8 in its list of "Most Bikeable Cities." And Forbes ranked Tucson No. 2 in its list of "America's Best Cities for Bikers." These rankings use a variety of factors to score cities, such as bike paths, bike share programs and road connectivity. 
For cycling tourists, Tucson offers amenities and experiences riders can't get elsewhere. Another major draw are the dozens of cycling events that Tucson hosts annually, like El Tour de Tucson in November and 24 Hours in the Old Pueblo in February. 
In 2016, The Economist's 1843 magazine cited the ride up Mt. Lemmon among the seven best bike rides in the world. The writers singled out the 27-mile Mt. Lemmon ride for its curving, generously shouldered route, which climbs about 7,000 feet from the Sonoran Desert floor into the cooler, forested high country. 
Tucson sits at No. 23 out of the 50 best bike cities, according to Bicycling magazine. The writers cited the hundreds of miles of paved routes, not only The Loop, but also the many interconnected paths that wind through the city and county. They also mentioned TUGO, Tucson's first municipal bike-sharing program with 330 bikes available to rent at 36 stations across 13 neighborhoods. A variety of passes are available, from the frequent commuter to the visiting tourist. 
Mountain bikers also flock to Tucson. The Active Times named Tucson among its 10 top mountain bike towns. It secured its spot on the list with its surrounding five mountain ranges and 300 miles of biking trail, including the very popular Fantasy Island mountain biking facility on the eastside. 
Linda Fahey, a board member of the nonprofit El Grupo, an organization that helps kids get access to bikes, said, "Non-cyclists don't realize that Tucson is a mecca for pros. Pros have known about Tucson for a very long time," she said. But with the completion of The Loop, she said that more and more "average" people are discovering cycling in Tucson. "The Loop has added a whole other element. We're seeing a different kind of rider, people who are doing it for purely recreational purposes."