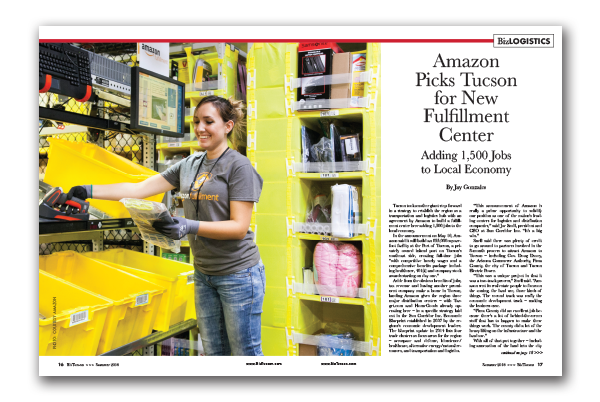 By Jay Gonzales –
Adding 1,500 Jobs to Local Economy
Tucson took another giant step forward in a strategy to establish the region as a transportation and logistics hub with an agreement by Amazon to build a fulfillment center here adding 1,500 jobs to the local economy.
In the announcement on May 16, Amazon said it will build an 855,000-square-foot facility at the Port of Tucson, a privately owned inland port on Tucson's southeast side, creating full-time jobs "with competitive hourly wages and a comprehensive benefits package including healthcare, 401(k) and company stock awards starting on day one."
Aside from the obvious benefits of jobs, tax revenue and having another prominent company make a home in Tucson, landing Amazon gives the region three major distribution centers – with Target.com and HomeGoods already operating here – in a specific strategy laid out in the Sun Corridor Inc. Economic Blueprint established in 2007 by the regions's economic development leaders. The blueprint update in 2014 lists four trade clusters as focus areas for the region – aerospace and defense, bioscience/healthcare, alternative energy/natural resources, and transportation and logistics.
"This announcement of Amazon is really a prime opportunity to solidify our position as one of the nation's leading centers for logistics and distribution companies," said Joe Snell, president and CEO at Sun Corridor Inc. "It's a big win."
Snell said there was plenty of credit to go around to partners involved in the 8-month process to attract Amazon to Tucson – including Gov. Doug Ducey, the Arizona Commerce Authority, Pima County, the city of Tucson and Tucson Electric Power.
"This was a unique project in that it was a two-track process," Snell said. "Amazon sent its real estate people to focus on the zoning, the land use, those kinds of things. The second track was really the economic development track – making the business case.
"Pima County did an excellent job because there's a lot of behind-the-scenes stuff that has to happen to make these things work. The county did a lot of the heavy lifting on the infrastructure and the land use."
With all of that put together – including annexation of the land into the city of Tucson – the region still had to convince Amazon that it has the workforce and the presence as a logistics hub for a facility that large.
"We were able to really make that case, in part because we have seen a number of logistics and distribution companies move to Tucson in the last few years," Snell said. "Part of making the case to Amazon was to not just take our word for it. Others have found success in their logistics and distribution centers, and they agreed with it."
"This announcement of 1,500 new jobs with Amazon, one of the world's largest brand names, is huge for Southern Arizona," said David Hutchens, president and CEO of UNS Energy and Tucson Electric Power, and board chair at Sun Corridor Inc. "The ripple effect of a project of this magnitude will benefit the region for many years down the road."
Ducey said, "Amazon's selection of Tucson for this impressive new facility demonstrates that Southern Arizona has a lot to offer businesses in terms of talent, location, pro-business environment and quality of life. This project will create thousands of new jobs and generate significant capital investment in the region."
Snell said Tucson's location and infrastructure – rail, highways, land – give it an opportunity to "win in transportation and logistics," making that a focus area for the region's economic development. "I think we're showing all the time that this community can win in this," he said.
"We are a convergence center. The nation's busiest port is still the port of Long Beach, California, and they've got tons of goods and services moving eastward. You've got the increasing strength of Mexico as a primary market with goods and services moving south to north. We're in a convergence point between those two and I think that's really important."
"We see more and more international companies recognizing the advantages Tucson has to offer as a logistics hub and gateway to Mexico," said Mayor Jonathan Rothschild.
The Tucson fulfillment center will be the fifth for Arizona. In a news release, Amazon said it currently has 7,000 full-time employees in the state at the fulfillment centers and other facilities.
"Since we first broke ground in Arizona over 10 years ago, we have found a network of support from community leaders to statewide officials, a dedicated workforce and fantastic customers," Mark Stewart, VP of Amazon's North America Operations, said in the news release. "We're excited to open a new, state-of-the-art fulfillment center in Tucson and to continue innovating in a state committed to providing great opportunities for jobs and customer experience."
The fulfillment center will be used to pick, pack and ship small items to customers – including books, electronics, household items and toys, the company said in its news release.
Amazon said that since 2007, it has invested billions of dollars into its fulfillment center infrastructure and through its compensation to employees in the state. Between 2011 and 2016, Amazon's investments contributed an additional $900 million into Arizona's economy. Using methodology developed by the U.S. Bureau of Economic Analysis, the company estimates its investments in the state have created an additional 18,000 indirect jobs on top of the company's direct hires.
With Target, HomeGoods and now Amazon on Tucson's turf, Snell said economic development leaders will be trying to continue the momentum as a logistics hub that has developed over the last several years.
"Tucson's best days are ahead of us and we've got a pipeline absolutely full of companies, including logistics and distribution companies," Snell said. "Do I think more are coming? Yeah, I do."