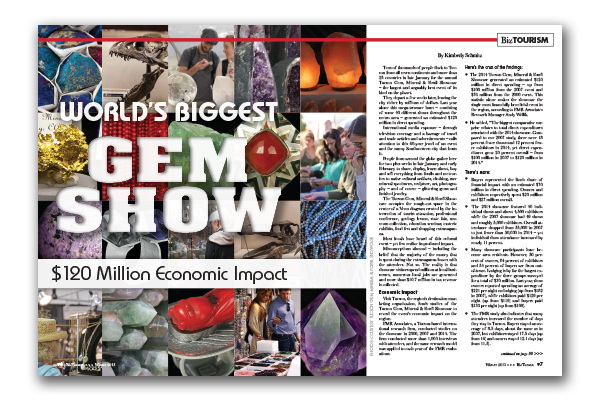 World's Biggest Gem Show – $120 Million Economic Impact
By Kimberly Schmitz –
Tens of thousands of people flock to Tucson from all seven continents and more than 25 countries in late January for the annual Tucson Gem, Mineral & Fossil Showcase – the largest and arguably best event of its kind on the planet.
They depart a few weeks later, leaving the city richer by millions of dollars. Last year alone this mega-treasure hunt – consisting of some 40 different shows throughout the metro area – generated an estimated $120 million in direct spending.
International media exposure – through television coverage and a barrage of travel and trade articles and advertisements – calls attention to this 60-year jewel of an event and the sunny Southwestern city that hosts it.
People from around the globe gather here for two plus weeks in late January and early February to share, display, learn about, buy and sell everything from fossils and meteorites to native cultural artifacts, clothing, rare mineral specimens, sculpture, art, photography – and of course – glittering gems and finished jewelry.
The Tucson Gem, Mineral & Fossil Showcase occupies the rough-cut space in the center of a Venn diagram created by the intersection of tourist attraction, professional conference, geology lesson, state fair, museum collection, education seminar, esoteric exhibits, food fest and shopping extravaganza.
Most locals have heard of this colossal event – yet few realize its profound impact.
Misconceptions abound – including the belief that the majority of the money that is spent during the extravaganza leaves with the attendees. Not so. The reality is that showcase visitors spend millions at local businesses, numerous local jobs are generated and more than $10.7 million in tax revenue is collected.
Economic Impact
Visit Tucson, the region's destination marketing organization, funds studies of the Tucson Gem, Mineral & Fossil Showcase to reveal the event's economic impact on the region.
FMR Associates, a Tucson-based international research firm, conducted studies on the showcase in 2000, 2007 and 2014. The firm conducted more than 1,000 interviews with attendees, and the same research model was applied to each year of the FMR evaluations.
Here's the crux of the findings:
• The 2014 Tucson Gem, Mineral & Fossil Showcase generated an estimated $120 million in direct spending – up from $100 million from the 2007 event and $76 million from the 2000 event. This statistic alone makes the showcase the single most financially beneficial event in the region, according to FMR Associates Research Manager Andy Wellik.
• He added, "The biggest comparative surprise relates to total direct expenditures associated with the 2014 showcase. Compared to our 2007 study, there were 18 percent fewer shows and 12 percent fewer exhibitors in 2014, yet direct expenditures grew 20 percent overall – from $100 million in 2007 to $120 million in 2014."
There's more:
• Buyers represented the lion's share of financial impact with an estimated $70 million in direct spending. Owners and exhibitors respectively spent $23 million and $27 million overall.
• The 2014 showcase featured 40 individual shows and about 4,500 exhibitors while the 2007 showcase had 49 shows and roughly 5,000 exhibitors. Overall attendance dropped from 55,000 in 2007 to just fewer than 50,000 in 2014 – yet individual show attendance increased by nearly 11 percent.
• Many showcase participants have become area residents. However, 50 percent of owners, 84 percent of exhibitors and 54 percent of buyers are from out-of-town. Lodging is by far the largest expenditure by the three groups surveyed for a total of $30 million. Last year, show owners reported spending an average of $221 per night on lodging (up from $182 in 2007), while exhibitors paid $129 per night (up from $119) and buyers paid $133 per night (up from $109).
• The FMR study also indicates that many attendees increased the number of days they stay in Tucson. Buyers stayed an average of 8.5 days, about the same as in 2007, but exhibitors stayed 17.5 days (up from 16) and owners stayed 12.1 days (up from 11.5).
The 140+ page report from the 2014 event study is public record and available at www.visittucson.org/media/research-facts/event-profiles.
Trickle Down
Resorts and hotels aren't the only beneficiaries of the showcase. Attendees also book privately owned bed and breakfasts, rent condos or apartments, and stay with friends or family.
Marion Hook, co-owner of Adobe Rose Inn, said "Over the last 10 years, we've been booked over 90 percent for the month of February. Half of that, of course, is the two weeks of gem show." All six Adobe Rose Inn rooms have been booked during the showcase since she purchased the bed and breakfast in 2003, and she said her B&B compatriots enjoy similar occupancy.
Her guests, like buyers John Connely, a collector and retired lapidary jewelry designer, and Paddie Harris, a gemologist, have been coming to the gem show for more than 20 years. Many book their rooms for the following year before leaving.
Hook said there is definitely a "trickle down" effect of showcase attendee spending – especially in restaurants. "We only serve breakfast. So our guests have to eat out the other two meals of the day."
Showcase attendees also report spending significant money on transportation, equipment rental, entertainment, sight-seeing, food and beverage. This means that gas stations, restaurants, grocery stores, boutiques, malls, attractions – and the people permanently and temporarily employed by these businesses – see the benefit of this spending.
Maurice Destouet, VP and GM of Pueblo Gem & Mineral Show and River Park Inn said, "We hire a huge number of additional staff people (during the showcase). In previous years I hired neighbors and friends who were unemployed at the time. It was nice to see the impact of the event in a direct manner and to see these people participate in the growth of the economy."
Claudette Myers, owner of Desert Bloom Boutique downtown, said she plans for customers who tend to return to her shop year after year during the showcase. "I buy everything months ahead of time, keeping in mind these customers who come back every year." Her sales stay fairly even throughout the year, but she feels that her showcase clientele – mostly buyers and gallery owners – "do create a bump in business for me."
In some cases, the shows contribute more directly to the community. The Tucson Gem & Mineral Show is the pioneer of the showcase. It began as a bit of a tailgate rock-hound swap meet in an elementary school parking lot in 1955. Today it is one of the two "main events" presented at the Tucson Convention Center.
Chair Paul Harter said, "TGMS is a local show. It is promoted and put on by residents of Tucson and surrounding communities. All of the money from this show stays in Tucson and Southern Arizona. Throughout the year, the money supports local mineral museums, education programs and scholarships for geology-related programs of study."
After digesting all this, if the question of how the Tucson Gem, Mineral & Fossil Showcase positively impacts the region still lingers – think taxes. In 2014 the showcase injected $10.7 million in sales, bed and rental car taxes into the community in just 2½ weeks. These taxes support Tucson and Pima County infrastructure – including, but not limited to, road maintenance, police, fire personnel and administration.
Great Experience, Greater Returns
Significant numbers of showcase attendees report extending their stays for personal travel in Tucson and throughout the state. Many also report returning to Tucson on non-business-related trips at other times of the year or have future plans to do so. These findings illustrate that the showcase provides benefits beyond Tucson and Pima County, and that the city provides experiences to business travelers that are so positive, they choose to return for leisure travel.
The tourism industry likes to call these travelers "brand ambassadors" who share the ever-powerful word-of-mouth referrals to their favorite travel destinations.
B&B owner Hook recalled that a long-time guest "referred the Poet Laureate of Louisiana to stay with us."
What brings showcase attendees back?
Some say our weather. Others point to the scenery or the myriad available activities. All agree that it's the Tucson experience. TGMS Chair Harter said, "The city of Tucson is a gracious host. People are friendly, outgoing and welcoming. I think it's one of the main reasons why people come to visit."
Another appeal is convenience. Tucson is an easily navigable city, made more so the past seven years by Gem Ride – a free shuttle that stops at a significant number of shows.
The icing on the experiential cake for the 2015 showcase, many believe, will be the addition of Sun Link, Tucson's modern streetcar.
Before it began running, "I don't think people quite understood the benefit of the modern streetcar to downtown," said River Park Inn's Destouet. "It's exciting to see it operating and doing well. It will have the same effect on the gem show – especially for the Golden Triangle of the downtown shows."
Visit Tucson President & CEO Brent DeRaad said, "Gem show visitors will look at downtown through a different lens now that the modern streetcar is running. Over the years, they have witnessed the transformation of our urban core – through the terrific new bars, restaurants and other businesses that have opened in anticipation. The better we translate that experience during the Tucson Gem, Mineral & Fossil Showcase and the rest of the year, the more visitors we will attract and the more revenue will be generated."
Stepping It Up
Every few years the rumor surfaces that the Tucson Gem, Mineral & Fossil Showcase will be leaving Tucson. Not likely. Those in the know say the showcase is here to stay for the ever-lengthening foreseeable future. In fact, all indications are that the showcase is set to continue to grow – if not in size, certainly in prestige and permanency.
The number of individual gem shows fluctuates from year to year. There have been as many as 48 shows in nearly as many locations in the past. At press time, there were 39 shows on the books for 2015.
The Tucson Gem, Mineral & Fossil Showcase is the apex of the gem show circuit. There is no other that compares in size, attendance, prestige and vibe. Continued investment in infrastructure and experiential improvement only further solidify this sentiment.
In 2014, Tucson developer Allan Norville announced plans to build a 140-room hotel, apartment complex and a center to house three museums – including a gem and mineral museum – on eight acres behind the Tucson Convention Center. He also plans to break ground in March 2015 on a permanent 120,000-square-foot exhibition hall and likely host a gem show on adjacent property he already owns.
In 2016, Eons Expo, owners of the 22nd Street Mineral & Fossil Show, plan to break ground on a 150,000-square-foot, three-story co-op near the show's tent site. They plan to offer 86 "business condos" for sale and use remaining space as a high-end gem show annex and year-round exhibition space. Eons operates other large and successful gem shows in Denver and New Jersey. They strategically selected Tucson as the ideal location to launch this avant-garde concept.
These projects are brilliant harbingers of the Tucson Gem, Mineral & Fossil Showcase's ongoing focal point in the global gem and mineral industry.