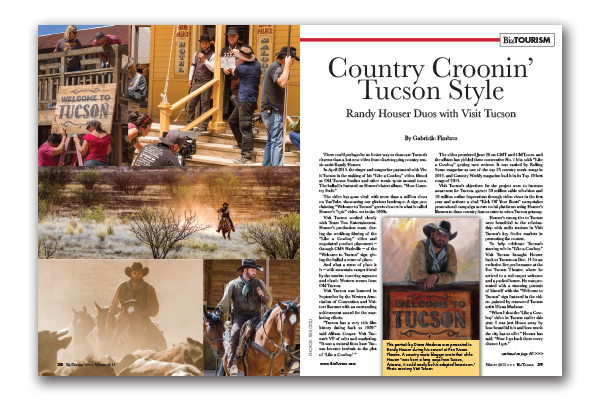 Country Croonin' Tucson Style – Randy Houser Duos with Visit Tucson
By Gabrielle Fimbres –
There could perhaps be no better way to showcase Tucson's charms than a hot new video from chart-topping country music artist Randy Houser.
In April 2014, the singer and songwriter partnered with Visit Tucson in the making of his "Like a Cowboy" video, filmed at Old Tucson Studios and other scenic spots around town. The ballad is featured on Houser's latest album, "How Country Feels."
The video has gone viral, with more than a million views on YouTube, showcasing our glorious landscape. A sign proclaiming "Welcome to Tucson" greets viewers in what is called Houser's "epic" video, set in the 1800s.
Visit Tucson worked closely with Team Two Entertainment, Houser's production team, during the weeklong filming of the "Like a Cowboy," video and negotiated product placement – through CMS Nashville – of the "Welcome to Tucson" sign, giving the ballad a sense of place.
And what a sense of place it is – with mountain ranges kissed by the sunrise, towering saguaros and classic Western scenes from Old Tucson.
Visit Tucson was honored in September by the Western Association of Convention and Visitors Bureaus with an outstanding achievement award for the marketing efforts.
"Tucson has a very rich film history dating back to 1939," said Allison Cooper, Visit Tucson's VP of sales and marketing. "It was a natural fit to have Tucson become intrinsic to the plot of 'Like a Cowboy.' "
The video premiered June 28 on CMT and CMT.com, and the album has yielded three consecutive No. 1 hits, with "Like a Cowboy" getting rave reviews. It was ranked by Rolling Stone magazine as one of the top 25 country music songs in 2014, and Country Weekly magazine had it in its Top 10 best songs of 2014.
Visit Tucson's objectives for the project were to increase awareness for Tucson, garner 30 million cable television and 10 million online impressions through video views in the first year and activate a viral "Kick Off Your Boots" sweepstakes promotional campaign across social platforms using Houser's likeness to draw country fans to enter to win a Tucson getaway.
Houser's strong ties to Tucson were beneficial to the relationship with radio stations in Visit Tucson's key feeder markets in promoting the contest.
To help celebrate Tucson's starring role in "Like a Cowboy," Visit Tucson brought Houser back to Tucson on Dec. 14 for an exclusive, live performance at the Fox Tucson Theatre, where he arrived to a red-carpet welcome and a packed house. He was presented with a stunning portrait of himself with the "Welcome to Tucson" sign featured in the video, painted by renowned Tucson artist Diana Madaras.
"When I shot the 'Like a Cowboy' video in Tucson earlier this year, I was just blown away by how beautiful it is and how much the city has to offer," Houser has said. "Now I go back there every chance I get."
Cooper said she hopes that Houser's music video will ignite a strong emotional connection with millions of country music fans and inspire them to explore the unique experiences that Tucson offers as a travel destination.
In addition to the filming at Old Tucson, several other local businesses benefited from production. Cook & Company Signmakers produced the video's prominent "Welcome to Tucson" sign, designed by Visit Tucson's marketing department.
The Steven Meckler Photography studio served as the soundstage for vocal track recordings. The cast and crew were treated to a catered lunch from El Güero Canelo, starring the restaurant's popular Sonoran hot dog. And Casino del Sol Resort hosted a VIP meet and greet and private poolside concert for local Houser fans.
"For the 1800s, there's no place like Old Tucson," said the video's producer and co-star William Shockley. "There's history that you just can't find anywhere else."
Hundreds of classic films and TV shows have been made at Old Tucson, including "Tombstone" and the beloved John Wayne flicks "Rio Bravo" and "McLintock!"
The video highlights what movie producers already know – Tucson is a great place to film.
The area is dotted with locations made famous onscreen. The foothills landscape plays as much of a role as David Duchovny in the offbeat coming-of-age film, "Goats." Head north to find locations used in "Three Kings" and south for views found in "The Hangover Part III" or Tim Roth's upcoming borderlands film, "600 Millas."
The university area was the setting of "Revenge of the Nerds," and the '50s noir film, "A Kiss Before Dying" – just to name a few of the films that helped put Tucson on the cinematic map.
Always versatile, Tucson has been portrayed as Tijuana, Texas, Kuwait and even 1970s Saigon. The Tucson Film Office's most requested location – the airplane "boneyard" at Davis-Monthan Air Force Base – was even "relocated" onscreen to Washington D.C., for Michael Bay's second "Transformers" film.