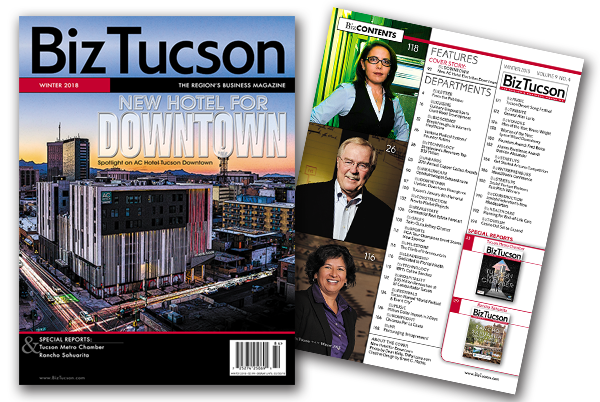 BizTUCSON 2018 Winter Issue
From The Publisher –
As we head into our 10th year at BizTucson magazine, we have chronicled the remarkable resurgence and revitalization of downtown Tucson every step of the way.
In this issue Rhonda Bodfield and Jay Gonzales report on downtown's biggest win to date: "It was a mantra that built for more than 40 years – Tucson needs a downtown hotel. After decades of stops and starts, best laid plans and disappointments, the AC Hotel Tucson Downtown, a Marriott property, opened in September, crossing a finish line that had been in the distance for more than four decades."
Scott Stiteler and Rudy Dabdoub's AC Marriott project "is crucial for downtown," said Brent DeRaad, president and CEO of Visit Tucson. "It took partnerships – among the developers, the City of Tucson and Rio Nuevo – including tax incentives and unique financing, to make it happen. In many ways this property created a blueprint that is allowing new downtown hotel projects to follow."
Developers Stiteler and Dabdoub seem to have put a jolt into the hotel business downtown as two more properties are in the planning stages – another Marriott, this one called the Moxy, which will be right around the corner from the AC Hotel, and a second hotel by Caliber Hospitality, on the grounds of the Tucson Convention Center. In addition, HSL Properties, owners of the Hotel Arizona, have a plan to reopen that hotel by 2019.
Twenty minutes south of downtown, there's a nationally acclaimed master-planned community called Rancho Sahuarita, which is the subject of a special report. More than two decades ago, developer Bob Sharpe had a vision for transforming 3,000 acres into a master-planned community with nearly 6,000 homes, award-winning schools, shopping, lake, walking/running trails, clubhouse, resort, parks, fitness center and safe neighborhoods.
Back then, journalist David Pittman interviewed and walked the land with Sharpe and wrote a story for the Tucson Citizen newspaper. Fast forward to today and file this under "meant to be." Pittman files compelling interviews with Bob Sharpe and his son Jeremy, who, at 29, is now VP of community development for Rancho Sahuarita.
Bob Sharpe is an inspiration. In March 2015 he was diagnosed with glioblastoma, the same brain cancer that afflicts U.S. Sen. John McCain. Sharpe was told he had four to 15 months to live. "This coming March it will be three years since the tumor was removed, which puts me in the 2-percent bracket." He and his wife Deborah formed a foundation that has raised more than $500,000 for brain cancer research.
Another special report is on the nationally acclaimed success of the Tucson Metro Chamber. The Chamber received the prestigious 5-Star Accreditation from the U.S. Chamber of Commerce, which represents the top 1 percent of 7,000+ chambers of commerce across the United States. The special report features the chamber's work to foster a pro-business environment, fight retail theft, expand the local economy, develop emerging leaders, lead advocacy and focus on workforce development, military support and many other initiatives. There's a special focus on retiring President and CEO Mike Varney and his impressive accomplishments over the past seven years.
Romi Carrell Wittman files outstanding profiles of Greater Tucson Leadership's honorees for 2017. The four exceptional leaders are: Bruce Wright, Man of the Year, Lynne Wood Dusenberrry, Woman of the Year, Fred Boice, Founders Award, and a new honor, GTL's Alumni Excellence Award to Damion Alexander. Congratulations to all four of these dedicated community leaders!
This issue of BizTucson offers fascinating insights into a wide variety of business activity in the region. The new year is off to an exciting start.
Steven E. Rosenberg
Publisher & Owner
BizTucson