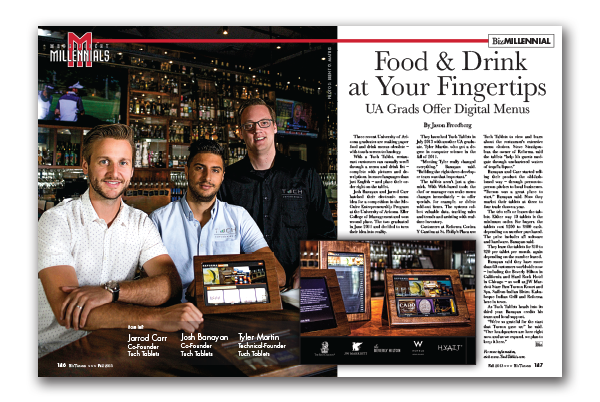 UA Grads Offer Digital Menus
By Jason Freedberg –
Food & Drink at Your Fingertips
UA Grads Offer Digital Menus
Three recent University of Arizona graduates are making paper food and drink menus obsolete – with touch-screen technology.
With a Tuch Tablet, restaurant customers can casually scroll through a menu and drink list – complete with pictures and descriptions, in more languages than just English – and place their order right on the tablet.
Josh Banayan and Jarrod Carr hatched their electronic menu idea for a competition in the McGuire Entrepreneurship Program at the University of Arizona Eller College of Management and won second place. The two graduated in June 2011 and decided to turn their idea into reality.
They launched Tuch Tablets in July 2013 with another UA graduate, Tyler Martin, who got a degree in computer science in the fall of 2011.
"Meeting Tyler really changed everything," Banayan said. "Building the right three-developer team was that important."
The tablets aren't just a gimmick. With Web-based tools, the chef or manager can make menu changes immediately – to offer specials, for example, or delete sold-out items. The systems collect valuable data, tracking sales and trends and assisting with real-time inventory.
Customers at Reforma Cocina Y Cantina at St. Philip's Plaza use Tuch Tablets to view and learn about the restaurant's extensive menu choices. Steve Stratigouleas, the owner of Reforma, said the tablets "help his guests navigate through unchartered waters of tequila liquor."
Banayan and Carr started selling their product the old-fashioned way – through person-to-person pitches to local businesses. "Tucson was a great place to start," Banayan said. Now they market their tablets at three to four trade shows a year.
The trio sells or leases the tablets. Either way 10 tablets is the minimum order. For buyers, the tablets cost $200 to $400 each, depending on number purchased. The price includes all software and hardware, Banayan said.
They lease the tablets for $10 to $20 per tablet per month, again depending on the number leased.
Banayan said they have more than 60 customers worldwide now – including the Beverly Hilton in California and Hard Rock Hotel in Chicago – as well as JW Marriott Starr Pass Tucson Resort and Spa, Saffron Indian Bistro, Kababeque Indian Grill and Reforma here in town.
As Tuch Tablets heads into its third year, Banayan credits his team and local support.
"We're so grateful for the start that Tucson gave us," he said. "Our headquarters are here right now, and as we expand, we plan to keep it here."
For more information,
visit www.TuchTablets.com.