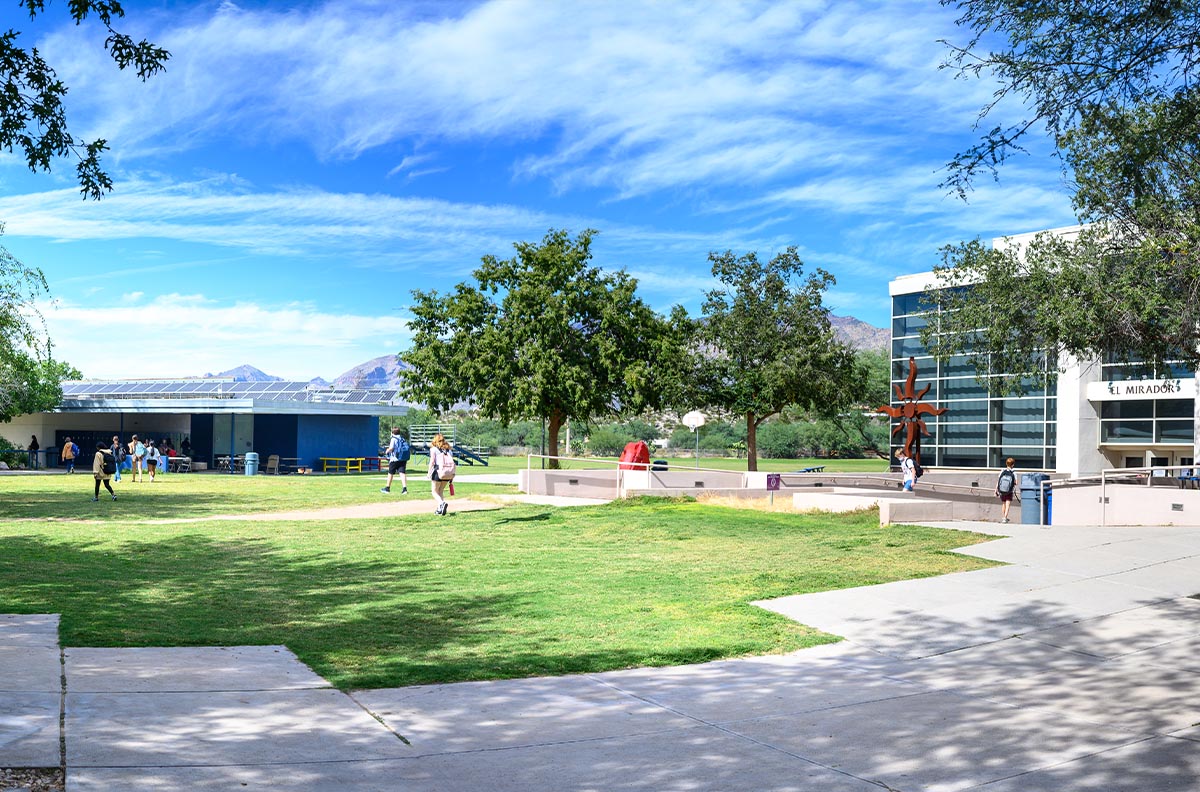 The Gregory School Prepares Future Leaders
Private School has Provided a Robust Curriculum, Talented Faculty Since 1980
By Valerie Vinyard
For more than 40 years, students at The Gregory School have actively experienced their own education − pursuing passions, building relationships with teachers, learning to self-advocate and participating in the community.
The peaceful campus sits on 35 sprawling acres on the banks of the Rillito River at Craycroft Road and has been providing excellent educational opportunities as an independent, private school in Tucson since 1980.
The school was founded by Ruth Elizabeth "Bazy" McCormick Tankersley, a former newspaper publisher and Arabian horse breeder.
Situated where the city meets the foothills, The Gregory School campus has breathtaking views of the Catalina Mountains. There's a farmyard and vegetable garden, a student-created riparian area and countless areas to meet, study, relax and play.
Parents send their fifth- to 12th-graders to The Gregory School because of its challenging curriculum, small class sizes, accomplished and dedicated faculty, strong sense of community, and state-of-the-art facilities. Together, school leaders say, these attributes create exceptional opportunities for student engagement, self-direction and leadership, and allow for flexibility as students initiate and pursue independent studies and build schedules based on ability and interests. Leadership is further engrained as faculty encourage students to accept challenges and explore new interests.
The Gregory School is the only school in Southern Arizona accredited by the Independent Schools Association of the Southwest. It is also a member of the National Association of Independent Schools.
"I love the autonomy you have with an independent school," said Julie Sherrill, who has served as the head of school since 2013. "It enables us to customize and personalize learning for students in a mission-driven setting."
On any day you can find students delivering monologues in the theater, earning college credit in chemistry class, creating in the MIT Network-affiliated Fab Lab, competing on its athletic teams, making music and art, tutoring peers in the writing center, working in the garden and farmyard, and serving the community.
The Gregory School is transforming learning and transforming students' lives, leaders, alumni and parents say. Its alumni lead institutions, start movements, invent technology and run cities. Students graduate with a sense of agency; they believe they can change the world for the better, and it is the school's aim to give them the knowledge, skills, experiences and confidence to do so.
The breadth of The Gregory School's course offerings looks more like a liberal arts college than a middle or high school. Music, drama, dance, fine arts, digital arts, along with science, technology, humanities, engineering and math – they're all there for exploration, from introductory courses to advanced college levels.
"I think the great thing about a liberal arts education is it prepares us so well," said Claudine Messing, an alumna and the current president of the TGS Board of Trustees. "I found the individualized attention, the sense of community, and the teacher-to-student ratio was most compelling."
"The faculty really know the kids. They get your child on a profound level. I think that's why The Gregory School is able to individualize the education for each student."
Graduates can be found in high-level jobs regionally and nationally: a media president in New York; a renowned Tucson oncologist; attorneys and judges; local activists; entrepreneurs, artists, and more.
There are 368 students and 60 faculty at the school. When Sherrill started in 2013, the school was named St. Gregory College Preparatory School. A year later, the name was changed to The Gregory School. The school added a fifth grade to the student body in Sherrill's second year.
"The school is a treasure – and getting national recognition for its excellence," said Jennifer Lee Carrell, VP of The Gregory School's board of trustees. "TGS is thriving as a dynamic and adventurous place and as a school with an emphasis on community and kindness."
"I'm very proud to be a part of the school and to see the school really thriving under Dr. Sherrill," Messing added. "I think Dr. Sherrill is really looking ahead to the next 10 years."
Messing cited increased enrollment and a waiting list as proof of the school's continuing success.
As a student at the school, she said the focus on critical thinking and intellectual curiosity prepared her well for the real world.
"We're thinking of the holistic experience of the child," she said. "We're educating the whole child."
The Gregory School curriculum has students taking six to eight courses over a four-day week. Friday Exploration classes end the school week.
Friday Exploration courses allow students to dig deep into a subject that matters to them, or even get into something completely different that interests them. Teachers can also get more creative by bringing in guest speakers, having extended labs and arranging off-campus excursions and field study.
Friday Explorations are like a regular class day but focused on the subject matter the student chooses.
Messing believes the school is poised for even more success.
"Now that we've taken off the COVID lens, we can look forward to the 50th (anniversary)," Messing said. "I think we are beautifully positioned to thrive and excel."
Messing attended The Gregory School starting in ninth grade. She graduated in 1988, and her son, Drew, graduated in May 2021. Drew is now a Stanford University sophomore majoring in political science. She said they are the first parent and child graduates of The Gregory School. Her daughter, Lily, is a junior there.
Carrell and her husband John Helebolt's15-year-old daughter, Jasmine, is currently in ninth grade at The Gregory School. "When we looked at middle schools, my husband and I wanted a school with smaller classes – and therefore more individual attention."
At first, Jasmine wasn't on board with the idea, Carrell said, mainly because her friends were headed to other schools.
"Then she visited TGS on one of the prospective-student tours," Carrell said. "Afterward, we had not yet even reached the car when she announced that The Gregory School was where she wanted to be. She loved the people she'd met. She loved what she'd heard about classes and activities. She loved the place. And that was that.
"She's come home talking about Shakespeare, civil rights and modern art," Carrell said. "Even better – she's put some of that learning into effect and tried her hand at acting, at participating in a women's rights-oriented club, in making modern art. As a beginner, she was able to try volleyball by being part of the school's team, and has learned how to play and to love both the sport and the competition."
But Carrell, who holds degrees from Stanford, Oxford and Harvard universities, is most impressed with The Gregory School's faculty.
"The teachers are first-rate," Carrell said. "They're some of the best, most dedicated and creative teachers that I've encountered anywhere. I've taught both high school and university classes and have some idea of what it takes to design and deliver interesting courses – and the faculty at The Gregory School is, frankly, superlative, as good or better than faculty I've encountered at elite universities."
Sherrill summed up The Gregory School experience for most students.
"Students receive individualized attention from faculty, and they develop relationships with each other and with faculty that last a lifetime," Sherrill said. "We're confident that our graduates will contribute meaningfully to our community."
READ THE FULL SPECIAL REPORT HERE