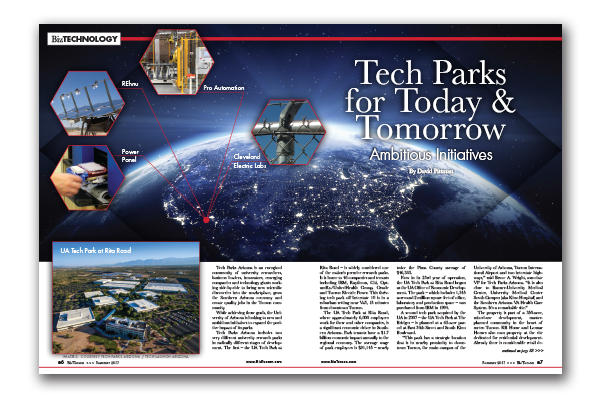 Tech Parks for Today & Tomorrow
By David Pittman – 
Tech Parks Arizona is an energized community of university researchers, business leaders, innovators, emerging companies and technology giants working side-by-side to bring new scientific discoveries into the marketplace, grow the Southern Arizona economy and create quality jobs in the Tucson community.
While achieving those goals, the University of Arizona is looking to new and ambitious initiatives to expand the positive impact of its parks.
Tech Parks Arizona includes two very different university research parks in radically different stages of development. The first – the UA Tech Park at Rita Road – is widely considered one of the nation's premier research parks. It is home to 46 companies and tenants including IBM, Raytheon, Citi, OptumRx/UnitedHealth Group, Oracle and Tucson Electric Power. This thriving tech park off Interstate 10 is in a suburban setting near Vail, 15 minutes from downtown Tucson.
The UA Tech Park at Rita Road, where approximately 6,000 employees work for these and other companies, is a significant economic driver in Southern Arizona. Park tenants have a $1.7 billion economic impact annually to the regional economy. The average wage of park employees is $91,145 – nearly twice the Pima County average of $46,363.
Now in its 23rd year of operation, the UA Tech Park at Rita Road began as the UA Office of Economic Development. The park – which includes 1,345 acres and 2 million square feet of office, laboratory and production space – was purchased from IBM in 1994.
A second tech park acquired by the UA in 2007 – the UA Tech Park at The Bridges – is planned at a 65-acre parcel at East 36th Street and South Kino Boulevard.
"This park has a strategic location that is in nearby proximity to downtown Tucson, the main campus of the University of Arizona, Tucson International Airport and two interstate highways," said Bruce A. Wright, associate VP for Tech Parks Arizona. "It is also close to Banner-University Medical Center, University Medical Center South Campus (aka Kino Hospital) and the Southern Arizona VA Health Care System. It's a remarkable site."
The property is part of a 350-acre, mixed-use development, master-planned community in the heart of metro Tucson. KB Home and Lennar Homes also own property at the site dedicated for residential development. Already there is considerable retail development at The Bridges, including a Costco, Cinemark/Century Theatre, Dave & Buster's restaurant and Walmart.
Detailed plans for the UA's newest tech park are enticing – starting with the 180,000-square-foot Innovation and Technology Building, designed to be the hub of high-tech commercialization activity for the university.
New UA President Robert "Robby" Robbins was given a windshield tour of The Bridges by Ron Shoopman, a member of the Arizona Board of Regents and CEO of the Southern Arizona Leadership Council. Shoopman said Robbins was very impressed with the site, particularly the shovel-ready, high-tech infrastructure already in place.
That infrastructure development was funded by a $4.7 million federal stimulus grant in 2009 as part of the American Recovery and Reinvestment Act. The grant provided essential infrastructure including roads, water and sewer systems, electricity, gas, high-tech communications conduit and perimeter landscaping – all at high-quality university standards.
Shoopman called Robbins, a cardiac surgeon who founded Stanford Cardiovascular Institute in 2005, "an extraordinary leader with a lengthy and proven record of accomplishment." He said Robbins "is very focused on the role of UA as an economic driver and looks forward to the opportunity to help shape the path of the Tech Park at The Bridges and serve the needs of the entire university."
The Innovation and Technology Building is estimated to cost $40 million. It would house technology commercialization activities, a business incubator and space for emerging technology companies, as well as Tech Launch Arizona and Tech Parks Arizona offices. It would also include an educational and workforce development center.
By necessity, construction of the project must be undertaken as a public/private partnership.
The potential for the UA Tech Park at The Bridges is huge. Talks are already underway to recruit operations to the park.
Wright said, "We would also like to bring a hotel/conference center, parking facilities and a series of office buildings into the park during the first phase of development."
Wright said UA officials want to create "an urban technology hub for the university and the community at The Bridges and have been inspired by other communities that have done this successfully, including:
• Tech Square operated by Georgia Tech University in downtown Atlanta
• Millennium Park in Chicago, which features outdoor,      interactive areas to engage visitors
• Park Center, a redevelopment effort undertaken at North Carolina's Research Triangle Park
• SkySong project, a public/private partnership between Arizona State University, the City of Scottsdale and Plaza Development
Wright said the 21st century economy is being driven by the infusion of technology into the marketplace and that Tech Parks Arizona is where high-tech companies of all sizes and the University of Arizona  can work together to create new products and grow the Tucson and Southern Arizona economy.
"Tech Parks are more than a collection of buildings and landlords; they are recognized as communities of innovation," he said. "We are creating places that encourage, promote,   advance and accelerate technology innovation."