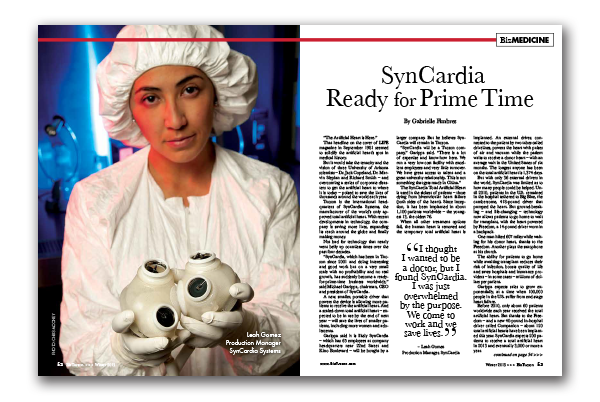 SynCardia Ready for Prime Time
By Gabrielle Fimbres
"The Artificial Heart is Here."
That headline on the cover of LIFE magazine in September 1981 seemed to solidify the artificial heart's spot in medical history.
But it would take the tenacity and the vision of three University of Arizona scientists – Dr. Jack Copeland, Dr. Marvin Slepian and Richard Smith – and overcoming a series of corporate disasters to get the artificial heart to where it is today – poised to save the lives of thousands around the world each year.
Tucson is the international headquarters of SynCardia Systems, the manufacturer of the world's only approved total artificial heart. With recent developments in technology, the company is saving more lives, expanding its reach around the globe and finally making money.
Not bad for technology that nearly went belly up countless times over the past four decades.
"SynCardia, which has been in Tucson since 2001 and doing interesting and good work but on a very small scale with no profitability and no real growth, has suddenly become a ready-for-prime-time business worldwide," said Michael Garippa, chairman, CEO and president of SynCardia.
A new, smaller, portable driver that powers the device is allowing more patients to receive the artificial heart. And a scaled-down total artificial heart – expected to be in use by the end of next year – will save the lives of smaller patients, including more women and adolescents.
Garippa said it is likely SynCardia – which has 65 employees at company headquarters near 22nd Street and Kino Boulevard – will be bought by a larger company. But he believes SynCardia will remain in Tucson.
"SynCardia will be a Tucson company," Garippa said. "There is a lot of expertise and know-how here. We run a very low-cost facility with excellent employees and very little turnover. We have great access to talent and a great university relationship. This is not something that gets made in China."
The SynCardia Total Artificial Heart is used in the sickest of patients – those dying from biventricular heart failure (both sides of the heart). Since inception, it has been implanted in about 1,100 patients worldwide – the youngest 13, the oldest 76.
When all other treatment options fail, the human heart is removed and the temporary total artificial heart is implanted. An external driver, connected to the patient by two tubes called drivelines, powers the heart with pulses of air and vacuum while the patient waits to receive a donor heart – with an average wait in the United States of six months. The longest anyone has been on the total artificial heart is 1,374 days.
But with only 36 external drivers in the world, SynCardia was limited as to how many people could be helped. Until 2010, patients in the U.S. remained in the hospital tethered to Big Blue, the cumbersome, 418-pound driver that pumped the heart. But ground-breaking – and life-changing – technology now allows patients to go home to wait for transplant, with the heart powered by Freedom, a 14-pound driver worn in a backpack.
One man hiked 607 miles while waiting for his donor heart, thanks to the Freedom. Another plays the saxophone at his church.
The ability for patients to go home while awaiting transplant reduces their risk of infection, boosts quality of life and saves hospitals and insurance providers – in some cases – millions of dollars per patient.
Garippa expects sales to grow exponentially, at a time when 100,000 people in the U.S. suffer from end-stage heart failure.
Before 2010, only about 60 patients worldwide each year received the total artificial heart. But thanks to the Freedom – and a new 40-pound in-hospital driver called Companion – about 120 total artificial hearts have been implanted this year. SynCardia expects 200 patients to receive a total artificial heart in 2013 and eventually 3,000 or more a year.
By 2017, 400 hospitals are expected to be implanting the device, compared to 76 today.
While it's impossible to know the future, the technology could advance to the stage where the artificial heart is powered internally, and patients could remain on it indefinitely.
The company, which has operated on investor and "angel" funding since 2001, has not needed investor funding since 2010, Garippa said. "Instead of doing $5 million in sales, we are doing $25 million. Instead of losing $5 to $8 million, our profitability for this year is close to $3 million. We have been able to grow the business without the need for additional shareholder capital in the past few years."
"It's been a very satisfying professional experience for me," said SynCardia Co-Founder Copeland, who became known worldwide as a transplant surgeon at UA. He is now at the University of California, San Diego in La Jolla and is on the board of SynCardia.
"I have spent a lot of time thinking about it and taking care of people with the device and I have been very pleased with the results," Copeland said. "It's saving lives."
The story of the artificial heart starts in the 1960s, when the U.S. was on a mission to start implanting permanent artificial hearts by the end of the decade.
The technology was difficult to achieve, but in 1982, the Jarvik 7 was implanted in Utah in retired dentist Barney Clark. He lived for 112 days, never leaving the hospital.
Copeland, a young surgeon at University Medical Center was making headlines through his heart transplant program. At the time, implanting the artificial heart was seen as a permanent measure, and he didn't think it impacted him. Copeland was in the business of transplanting human hearts, not plastic ones.
But after a couple of tragic incidents where patients died after the transplanted human heart would not start, Copeland knew he needed an artificial heart in his toolbox.
In March 1985, Copeland used what was called the Phoenix heart in an emergency situation after his patient was rejecting the transplanted heart. Michael Creighton survived for 11 hours on the Phoenix, but died from infection 60 hours after transplantation of a second human heart.
Five months later, Copeland became the first surgeon in the world to successfully use the Jarvik 7 Total Artificial Heart as a bridge to human heart transplant. Michael Drummond, 25, lived for nine days on the heart before receiving a transplant and walking out the hospital doors. He lived another five years.
Copeland and the rest of the world continued to do a small number of transplants that used the total artificial heart as a bridge. But in 1991, the U.S. Food and Drug Administration shut down the Vancouver company that manufactured the device.
The news was devastating to Copeland and to Richard Smith, a biomedical engineer who is now technical director of University of Arizona Medical Center's artificial heart program and co-founder and chief technical officer at SynCardia.
The two had paired up for six years using the total artificial heart in patients. Now the future of the transplant program was at risk.
They met with the CEO of Symbion, the company that had been shut down by the FDA for technical reasons. The CEO wanted to give the company to Copeland.
"I was totally blindsided," Copeland recalled. "I said no, I am not interested in running the company, but I am interested in preserving the technology so let's see what we can do in terms of getting the hospital to take over the company."
UMC did take over the company. It was moved to Tucson and won approval from the FDA to study the total artificial heart, along with four other hospitals. The study spanned 10 years and involved 81 patients.
Just as the study was ending, UMC decided it could no longer fund the project, and again it looked like the technology might be lost.
"UMC's board of directors were literally in tears when they had to do this," Smith recalled. "They were laying people off and they had to get out of anything not directly involved in patient care. It was very sad."
That is when Copeland, Slepian and Smith came together to create SynCardia.
Slepian was an interventional cardiologist at UA with a passion for invention. He was the kid who couldn't get enough of the science breakthroughs of the '60s and '70s. He built a heart-lung machine for his seventh-grade science fair project, and has the machine in his home today.
"You grew up with the concept of the artificial heart and realized this thing could be," Slepian said. "And then as a practicing cardiologist who is also an inventor and a scientist, this thing had to be."
Slepian, who was trained in biomaterials at Princeton University and Massachusetts Institute of Technology, has a long history of technology development. In the 1990s he was involved in starting up companies that develop and produce novel biomaterials. Slepian recently generated headlines for his development of biodegradable electronics that could disappear inside the body.
When Copeland approached him about taking over the company, Slepian jumped right in. He became the CEO and the others joined him as co-founders. He now serves as chief scientific and medical officer.
"We really had the right chemistry," Slepian said. "We were good friends and we had the right balance of what we needed. I have the entrepreneurial experience and the early startup experience. I had taken a lot of products through the FDA for approval."
After getting approval from the UA to take over the company, what they needed most was cash. Their first investor was Robert Sarver, a prominent UA grad, philanthropist and majority owner of the Phoenix Suns. After collecting close to $3 million in investments, they were ready to go.
"We had to do a lot of fix-up," Slepian said. "This was a university appendage academic project that didn't have the right stuff of a startup. There was no entrepreneurial vision, no startup activity and the technology was in limbo."
Others in the medical profession thought the three had lost their minds. They thought the existing LVAD – left ventricular assist device – and other technology was adequate.
"They thought we were crazy cowboys out in Arizona," Copeland recalled. But he knew the other devices were not enough to save end-stage patients with biventricular failure.
Over the next decade, the team worked to restructure the company, develop new technology, receive FDA approval and finally in 2008, Medicare reimbursement.
But it's the development of new technology – the Freedom and the Companion drivers along with the smaller heart – that will cause the company to grow.
"As one of the original founders, it is very satisfying," said Slepian, a professor of both surgery and biomedical engineering who also teaches entrepreneurship in the Eller College of Management.
Production at SynCardia has ramped up over the past two years. Leah Gomez oversees the production of the total artificial heart, made from high-tech SPUS – or segmented polyurethane solution.
SynCardia owns the rights to the solution, which requires a reactor to produce. SPUS is used to create the hard outer shell of the device as well as thin, flexible diaphragms that pump the blood.
Hearts are made in a highly specialized and controlled clean room, which recently expanded to add six new work stations for a total of 10. The new space will accommodate demand, said Gomez, the production manager who started as a technician five years ago.
"I thought I wanted to be a doctor, but I found SynCardia," she said. "I was just overwhelmed by the purpose. Every person here has that same feeling. We come to work and we save lives."
Don Isaacs, VP of communications, said the team is unlike any other in its dedication to saving lives. "SynCardia hires incredible people and lets them perform," he said.
SynCardia hearts currently end up in 76 transplant hospitals in the world, including UAMC. Dr. M. Cristina Smith, director of heart transplant and ventricular-assist device services at the UA Department of Surgery, has used the total artificial heart more than a dozen times in the past two years.
Since 2011, she has been able to send patients home to wait for transplant with the Freedom driver. "The best part about SynCardia and the reason it is starting to make even more of a difference is now there is an alternative for people to go home," she said.
A young Southern Arizona mom whose heart was destroyed during pregnancy was the first woman in the nation to go home with the Freedom driver after receiving her artificial heart.
Cristina Smith implanted a total artificial heart in 21-year-old Marcela Padilla. "It was so exciting to go home and be with the baby," said Padilla, who received a donor heart three months later and is doing well.
Cristina Smith said more lives will be saved with the new smaller artificial heart under development. She has had patients who were too small for the current artificial heart.
"Most of these patients are women," she said. "Now you give women – especially the young moms who end up with postpartum cardiomyopathy like Marcela – a chance to go home."
She said SynCardia turns to transplant surgeons for guidance. "SynCardia really listens to the needs of the patients and the families and the doctors. I think it has to do with the fact that there are so many surgeons involved with the company."
The device also helps patients who are too sick to be considered for transplant. "Donor hearts are distributed on a very competitive basis," Garippa said. "If you are not healthy enough to warrant the donor heart it goes to someone else."
The total artificial heart can restore some to health, making them viable candidates for transplant.
"People who were prisoners of their couch are now getting up and walking flights of stairs, like a 60-year-old Russian grandmother," Garippa said.
Co-founder Rich Smith, whose office at UAMC is a bit of an artificial heart museum, said the journey has been amazing.
"The company almost folded so many times, but the best things usually happen when we hit the lowest points," Smith said.
"Our best work is in front of us," predicted Smith, who helped create the Freedom and other technology. "The things we struggled with were things in the weird times where we shouldn't have survived. We are on a path. We can make everything better faster now. But until we can put this into anybody at any time, we are not there."
Like Copeland and Slepian, Smith recalls other professionals "looking at us like we had clown suits on" as they stumped at medical conferences as to the potential of the device.
"Now the world is coming to us," Smith said.