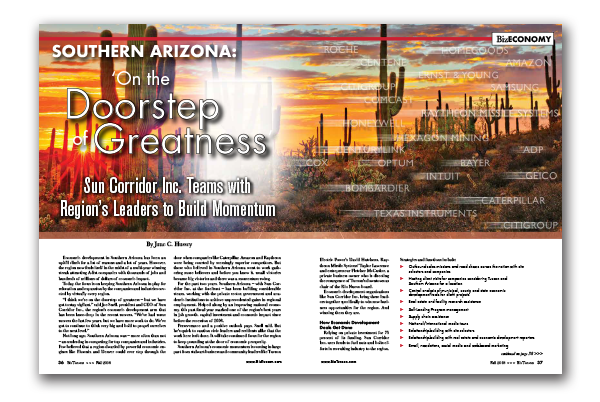 Sun Corridor Inc. Teams with Region's Leaders
By June C. Hussey –
SOUTHERN ARIZONA: 'On the Doorstep of Greatness'
Economic development in Southern Arizona has been an uphill climb for a lot of reasons and a lot of years. However, the region now finds itself in the midst of a multi-year winning streak attracting A-list companies with thousands of jobs and hundreds of millions of dollars of economic impact.
Today, the focus is on keeping Southern Arizona in play for relocation and expansion by the companies and industries coveted by virtually every region.
"I think we're on the doorstep of greatness – but we have got to stay vigilant," said Joe Snell, president and CEO of Sun Corridor Inc., the region's economic development arm that has been knee-deep in the recent success. "We've had some success the last few years, but we have more work to do. We've got to continue to think very big and bold to propel ourselves to the next level."
Not long ago, Southern Arizona was – more often than not – an underdog in competing for top companies and industries. Few believed that a region dwarfed by powerful economic engines like Phoenix and Denver could ever step through the door when companies like Caterpillar, Amazon and Raytheon were being courted by seemingly superior competitors. But those who believed in Southern Arizona went to work gathering more believers and before you knew it, small victories became big victories and there was a momentum swing.
For the past two years, Southern Arizona – with Sun Corridor Inc. at the forefront – has been building considerable steam, working with the private sector, government and academic institutions to achieve unprecedented gains in regional employment. Helped along by an improving national economy, this past fiscal year marked one of the region's best years in job growth, capital investment and economic impact since before the recession of 2008.
Perseverance and a positive outlook pays, Snell said. But he's quick to caution civic leaders and residents alike that the work here isn't done. It will take continued focus for the region to keep pounding at the door of economic prosperity.
Southern Arizona's economic momentum is coming in large part from stalwart business and community leaders like Tucson Electric Power's David Hutchens, Raytheon Missile Systems' Taylor Lawrence and entrepreneur Fletcher McCusker, a private business owner who is directing the resurgence of Tucson's downtown as chair of the Rio Nuevo board.
Economic development organizations like Sun Corridor Inc. bring these leaders together specifically to win new business opportunities for the region. And winning them they are.
How Economic Development 
Deals Get Done
Relying on private investment for 75 percent of its funding, Sun Corridor Inc. uses funds to fuel nuts and bolts efforts in recruiting industry to the region. Strategies and functions include:
Outbound sales missions and road shows across the nation with site

 

selectors and companies
Hosting client visits for companies considering Tucson and

 

Southern Arizona for a location
Central analysis of municipal, county and state economic

 

development tools for client projects
Real estate and facility research assistance
Soft Landing Program management
Supply chain assistance
National/international media tours
Relationship-building with site selectors
Relationship-building with real estate and economic development reporters
Email, newsletters, social media and web-based marketing
The recruiting process that has helped land companies like Caterpillar, Hexagon Mining and Amazon in Tucson is long – typically 9 to 12 months – and highly customized and highly organized.
For Sun Corridor Inc.'s staff, it often begins when a Request for Proposal is received from a company or its consulting site selector. That triggers the collection of data from jurisdictions, utilities and real estate brokers. If the data matches up to the needs of the employer, a site visit usually results.
Sun Corridor Inc. helps facilitate the visit, making introductions to industry peers and others. Along the way, an economic impact study is conducted, incentives are evaluated, negotiations ensue, and board members are engaged in winning the prospect over.
Once a company makes its decision, Sun Corridor Inc.'s work is not done. The organization assists in making the announcement and is available to make the company's transition successful in every way possible – whether it is working with government to ensure necessary services are available for their selected site or, through its Soft Landing Program, providing relocating employees with tools and information about living and working in Southern Arizona, such as housing, schools, healthcare and more.
Celebrating Success
For Snell and the team at Sun Corridor Inc., it feels pretty good when they get a "yes" from a company to relocate here. Take the news earlier this year that Amazon was going to build a major distribution center on the southeast side of Tucson.
Snell said, "We were thrilled – and I think what it did more than anything was just validate what we do. We've been spending a lot of time in the last two years positioning ourselves as a major logistics center, and I think Amazon just verified that. HomeGoods was a big win. But when Amazon came in, it put the cherry on top.
"I believe that we have the best economic development team in the country and I say that after doing this in multiple locations. One of our keys is we have very little turnover. We've been able to put together a team that has been together for 12, 13 years. And I think that makes a big difference in the production.
"We don't have a big staff, but we have a very dedicated, smart and disciplined team that knows what to do. And sometimes they don't get enough credit. I couldn't say enough about them."
'On the Radar'
McCusker, who also is CEO of newly formed UAVenture Capital, agrees that Tucson has seen "unprecedented momentum" and is "on the radar" in several sectors – while the surrounding region also has become "increasingly competitive for corporate relocation." McCusker affirms that with the region's recent success, "outsiders are taking notice."
Lawrence, the president at Raytheon Missile Systems which is in the middle of a major expansion, said the improved collaboration is already leading to more success within his own company and should also have a ripple effect throughout the region.
"We're continuing to win new programs in new development areas," Lawrence said. "The demand for new capabilities is increasing, and we're winning significantly more than others in these areas."
Shift to High-Tech Workforce
Targeting cluster industries has been at the heart of Sun Corridor Inc.'s economic blueprint from the beginning. Hutchens maintains that the key factor in improving Southern Arizona's posture in bringing in more high-paying jobs is having the necessary workforce.
"Workforce availability and education level are almost always the prime consideration of any business looking to relocate or expand," Hutchens said, "especially given the higher education and training levels that will be needed as our economy becomes more high-tech."
The University of Arizona and Pima Community College are both key to the region's economic development strategies in their roles to develop the high-tech workforce that bring companies and jobs.
One of the first efforts initiated by UA President Dr. Robert C. Robbins after his arrival in June 2017 was to launch a comprehensive strategic planning process to position the university for what Robbins calls the "fourth industrial revolution."
"We live in a world where technology continues to shape how we live, work and interact," Robbins said. "The digital, physical and biological worlds are converging. At the University of Arizona, we aspire to build the next generation of adaptive problem solvers."
Pima College has embarked on a strategy to develop "centers of excellence" in a number of sectors by working closely with business, industry and community partners, said Lisa Brosky, vice chancellor for external relations at PCC.
Each center – in applied technology, health professions, public safety and security, the arts and humanities, hospitality, and information technology – will feature the most up-to-date facilities, equipment and curriculum, and provide students with opportunities for hands-on application of the skills they learn in class.
Critical to the success of the centers, Brosky said, is the cooperation and partnership of employers, who participate in employer advisory committees, providing on-the-job learning for students through internships and apprenticeships, and encouraging employees to teach as adjunct instructors to bring real life to the classroom.
Infrastructure Remains a Priority
There remains much work to be done to get through the "doorstep of greatness," Snell said.
"We've got to get infrastructure in place. We've got to get roads fixed. It's the #1 issue," he said. "We've got to continue to find ways to attract the labor into the market and train our people – because without skilled talent we will not grow."
Beyond the physical aspects of the region, the collaboration across varying interests that has surfaced over the last several years is what is keeping Southern Arizona's economic engine on the tracks.
"Participation across the entire community spectrum is what gets deals done – we've heard that time and time again from businesses," Hutchens said. "Being able to sit down with our community leaders at the same table, all pulling in the same direction, allows us to be flexible and reactive to businesses' needs."