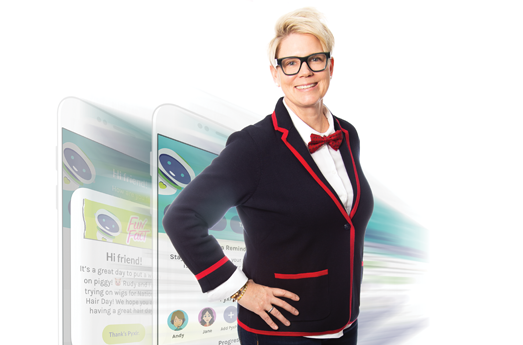 Entrepreneur Cindy Jordan Tackles Loneliness with New App
By Loni Nannini
Cindy Jordan loves her iPad, rides a Peloton and develops healthcare technology for a living, but she doesn't consider herself a techie.
"I hire tech people, but I am a problem solver," Jordan said. "When I was 21, I was a police officer in a suburb of Washington, D.C. I learned a lot about solving problems and seeing through stuff to get to a resolution, and that is what I do."
Others might call her a visionary, considering the CEO with an eclectic background in law enforcement, political fundraising and marketing has developed a trio of successful technology startups since arriving in Tucson 19 years ago.
The entrepreneur credits the Sonoran Desert for inspiring her to be bold and to think big when she decided to make a life change after the 2000 election.
"I had spent three years working hard for one outcome, and when I realized my life wasn't going where I thought it would, I put my chihuahuas in a U-Haul truck and moved to Tucson," Jordan said. "I had been here for political events and I just fell in love with the desert and the idea that you can see everything on the horizon."
She put her keen insight to work as a lead strategist with LP&G Marketing. While working with a large healthcare client, Jordan saw the need for technology among physicians who relied on "a sticky-note system" to make specialist referrals. Jordan launched Medical Referral Source, a proprietary referral marketing tool for physicians, which was acquired by The Advisory Board Company for $11.5 million in 2013.
Jordan continued to help grow MRS and then developed 10Fifty Safety, a wearable, discreet personal safety device for college students. Alert GPS acquired the device in 2017. Jordan had no plans to start another tech company, but her troubleshooting skills kicked in when her stepdaughter suffered a setback with bipolar disorder.
"When you suffer from a mental health, behavioral health diagnosis, you are fine until you are not, and then things can spiral quickly," said Jordan. "When all was said and done, we asked 'What had we missed?' We realized that she had started to socially isolate and, literally, that she was lonely."
Further research found that little was being done nationwide to address chronic loneliness and isolation, which is linked by the National Institutes of Health to the risk of increased mortality, high blood pressure, heart disease, obesity, anxiety, depression and cognitive decline.
In 2018, Jordan launched Pyx Health (https://pyxhealth.com), an interactive, mobile app-based platform that offers a solution to loneliness and social isolation, primarily for Medicaid and Medicare beneficiaries, especially during transitions from emergency or inpatient care. The platform has resulted in a 46% reduction in inpatient spending, according to the company website.
Since the COVID-19 pandemic was declared in March, Pyx Health has experienced a 690% growth in revenue. It completed a $3.5 million Series A5 round of financing in August, bringing its total funding to $6 million. Investors include Tucson-based Bluestone Venture Partners, Holualoa Companies, Phoenix-based Arizona Founders Fund, and LifeLock co-founder and former CEO Todd Davis.
In October, Pyx Health was one of 20 startups chosen for exceptional growth and potential among 300-plus companies to be featured at UNMET Arizona 20 Startups to Watch in 2020. Featured companies have garnered the highest levels of investor interest in the UNMET conferences, which is dedicated to connecting venture capitalists and startups.
Jordan described Pyx Health as "the peanut butter and chocolate solution."
"It is a perfect combination of artificial intelligence and compassionate human interventions to serve patients who have historically been forgotten by technology – Medicaid and Medicare members," Jordan said.
Pyx features an animated chatbot named "Pyxir" that offers constant companionship and support, along with self-care advice, jokes and motivational tips. The app also screens for loneliness and "social determinants of health" such as daily living conditions and socioeconomic factors.
When a patient's answer shows a heightened level of loneliness, Pyx Health offers human contact from "Andys" (Authentic, Nurturing, Dependable, Your Friend), who work in the company's compassionate call center.
"What became clear after the launch was that the robot wasn't enough: You need humans who can intervene and help solve the problems. We are care conduits and we need technology since this has to be a 24/7 solution," said Jordan.
"The best ideas are the ones that catch on and have lives of their own," she said. "They are the very simple answers to any problems you are trying to solve. I always say that it is not rocket science to offer lonely people connectivity and companionship. It is a simple answer to a complicated problem."
She has applied that mantra to every aspect of her life and said it has influenced her decision to make Tucson home.
"We have a great university here with lots of smart people – my two main developers are UA alums – and an amazing angel investment community," she said. "I think Tucson is kind of a hidden gem. Not only can you start a company and find good people, but you can have a family. I think Tucson really does give you the opportunity to have it all."
Overall, Jordan has built her startups around a trio of down-to-earth values.
"I don't think it is worth building a business of any kind if humanity, kindness and gratitude aren't leading the way. This is engrained in our company culture," she said. "We are helping people in the most profoundly important times and, as people delivering that service, we need to be in the right place to accomplish that."