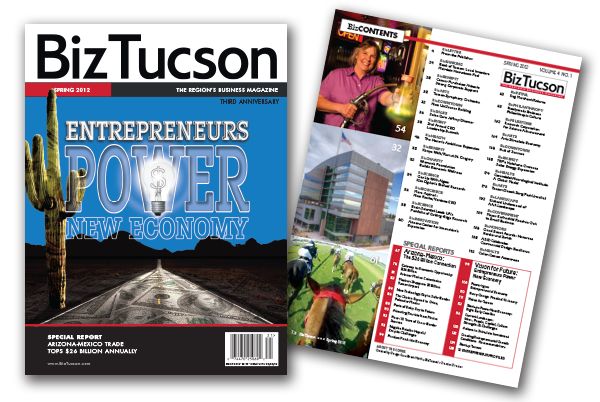 From The Publisher –
Last year Forbes Magazine ranked Tucson as one of the 20 most innovative cites in the United States. This third-anniversary edition of BizTucson demonstrates why.
We showcase the research and detailed recommendations of the Entrepreneurial Economy for Tucson Task Force. This Vision for the Future details exactly what we need to do to ensure that Entrepreneurs Power the New Economy.
We bring you an in-depth examination of Arizona-Mexico trade – an annual impact of $26 billion.
Read about Tucson-based Research Corporation. To date 40 of the young scientists funded by this 100-year-old foundation went on to collect Nobel prizes. Meet big-idea entrepreneurs – from startups to global powerhouses – in reports by Teya Vitu and Eric Swedlund.
Profiles include women of science and new leaders at the Tucson Symphony Orchestra, Ventana Medical Systems and UniSource Energy Corp., which built the first new high rise downtown since the 1980s. Paul Bonavia, head of UniSource and Tucson Electric Power has said, "We wanted to show you really can get something done in Tucson once you make a decision. We think the best thing to do is move quickly."
Vision for Future: Entrepreneurs Power New Economy
The paramount objective of the Task Force is to create an environment where entrepreneurship and innovation thrives and venture capital is abundant. Then Tucson can grow more of its own idea-based companies – which create prosperity and high-wage jobs for the future. Economists call these ventures "gazelles" – highly scalable rapidly growing enterprises that become players on the international stage.
Task Force members interviewed local entrepreneurs who built successful idea-based businesses in Southern Arizona. They shared the challenges, opportunities, strengths and weaknesses of the Tucson region encountered while launching their companies. Then the Task Force detailed recommendations for creating entrepreneurial growth conditions. Task Force chair is venture capitalist Harry George, who has helped launch more than 60 companies – so far.
UA economist Marshall Vest called this report "the best vision statement/assessment I've seen for Tucson. Great information. Solid recommendations."
This region is a geographic and economic gateway to Mexico – providing a wealth of opportunity. Last year, $26
billion in imports and exports flowed across the Arizona-Sonora border.
Contributing editor Gabrielle Fimbres does an extraordinary job reporting on the growing diversity of industries in Mexico that impact our economy.
Bottom line: 235,700 jobs in Arizona rely on trade with Mexico. Nearly half of all winter produce consumed in the U.S. comes through Nogales. Clusters of high-tech manufacturing facilities are developing in Sonora. As many as 2,000 trucks cross the Arizona-Sonora border daily. The middle class is growing in Mexico, so more visitors come here to spend their money – with an annual impact of $2.3 billion.
"It is extremely important for us to remain the port of choice. It keeps Americans employed," stated Margie Emmermann, executive director of the Arizona-Mexico Commission, the 53-year-old nonprofit organization that facilitates economic growth.
As BizTucson begins its fourth year, we say thank you to each and every reader… to the advertisers who invest their marketing dollars with us…to the contributors to BizTucson (the most talented team in the region)…and to supportive friends and colleagues. Heartfelt thanks go to my family – especially my wife Rebecca.
Steven E. Rosenberg
Publisher & Owner,
BizTucson