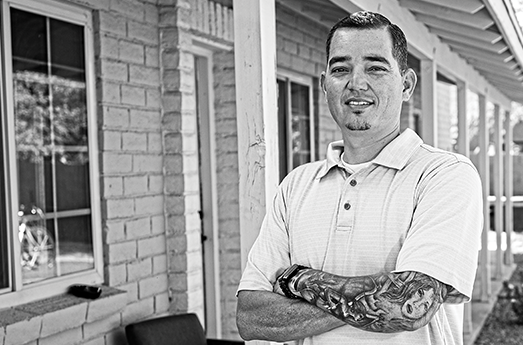 Second Chance Tucson Offers Lifeline to Ex-Convicts
From Prison to Promise
By Loni Nannini
It's not a do-over, but it's the next best thing: Second Chance Tucson, and it's changing lives.
Daniel Howe is living testimony to the success of the nonprofit dedicated to providing employment and resources for those with prior convictions. His compelling pitch about real-life second chances garnered the 2021 Fast Pitch BizTucson and Tucson Electric Power to the People "Audience Choice" Award during Social Venture Partners Tucson Fast Pitch 2021.
"I want people to know that wherever they are in life, they can come talk to us and we can help get them from that point to the next point," said Howe, who was recently named co-executive director of Second Chance Tucson. "Come as you are: Come broken, come fresh out of prison in your prison blues. We can give you guidance and assistance and connect you to people who can help, no matter what barriers you face."
Established in 2014 as a coalition of government, law enforcement agencies, faith-based partners and employers by then-Tucson Mayor Jonathan Rothschild and U.S. Magistrate Judge Charles Pyle, the nonprofit focuses on reducing recidivism and increasing awareness about re-entry through community education, volunteerism and employment outreach.
Current partners include Arizona Complete Health, University of Arizona James E. Rogers College of Law, Pima County Attorney's Office and the City of Tucson.
The goal is worthy: The U.S. Bureau of Justice Statistics indicates that more than 7.6 million people nationwide are released from jail and prison annually. Two out of three former inmates are re-arrested within three years after release.
"Over 70 million Americans currently have criminal backgrounds. Many of these are highly skilled people who can be productive members of the work force," said Howe.
Second Chance supports these individuals through symposiums, workshops and annual job fairs. For example, a 2019 job fair attracted 53 employers and 1,500 job seekers, and a recent virtual fair resulted in more than 30 direct hires.
In addition to employment, Second Chance offers housing assistance and other resources.
"We feel that life is like a tripod: If you have housing, employment and transportation, that will make you more successful. If you don't have one of those three, it is like missing a leg of the tripod, and you will fall. They all go hand-in-hand," said Howe.
Howe's own troubled family life led to his first arrest at age 9 with subsequent arrests throughout his teens. By age 18, he was charged with aggravated assault and attempted murder. After serving time, he struggled with re-arrests and re-entry until a chance encounter in 2014 changed everything.
"I got a job with Old Pueblo Community Services and learned about Second Chance Tucson," he said. "It was a great group of people who gave me an opportunity to speak about my life experiences and I really wanted to be part of the work they were doing."
Howe learned to reframe his life story and to imagine new possibilitie. He became one of Second Chance Tucson's success stories.
"I learned not to be embarrassed," he said. "Being in prison was part of my past, but I realized that I bring so much more to the table than being an inmate, and I want to talk about that. I explain it to people this way: I am a great swimmer and have swam many more times than I have gone to prison, but when I introduce myself, I don't say, 'Hi, I'm Danny, the swimmer."
Now a program manager with the Pima County One Stop System, Howe has helped create The Earnest House, which comprises four transitional-living houses dedicated to serving 37 individuals who are serious about attaining self-sufficiency.
"Residents know the consequences for their actions, and success is in their hands," Howe said. "They know they need to be sincere about recovery and re-entry."
The Earnest House also operates Heavy Kettle, a kettle corn business that provides clients with the opportunity to earn wages and attain management and customer service skills. "We trust them and give them responsibility, and it is amazing to watch their interactions with the public. They light up and become different people."
All of Howe's efforts reinforce his desire to help others realize their full potential while educating the public about incarceration and re-integration. Howe said he believes that promoting awareness about Second Chance Tucson is the ultimate prize from Fast Pitch. The award includes $15,000, a Corporate Innovation Course from Startup Tucson and a spotlight in BizTucson magazine.
"The funds have enabled us to transition from an all-volunteer nonprofit, and we are focusing on community events to amplify our efforts in Pima County," he said. "But the recognition has meant more than any money. We have so many people saying, 'I never knew about you guys, but what you do is awesome, and how can we help?'"