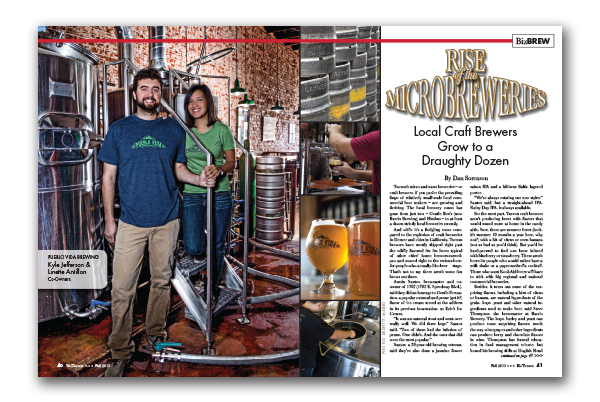 Rise of the Microbreweries
By Dan Sorenson –
Rise of the Microbreweries
Local Craft Brewers Grow to a Draughty Dozen
Tucson's micro and nano breweries – or craft brewers, if you prefer the prevailing lingo of relatively small-scale local commercial beer makers – are growing and thriving. The local brewery count has gone from just two – Gentle Ben's (now Barrio Brewing) and Nimbus – to at least a dozen strictly local breweries recently.
And while it's a fledgling scene compared to the explosion of craft breweries in Denver and cities in California, Tucson brewers have mostly skipped right past the wildly flavored fru fru beers typical of other cities' home brewers-turned-pro and moved right to the serious-beer-for-people-who-actually-like-beer stage. That's not to say there aren't some fun brews out there.
Austin Santos, brewmaster and co-owner of 1702 (1702 E. Speedway Blvd.), said they did an homage to Gentle Persuasion, a popular oatmeal and prune (get it?) flavor of ice cream served at the address in its previous incarnation, as Eric's Ice Cream.
"It was an oatmeal stout and went over really well. We did three kegs," Santos said. "Two of them had the infusion of prune. One didn't. And the ones that did were the most popular."
Santos, a 30-year-old brewing veteran, said they've also done a jasmine flower saison IPA and a hibiscus Baltic lagered porter.
"We're always rotating out new styles," Santos said, but a straight-ahead IPA, Rainy Day IPA, is always available.
For the most part, Tucson craft brewers aren't producing beers with flavors that would sound more at home in the candy aisle. Sure, there are summer beers (heck, it's summer 10 months a year here, why not?) with a bit of citrus or even banana (not as bad as you'd think). But you'd be hard-pressed to find one brew infused with blueberry or strawberry. These aren't beers for people who would rather have a milk shake or a paper-umbrella cocktail. Those who want Kool-Aid beers will have to stick with big regional and national commercial breweries.
Besides, it turns out some of the surprising flavors, including a hint of citrus or banana, are natural byproducts of the grain, hops, yeast and other natural ingredients used to make beer, said Steve Thompson, the brewmaster at Barrio Brewery.
The hops, barley and yeast can produce some surprising flavors, much the way wine grapes and other ingredients can produce berry and chocolate flavors in wine. Thompson has formal education in food management science, but honed his brewing skills at Dogfish Head Brewery, a big East Coast craft brewer, before coming to Tucson and Barrio.
Barrio and Nimbus are at the large end of the local brewing business, selling through their own tap houses, on draught at area restaurants and bars, and retail through grocery and liquor stores. Nimbus has been bottling for years, as well as selling take-out growlers (a glass, ceramic or stainless steel sealable jug) out of its warehouse-sized brewery/tap house on East 44th Street since the mid-1990s. And Barrio started up a canning line 20 months ago in a section of its old Quonset hut warehouse/brewery/tap house complex on East 16th Street. Most of the other craft brewers either sell growlers to go, have kegs for restaurant or bar resale, have their own bar, or a combination of all offerings.
Whatever the flavors and styles, these local brewers prove beer can be a lot more interesting than the more famous stuff from Milwaukee and St. Louis. And contrary to the craft beer scenes in some cities, visits to Tucson's microbrew taprooms showed the clientele was short on hipsters with ironic facial hair. The age, gender and ethnic makeup was diverse. Despite being nearly on campus, the drinking age is still 21 and Santos said students don't make up much of 1702's clientele.
"We're mostly men 25 to 45."
You may see the occasional beer aficionado holding up a raised pint in one hand and an SRM or EBC card in the other to rate the color at a local brew house. But a survey of Tucson's breweries didn't produce any of the pompous pronouncements one still sometimes encounters among the wine crowd.
Barrio Brewery, a rambling beer hall in an old warehouse on East 16th Street at Toole Avenue, can trace its microbrew roots back to the original, 1970s-era Gentle Ben's on Tyndall at Second Street. Ben's moved its business and brewery gear from the old house on the edge of the UA campus a stone's throw south to its present location on East University Boulevard in 1996. Then the brewing part of the business was relocated to the owner's new venture, Barrio Brewery, about the time the local scene started to take off for the second time.
Santos said that there were a handful of local breweries in the 1980s and 1990s that folded but that some of their equipment helped equip the present crop of microbrews that, to him, seem to be doing well.
Brian Alubowicz, a 47-year-old Tucson native and keen observer and participant in the local and regional craft beer scenes, thinks the resurgence here came when regional IPAs became more widely available.
"Five to seven years ago the hoppy thing started happening and people really started falling in love with a beer you could taste. It's not all about the hipsters that are going into these breweries. It seems like (local craft brew popularity) crossed the line with the blue collar guys."
He speculates that part of the widening of the craft beer audience came with local workers dropping by Barrio Brewing, in the middle of an industrial area just south of downtown.
Whatever the case, he thinks Tucson microbreweries are doing well. He sees plenty of people going into local bars and restaurants "and paying $6 or $7 for a local beer. There are definitely people making money," Alubowicz said.