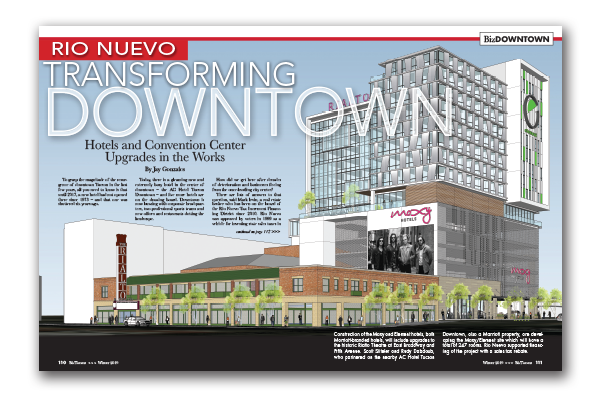 Rio Nuevo Transforming Downtown
By Jay Gonzales –
Hotels and Convention Center Upgrades in the Works
To grasp the magnitude of the resurgence of downtown Tucson in the last few years, all you need to know is that until 2017, a new hotel had not opened there since 1973 – and that one was shuttered six years ago.
Today, there is a gleaming new and extremely busy hotel in the center of downtown – the AC Hotel Tucson Downtown – and five more hotels are on the drawing board. Downtown is now buzzing with corporate headquarters, two professional sports teams and new offices and restaurants dotting the landscape.
How did we get here after decades of deterioration and businesses fleeing from the once-bustling city center?
There are lots of answers to that question, said Mark Irvin, a real estate broker who has been on the board of the Rio Nuevo Tax Increment Financing District since 2010. Rio Nuevo was approved by voters in 1999 as a vehicle for investing state sales taxes in downtown projects.
Ever since, Rio Nuevo has been a driving force in the transformation of Downtown Tucson. People can now live, work, play, dine, eat and sleep downtown. And the momentum continues. On Nov. 9 the Rio Nuevo Board voted to invest at least $50 million into improvements at the Tucson Convention Center, which could include a parking structure, outdoor dining and food and beverage areas, an outdoor amphitheater and possibly a public ice rink. The investment could reach $75 million.
"It's hard to pick just one thing that kind of set things off. I think there's a whole multitude of things," Irvin said. "But for the first time in the 30-plus years that I've been here, everybody's playing well together in the sandbox. We've never seen that."
The players in the proverbial sandbox would include Tucson and Pima County government, commercial lenders, private developers and real estate investment firms among others, McCusker said.
For a time, it looked like the sandbox was about to be buried for good when state legislators considered ending the Rio Nuevo TIF because of the millions of dollars that were spent with nothing significant to show for it. Downtown was still struggling in 2012 when a phone call to businessman Fletcher McCusker changed the direction of Rio Nuevo.
McCusker had relocated his own business, Providence Service Corporation, to the corner of Congress Street and Scott Avenue after years in midtown. He had committed to doing what he could to promote downtown development. He said he and then Tucson Electric Power CEO Paul Bonavia discussed improving the area where the new TEP building now sits, including committing to developing retail and restaurants at the ground level.
"We believed downtown could be renovated one block at a time," McCusker recalled. "We worked together on the Broadway/Scott corner. We talked to everybody we knew to say you should bring your business downtown. We became pied pipers of what our downtown might become."
Leaders at the state legislature apparently noticed because it was Arizona Senate President Steve Pierce who called McCusker with a demand, not a request.
"He said, 'I want you to know I'm appointing you to the Rio Nuevo Board.' And I said it didn't sound like an ask. He said, 'It's not an ask. We want you and people that have skin in the game to get involved or we're going to shut it down.' "
Shutting down Tucson's chance to revitalize downtown through Rio Nuevo was the last thing McCusker wanted to see, having grown up here, spending time downtown as a youngster before moving away for 22 years after graduating from the University of Arizona.
"My grandfather moved here in 1929. He laid the sidewalks downtown and at the UA for a dollar a day," McCusker said. "I was a downtown rat as a kid. I went to the Fox Theatre and the Mickey Mouse Club. My family shopped at Lerner's and Jacome's and Cele Peterson's.
"Here was a chance for me to pay my grandfather back for all those sidewalks. It became very personal to me."
Shortly after being appointed to the board, McCusker and newly elected Mayor Jonathan Rothschild led the effort to settle several lawsuits between Rio Nuero and the City of Tucson, and pledged to get Rio Nuevo on track for its intended purpose, to revitalize downtown and build it into an economic development asset.
"Any community's downtown is not only its outward face, but an integral component of its economic heart and soul," said Joe Snell, president and CEO at Sun Corridor Inc. "When we developed the region's Economic Blueprint in 2007, we knew we had to accelerate the process and pace of downtown development and worked very hard to refocus attention there.
"Fast forward to today and Rio Nuevo has become a critical player in the region's economic development efforts. They are involved in many of our client visits and site selectors are impressed. For example, Caterpillar's relocation would not have happened without Rio Nuevo."
Caterpillar Surface Mining and Technology Division is building a $50 million headquarters on the west side of the freeway with a financial boost from Rio Nuevo. Two other headquarters, Hexagon Mining and Axiscades, an international engineering firm, have moved in.
The Tucson Roadrunners, a minor league affiliate of the National Hockey League's Arizona Coyotes, are playing at the refurbished Tucson Arena – another Rio Nuevo project – and the Tucson Sugar Skulls will play their first indoor football season there beginning in March.
Take a nighttime walk around downtown – something that you just didn't do 10 years ago – and restaurants and bars are open, activity is abundant. There's plenty of entertainment at venues like the Fox Theatre and Rialto Theatre, as well as at the Tucson Convention Center.
Rio Nuevo continues to propel downtown progress. It has been involved with 23 projects using direct funding or tax incentives that helped get projects approved with lenders and companies looking to locate there. However, Irvin said, there are other projects not related to Rio Nuevo that have come to fruition, so there is plenty of credit to go around.
"I think a lot of people forget how impactful the city was with having the vision to bring in the street car," Irvin said. "I think we would eventually have gotten some hotels. But if it wasn't for (hotel developer) Scott (Stiteler), we certainly would not be advancing five hotels."
Kathleen Eriksen is president and CEO of the Downtown Tucson Partnership. She said, "Downtown Tucson is experiencing unprecedented growth, with more than $360 million dollars in projects currently underway – with 670 housing units and approximately 651,000 square feet of commercial space currently under construction.
"On average a new business is opening every 10 days. Simply put, Downtown Tucson is transforming right before our eyes as evidenced by the number of cranes in the sky. Rio Nuevo and the Downtown Tucson Partnership have a symbiotic relationship. Rio Nuevo provides the investment necessary to encourage these developments and the Downtown Tucson Partnership creates an environment for those projects and others to thrive."
Irvin recalled, "When we started doing stuff downtown, we did things really backwards – but we had to. Most of the time, you'll see retail and entertainment and all that stuff follow residential. We didn't do that. We knew the best way to bring people downtown was to do it through entertainment and music and food – and it worked well. But it was only enough to get us going. We knew in order to sustain that we needed hotels. In order to sustain that we needed employers."
Downtown got both.
Stiteler has been on the front lines of redevelopment and said he never viewed downtown as a place to avoid. Instead, he saw opportunity. Stiteler and his business partner, Rudy Dabdoub, were the first to toe the hotel water when they built the AC Hotel Tucson Downtown, a Marriott brand.
Stiteler is developing two more hotels under the Marriott umbrella – the Moxy and the Element. Hilton has announced two of its brands coming to downtown – a Hampton Inn and a Home2 Suites. And Caliber Hospitality has a hotel with a parking structure in the works on the Tucson Convention Center property.
From where we sit today, Stiteler said, it seems "obvious" that Tucson was ripe for what is happening with hotels downtown now that two of the world's largest brands, Marriott and Hilton, are in play. Convincing others, like the hotel companies and the banks, was the tough part.
"It's much easier to say this today than four or five years ago, but the obvious is that Tucson is a community of over a million people with a downtown that has momentum," Stiteler said. "To have zero new hotel rooms in a community that large in the core part of downtown, I don't know if you could find an example of that in the United States for a city our size or even half the size.
"That doesn't mean it's easy to go first because you look in the mirror and ask yourself why hasn't the obvious happened. You have to question that so many times and it's not just convincing yourself, it was convincing lenders and Marriott, which we were able to do."
There's still a ways to go in downtown redevelopment, Irvin said. He estimates that even with the five new hotels totaling about 600 rooms that are already planned, economic studies indicate there's room for another 700 rooms – or about four or five more hotels the size of the ones being built.
He points out that when Caterpillar moves into its new offices in 2019, that will clear the office space it is now occupying in the center of downtown. Tenants will need to be found. "They're going to vacate a 40,000-square-foot building that the county owns and they're also going to vacate 20,000 square feet at 1 S. Church," Irvin said.
On the front burner for Rio Nuevo is the work at the Tucson Convention Center – including remodeling the ballroom, exhibit halls and meeting rooms, upgrading and refurbishing restrooms, replacing seating and carpeting at the Music Hall, replacing the roof at the Leo Rich Theater and upgrading the plaza around the TCC, including renovation of the historic Eckbo fountains.
There's also another $4.8 million worth of work to be done at the Tucson Arena to add a new sheet of ice and replace the floor, repair the roof, update the lighting and add 800 to 1,000 seats for the Roadrunners and Sugar Skulls. The previous renovation, completed in 2016, cost $11.2 million to upgrade the seating and build new locker rooms, among other enhancements.
Glenn Grabski, GM of SMG, the company that operates the TCC, told the Rio Nuevo Board that work on the ice and the floor will begin as soon as the Sugar Skulls' inaugural season ends in mid-June to get it done by the time the Roadrunners need it in October.
"I don't think we're ever going to be done (revitalizing downtown)," Irvin said. "I think there's always going to be an opportunity. I think there are some things that we did early on with Rio Nuevo that set the table and maybe we won't have to do quite so much. Activity breeds activity."
Axiscades moving into Tucson is one example, Irvin said.
"We didn't have anything to do with that, we just set the table – and because it was this great table set with two other mining groups here, all of a sudden that happened," he said.
With so much already accomplished, Irvin expects those who have been involved in downtown's turnaround will continue the work.
Last April, Gov. Doug Ducey extended the taxing district by 10 years to 2035 which means there will be financial resources to keep the ball rolling.
"I will tell you that the core groups that are there now are all there because they want to make downtown better," Irvin said. "It's not about them, it's not about us, it's not about credit. It's about making an impact downtown, making something that maybe we won't be around to enjoy as much as we'd like to. But wouldn't it be cool if our kids and grandkids did?"