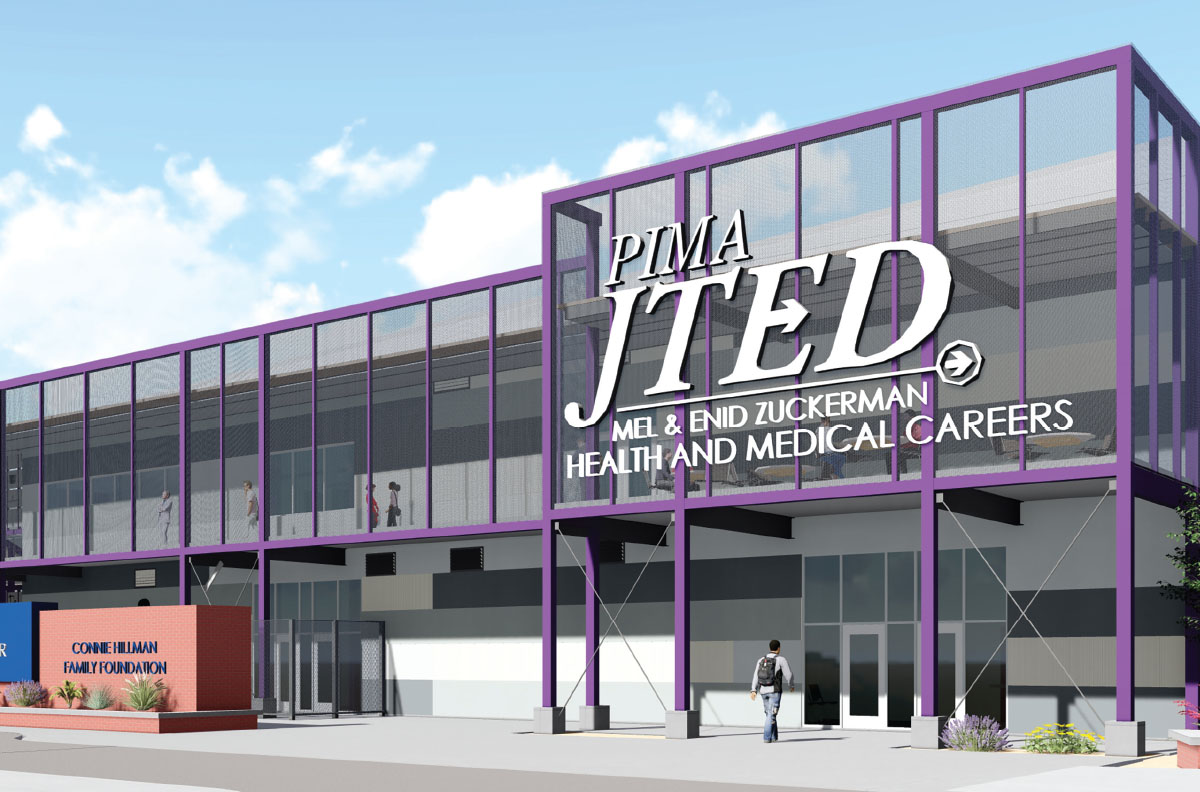 Pima JTED Advances Healthcare
Mel & Enid Zuckerman Center for Health and Medical Careers Breaks Ground
By Tom Leyde
Pima County Joint Technical Education District is expanding again.
JTED has broken ground for a new building at The Bridges, 3300 S. Park Ave. The 50,000-square-foot structure will be built directly next to the existing JTED facility, which opened last October.
Expected to be completed by August 2024, the new structure will be known as the Mel & Enid Zuckerman Center for Health and Medical Careers. The Zuckerman family donated $5 million toward the cost of the $21 million project. About $13 million had been raised at the time of the May 4 groundbreaking
The building also will house the Potoff Private Philanthropy Veterinary Sciences Center and the Connie Hillman Family Foundation Health & Wellness Center.
"An increased demand for workers in the medical and veterinary science fields was a strong impetus for the new building," said Greg D'Anna, JTED's director of public relations. Medical and veterinary classes in the existing building at The Bridges will move into the new structure when it is completed, he said.
"Eventually, we look to add more buildings at the site of The Bridges," D'Anna said. "We have first right of refusal for the property just north of us."
Pima JTED is a public career and technical education district working with business and industry and 14 member school districts. It provides career training programs to about 22,000 sophomore, junior and senior high school students annually.
At the groundbreaking ceremony JTED CEO Kathy Prather said the new building began as a vision of University of Arizona President Dr. Robert C. Robbins five years ago "to bring a world-class experience in health, medicine and veterinary science."
"I thought this is one of the top things that adds value to our community," Robbins said. "This is a big deal today. This is something that is going to change the course of healthcare in Arizona."
"This is all about you," he told students in attendance at the ground-breaking. "But it's all about us because the future is bright. These students are going to go into the workforce and they're going into healthcare. Don't waste this opportunity because this is going to be an incredible experience in getting you ready."
Pima JTED Board Chair Bob Schlanger added: "I've been astounded by the public support for this project. It validates what we've been working toward for the last 16 years."
Other private donors at the time of the groundbreaking included:
• Potoff Private Philanthropy − $2 million.
• Connie Hillman Family Foundation − $2.5 million.
• Thomas R. Brown Family Private Foundation − $2 million.
• Rotary Club of Tucson − $750,000.
• Allison & Simon Heinz Trust − $100,000.
• Tucson Medical Center − $300,000.
• Banner Health − $100,000
• Pascua Yaqui Tribe − $50,000.
• Federal government − $3 million
"These gifts will not only help us resolve the critical shortage of health, medical and veterinary professionals in our community, but will also make innovative, holistic curriculum and advanced medical training tools available to high school students pursuing careers in these areas," Prather said in a news release.
Juan Ciscomani, U.S. congressman representing Arizona's Sixth District, also is working to obtain federal funding for the new building. Ciscomani said the new project is filling the need in the community for more workers.
"I'm so excited for the Mel & Enid Zuckerman Center," Shirley Martin, a junior in the JTED healthcare program, said at the groundbreaking. "This will open so many opportunities for students who are interested in the medical field and the health field overall. This program has set me up for life. As soon as I graduate, I'll be working at a hospital or in a clinic."