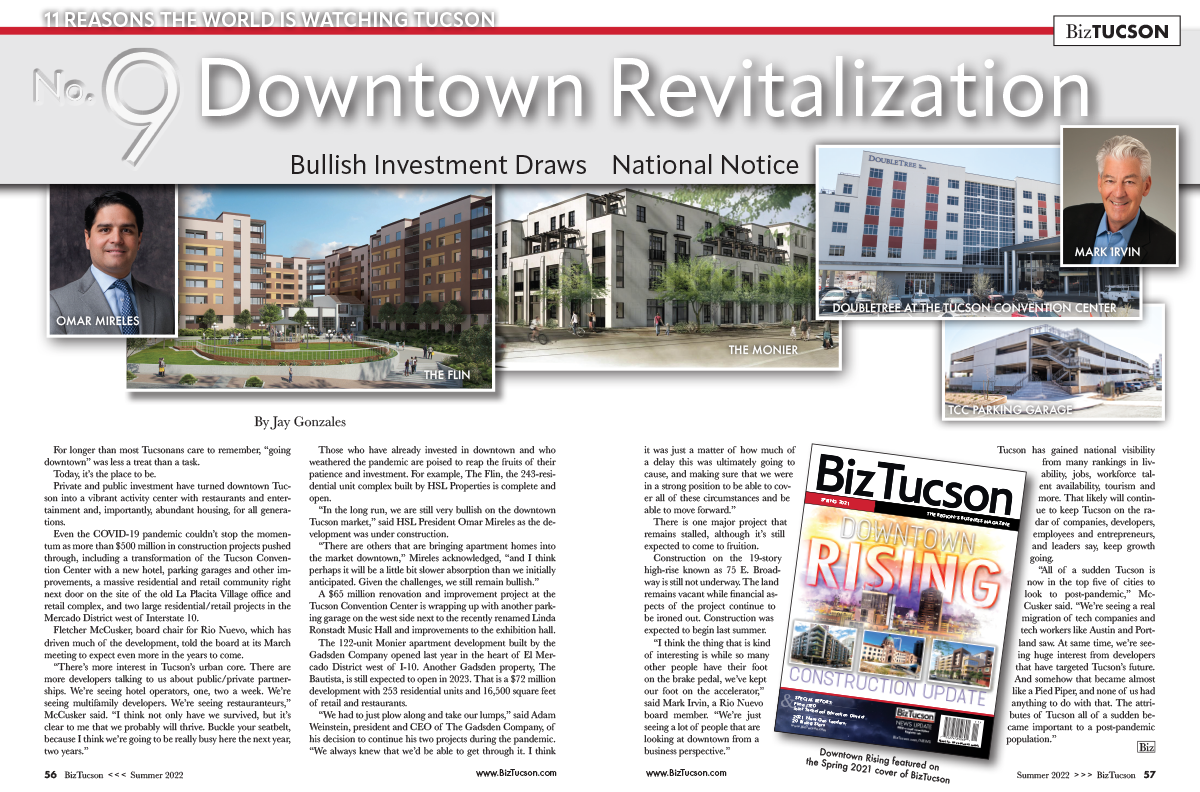 No. 9 Downtown Revitalization
Bullish Investment Draws National Notice
11 REASONS THE WORLD IS WATCHING TUCSON
By Jay Gonzales
For longer than most Tucsonans care to remember, "going downtown" was less a treat than a task.
Today, it's the place to be.
Private and public investment have turned downtown Tucson into a vibrant activity center with restaurants and entertainment and, importantly, abundant housing, for all generations.
Even the COVID-19 pandemic couldn't stop the momentum as more than $500 million in construction projects pushed through, including a transformation of the Tucson Convention Center with a new hotel, parking garages and other improvements, a massive residential and retail community right next door on the site of the old La Placita Village office and retail complex, and two large residential/retail projects in the Mercado District west of Interstate 10.
Fletcher McCusker, board chair for Rio Nuevo, which has driven much of the development, told the board at its March meeting to expect even more in the years to come.
"There's more interest in Tucson's urban core. There are more developers talking to us about public/private partnerships. We're seeing hotel operators, one, two a week. We're seeing multifamily developers. We're seeing restauranteurs," McCusker said. "I think not only have we survived, but it's clear to me that we probably will thrive. Buckle your seatbelt, because I think we're going to be really busy here the next year, two years."
Those who have already invested in downtown and who weathered the pandemic are poised to reap the fruits of their patience and investment. For example, The Flin, the 243-residential unit complex built by HSL Properties is complete and open.
"In the long run, we are still very bullish on the downtown Tucson market," said HSL President Omar Mireles as the development was under construction.
"There are others that are bringing apartment homes into the market downtown," Mireles acknowledged, "and I think perhaps it will be a little bit slower absorption than we initially anticipated. Given the challenges, we still remain bullish."
A $65 million renovation and improvement project at the Tucson Convention Center is wrapping up with another parking garage on the west side next to the recently renamed Linda Ronstadt Music Hall and improvements to the exhibition hall.
The 122-unit Monier apartment development built by the Gadsden Company opened last year in the heart of El Mercado District west of I-10. Another Gadsden property, The Bautista, is still expected to open in 2023. That is a $72 million development with 253 residential units and 16,500 square feet of retail and restaurants.
"We had to just plow along and take our lumps," said Adam Weinstein, president and CEO of The Gadsden Company, of his decision to continue his two projects during the pandemic. "We always knew that we'd be able to get through it. I think it was just a matter of how much of a delay this was ultimately going to cause, and making sure that we were in a strong position to be able to cover all of these circumstances and be able to move forward."
There is one major project that remains stalled, although it's still expected to come to fruition.
Construction on the 19-story high-rise known as 75 E. Broadway is still not underway. The land remains vacant while financial aspects of the project continue to be ironed out. Construction was expected to begin last summer.
"I think the thing that is kind of interesting is while so many other people have their foot on the brake pedal, we've kept our foot on the accelerator," said Mark Irvin, a Rio Nuevo board member. "We're just seeing a lot of people that are looking at downtown from a business perspective."
Tucson has gained national visibility from many rankings in livability, jobs, workforce talent availability, tourism and more. That likely will continue to keep Tucson on the radar of companies, developers, employees and entrepreneurs, and leaders say, keep growth going.
"All of a sudden Tucson is now in the top five of cities to look to post-pandemic," McCusker said. "We're seeing a real migration of tech companies and tech workers like Austin and Portland saw. At same time, we're seeing huge interest from developers that have targeted Tucson's future. And somehow that became almost like a Pied Piper, and none of us had anything to do with that. The attributes of Tucson all of a sudden became important to a post-pandemic population."