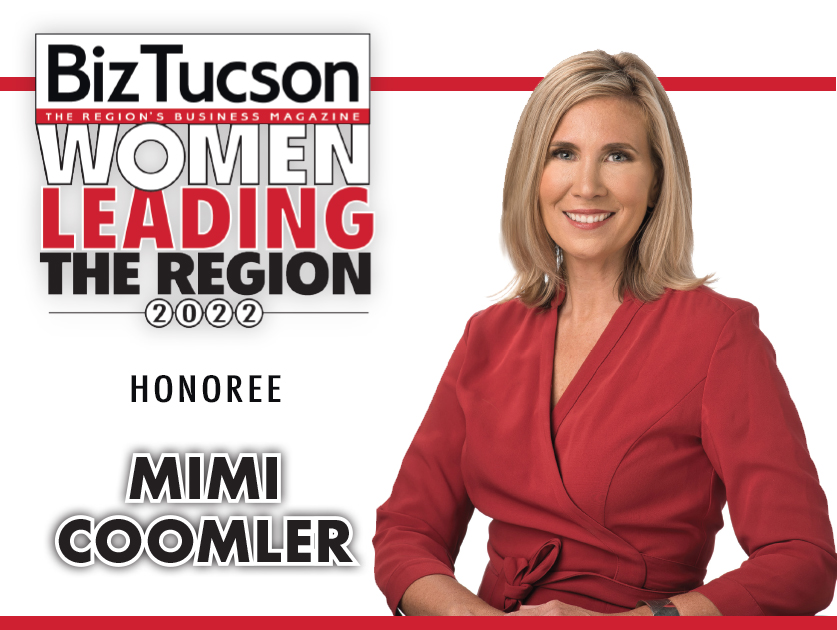 CEO – Tucson Medical Center
By Tara Kirkpatrick
If you want to walk in Mimi Coomler's shoes, start with the hallways of Tucson Medical Center.
The CEO of the top hospital in metro Tucson, as ranked by U.S. News & World Report, has walked every single one.
"The people who are in the room with the patient…my responsibility is to serve them and ultimately, the patient," said Coomler, who was named to the top job in October 2021. "You can't do that from an office, you have to be out and in the environment. That's an important part of making good decisions in health care."
With more than 20 years as a nurse, including at a Pennsylvania wilderness camp for adjudicated kids, Coomler served TMC in several capacities before being named CEO. She was women and children patient care services director, VP and chief nursing officer, and senior VP and COO. She was also manager of critical care at Sierra Vista Regional Health Center and COO and CEO of Children's Clinics for Rehabilitative Services.
"We are so grateful to have Mimi as CEO of Tucson Medical Center," said Judy Rich, president and CEO of TMC Health. "Her ability to show compassion, respect and empathy, even during difficult times, makes her a strong leader for our community hospital. She is courageous and confident, and truly cares about our staff, our patients and our community."
Coomler credits experiences early on in her career that shaped her. When she first came to Arizona, she worked in a rural area, often relying on hospitals like TMC for patients needing a higher level of care. Now, she is on the other end of that continuum at TMC providing essential care to acutely ill patients from throughout the state.
"It's the local aspect of this organization, we are excited to serve the community of Tucson and Southern Arizona," she said. "When we have to make decisions here, we have a local board of trustees that guides our strategy."
That was especially helpful when it came to TMC's COVID-19 leadership in both overall care and vaccination distribution. "We filled a need for our community in a really profound way," Coomler said. "We recognized that we were the local hospital and could mobilize quickly."
Now as CEO, she is devoted to keeping the patient as her top concern.
"My work is to actively seek ways to improve care and the right decision will always be one where the patient is at the center."