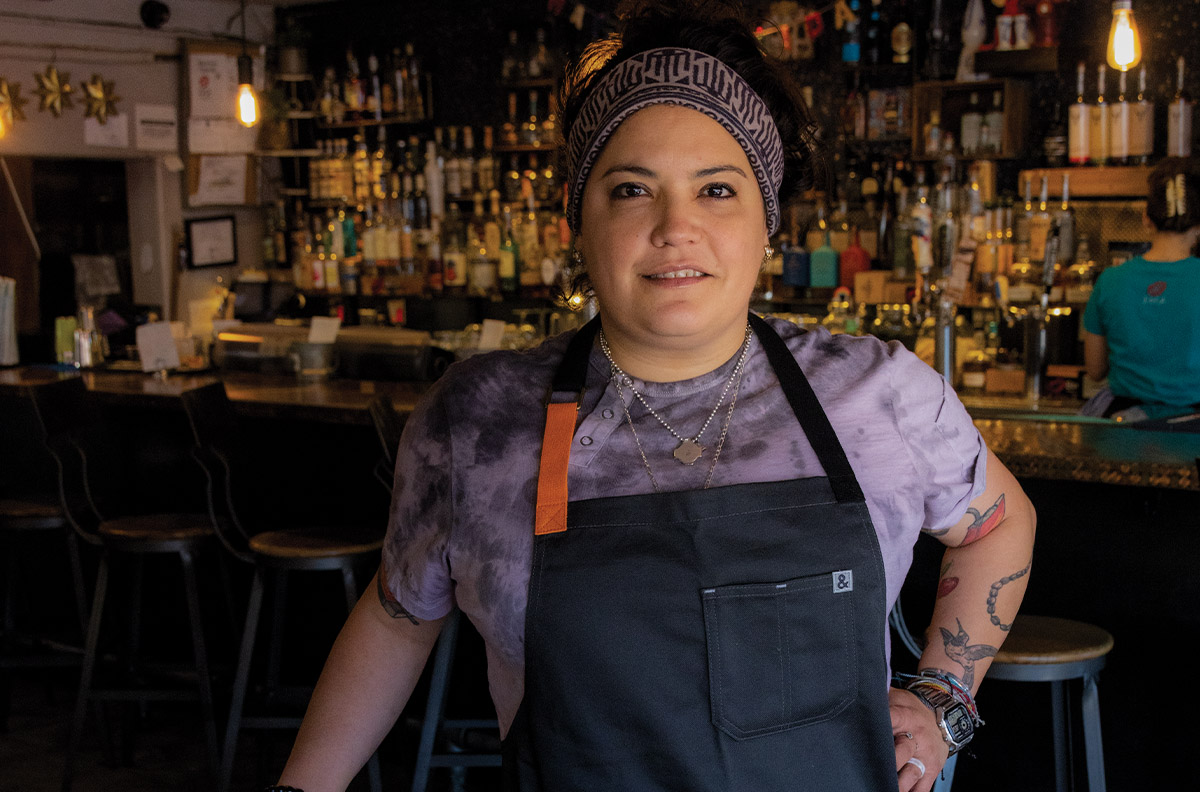 Maria Mazon's Cuisine Attracts National Interest
From Tucson to Top Chef
By Christy Krueger
When Maria Mazon opened her Fourth Avenue restaurant in 2010, BOCA Tacos y Tequila, she wanted the name to reflect her youth growing up in Sonora, Mexico.
"I'm from a place with a lake and small beach called Las Bocas," said the acclaimed chef. "I have great memories of being there. Food and music are the two things that make you travel in time. I now have the power to do one of them – create the smell of being young. It was a simple life. That's what BOCA means to me."
As a teenager, Mazon moved to Tucson and lived with her aunt and uncle. While trying to figure out what she wanted to do with her life, she started working at a Mexican restaurant in town. "I discovered I can do this," she said. Mazon eventually started a catering company, based at the restaurant, and three years later she opened BOCA Tacos y Tequila. She has recently simplified the name to BOCA.
"I didn't know how to be a business person," she said. "It was trial and error. I always wanted to make the real thing – tacos with pickled onions, cabbage and salsa – the Sonoran way. I had a rude awakening when I realized others were using yellow cheese and sour cream. But now I realize there are three styles: Tex-Mex, American-Mexican and Mexican cuisine."
Mazon was young when she started her business, and she admits she had a lot to learn. "Me and the business me didn't like each other," she said. But she listened to her gut about being true to herself, building on her creativity and not following what others were doing.
This has greatly paid off. Mazon and her restaurant have been featured in numerous media outlets, including Food Network, Travel Channel and The New York Times.
She said she doesn't know how they found her, but she remembers the first one, Food Network Canada. "They emailed me first, then they came and we closed the restaurant and they started filming. It was their version of (TV series) 'You Gotta Eat Here.' I didn't know that a lot of Canadian people live here as snowbirds. All of a sudden I had a wave of Canadians, and they appreciated the food."
Other media mentions followed, and so did the celebrities. "I remember Roger Clemens, the baseball player, came in," she recalled. "He said a famous chef recommended my restaurant. I started appearing on the map."
The business has grown to 40-plus employees and the addition of a tortilleria. "We make tortillas like in Mexico and we buy the best organic corn," she said. She also became a salsa aficionado and started making salsas with flavors of other countries. "I fell in love with the blender," she explained. "It's a tool that's made me noticeable. The salsa started giving me a voice."
USA Today listened. In 2016, the newspaper responded with an article boasting of the fresh salsas Mazon prepared daily using ingredients grown in the back of the restaurant.
Mazon's national recognition has now surpassed television shows and newspaper mentions. In 2020, she was a James Beard Award finalist and a semi-finalist in 2022 (no awards were presented in 2021 due to COVID-19). At first, this attention gave her anxiety because she didn't want to be a one-hit wonder. But then she changed her attitude. "Validations are amazing; I want to enjoy them. If I continue, that's great. But I don't want to lose myself chasing after it."
As for the future, Mazon wants to continue showcasing the beauty of Mexico and let Tucsonans know they don't have to travel to find authentic Mexican food. She does not feel competitive with other regional Mexican restaurants, and she said she's very loyal to Tucson. "I breathe local stuff. When I was on 'Top Chef,' I was glad to mention Tucson. I'm proud of my heritage and what I do."