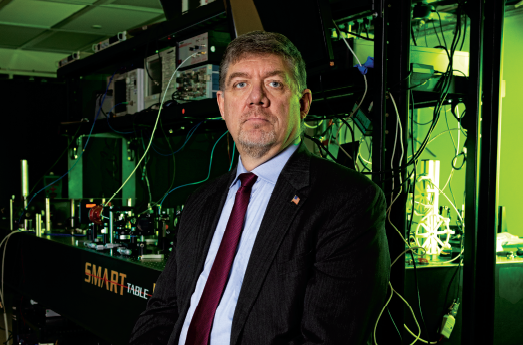 Applied Energetics Finds Prosperous New Home at UA Tech Park
By Valerie Vinyard
Applied Energetics has settled into its new digs at University of Arizona Tech Park at Rita Road.
And it's a perfect fit for the leader in developing laser technology with fast-strike capabilities.
"It's been fantastic," said Applied Energetics CEO Gregory Quarles. "It's very collaborative. There's open space out here, a space to walk, a workout area, a Starbucks and an easy drive out from the airport. It's a really good mixture of the things we want to have."
"It was really about right time, right place," he continued. "It fit every need that we have."
Those needs involved tripling its space to 13,000 square feet, including the addition of a 4,800-square-foot clean room and dust-free environment to "do some really great experiments," Quarles said. The company is benefiting from millions of dollars of capital investment made by the previous occupant, a global provider of lasers and laser-based technology.
Quarles said the new headquarters will allow the company to reach new heights in the field of Ultra-Short Pulse lasers. It also will "align with the company's defense industry and production roadmap," he added.
"We worked with Applied Energetics to relocate their corporate headquarters to the UA Tech Park, where they join over 70 other technology companies within this dynamic and collaborative community," said Carol Stewart, associate VP of Tech Parks Arizona. "Applied Energetics has strong ties to University of Arizona research, and this strategic location adds to their ability to fast-track the development and commercialization of their technologies in the field of ultra-short pulse lasers."
Brad Adamczyk, board chairman of Applied Energetics, said the company's move to the prestigious location proves it will continue to be a driving force in its industry. "Our company growth is best exhibited by our move to the UA Tech Park, one of the nation's premier research facilities, which enabled us to leapfrog our technology development roadmap by gaining over 4,800 square feet of state-of-the-art cleanroom space," Adamczyk said. "This will not only allow us to further advance our pursuit of co-development opportunities and build proprietary end-market applications for our USP laser technology, but also attract and retain the best and brightest talent."
"There is such a breadth of technology that is growing up in this area," Quarles said. "There's a lot of really wonderful things we can do."
Laser research often uses continuous beams of light, but Applied Energetics is using short-pulse laser technology that emits a beam for a billionth of a second. That light could be used for defense purposes to eliminate a target or targets, Quarles said.
"This part of the laser market has not been explored or populated very readily," he explained."It has been a forefront in the scientific community, but it hasn't been explored in the defense sector. If we can demonstrate that, we could do that maybe a thousand times a second. In that same time period, we can access hundreds of times more targets."
Applied Energetics' strength and knowledge in the industry stand out.
"What attracted me and other shareholders most was Applied Energetics' vast intellectual property portfolio in Ultra-Short Pulse technology, much of which was developed over 15 years ago," Adamczyk said. "This, as well as the company's leadership from CEO Dr. Gregory Quarles and Dr. Steve McCahon, one of the world's most renowned USP scientists, is a winning combination that will transform the defense space to counter threats through less-than-lethal means while also impacting the biomedical and manufacturing industries."