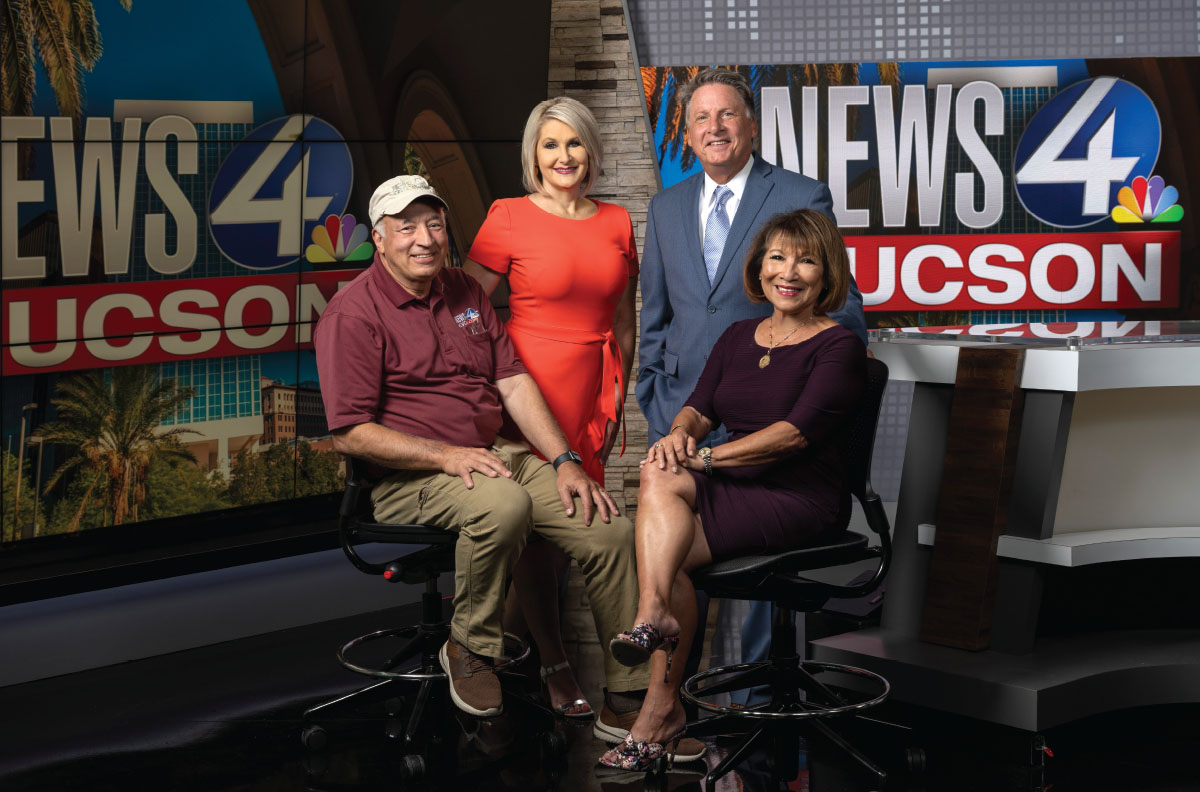 KVOA News 4 Tucson Celebrates 70 Years
Media Milestone
By Jay Gonzales
In the 70 years since it hit the airwaves, KVOA News 4 Tucson has documented every piece of Tucson history to a following that has made the station No. 1 in the market for most of its existence.
It has told the stories of the worst tragedies in the community along with the most heartwarming tales about the people who live here.
There have been personalities who became a part of our lives − anchors, sportscasters and the always-friendly people who bring us the weather. A few have gone on to national prominence in the media, Savannah Guthrie to Today, Dan Hicks to NBC Sports and Lou Waters to CNN.
For Lupita Murillo, a reporter who came here from South Texas in 1978 and who − unlike so many others in the business − has stayed for the duration, her job has always been about the people of Tucson.
"I fell in love with the people," said Murillo, legendary for her stylish shoes and clothes, and the rum cakes she generously handed out in the community over the decades to cops and judges on her beat, to fellow reporters and to members of the community. "The people were just so warm and genuine. I just really fell in love with the people and with the mountains."
Recording Tucson history and literally being a part of it happened quickly for Murillo who arrived in the summer of 1978. Just a few months later, she was the KVOA reporter on the scene of one of the worst tragedies in the city's history – an Air Force jet crash in the middle of Tucson that killed two sisters. Of the thousands of stories she has covered, Murillo said, "That one sticks."
Al Mazeika, who arrived at KVOA in 1975, is a library of Tucson history whose first exposure to the business was as a voice.
"I stumbled into this job," said Mazeika, whose first job at KVOA was as a booth announcer – the voice that would sometimes read short commercials or read announcements like, "We now join our regularly scheduled programming."
Mazeika's first thoughts on the history of KVOA are toward the people he has worked with, bosses like former general manager Jon Ruby, and to the founders and initial investors in the station, real estate developer Don Diamond, and attorney and businessman Donald Pitt, two community-minded individuals who imparted their vision on the station.
"Ever since I've been here it's always been about what do we do for the community," Mazeika said, noting KVOA's community projects related to pool safety for children, toy drives, and collecting school supplies, to name a few. "You just meet wonderful, wonderful people along the way doing that stuff, and that's as much fun as I have editing and doing things like that around here."
Jimmy Stewart is one in a long line of ever-popular "weathermen," more accurately known as meteorologists, who came to Tucson, made friends with the people who watched him every day, and decided to stay. Now retired, Stewart began his time in Tucson at one of the other local stations and moved to KVOA in 1990. He brought us the weather for 21 years.
Stewart worked alongside many "icons" of the news business in Tucson, anchors Patty Weiss, Martha Vasquez, Tom McNamara and meteorologist Michael Goodrich, who he replaced in 1998. But when he was on the air, he knew he was talking to each of us as individuals, which is how he approached his weather reports.
"You talk to one person, not a group. You never say, 'For all you people down in Green Valley.' You say, 'For you in Green Valley,'" Stewart said. "That's the way you communicate on television if you're successful."
And in turn, his viewers considered him their friend.
"Everybody seemed to know who I was," Stewart said. "I'm not your typical movie-star looking guy, but I could go out with an anchor who was really good looking, and people wouldn't even notice them because I was a little more recognizable. I never needed that, but it was rewarding to know that you touched some people's lives."
With all the history behind KVOA and changes in how the news is delivered today − over the air, online and through social media, News Director Cathie Batbie-Loucks said the responsibility is the same. Batbie-Loucks has been at KVOA since 1999 and has been in the news director seat since 2011, where she works to ensure that viewers get the information they want and, more importantly, need.
"The guts of journalism hasn't changed," she said. "What we do day in and day out is the same as what we did day in and day out in 1999 when I walked into this place.
"It's still about telling a good story. It's still about talking to all sides. It's still about trust in the media and making sure that we're giving the viewers the entire story to the best of our ability. That hasn't changed."
What has been added to the plate of local news media, Batbie-Loucks said, has been that news stations like KVOA are trying to make a community impact, not only by delivering the news but by engaging, hence, the many community projects and efforts that KVOA is leading.
The Season 4 Hope that collects and delivers food, toys and diapers during the holiday season is now 15 years strong. The Lifesaver campaign began in 2009 to make an impact on child drownings by providing free swimming lessons for kids and education for the community. In 2019, there were no fatal child drownings in Pima County.
"I think at some point the light bulb came on, and it was not just about reporting what's going on every day in your community," Batbie-Loucks said. "This IS your community. It's about using the power of your voice to fix the problems in your community.
"We started the Lifesaver campaign because kids were drowning every summer in Tucson. Kids aren't drowning every summer in Tucson anymore. There's nothing that I am more proud of than being able to save children's lives and our community."
The community involvement is a significant component of KVOA's legacy in Tucson, along with delivering news as the most-watched broadcast among the locals, said VP & General Manager Peter O'Brien. With his own history in Tucson dating back to working for KZAZ, Channel 11, the first independent station that launched in 1967, O'Brien is well aware of the history and stature of KVOA.
He joined the station in May 2022 after working in northern California, and knows he has a responsibility to build on the legacy of 70 years in a time when everything in the news media seems to be changing regularly.
"When I was here in the 80s, it was a legacy station then. I knew that when I was growing up in this business in this town," O'Brien said. "I want to make sure we keep doing all the important things that we have done and maybe do them a little bit better."
Pictured above from left – Al Mazeika, Creative Services Producer; Cathie Batbie-Loucks, News Director; Peter O'Brien, VP & General Manager; Lupita Murillo, News Reporter. Photo by Chris Mooney