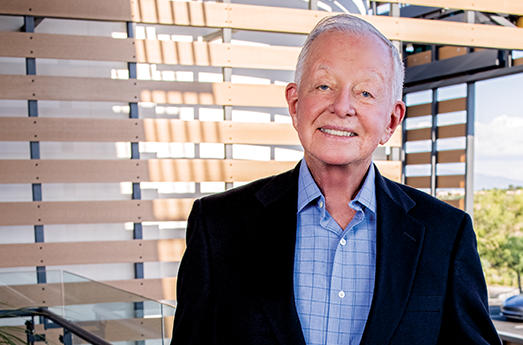 George Larsen Honored for 50 Years in Business
By Valerie Vinyard
Walk into George Larsen's sprawling office at Larsen Baker, and you might notice the bookshelves, a mini-fridge that's well-stocked with caffeine-free Diet Coke and a well-appointed desk.
What you won't see is a computer. Larsen, the 77-year-old co-founder of Larsen Baker who possesses a keen sense of humor, avoids using computers. As a successful commercial real estate magnate for more than 50 years, apparently he feels he doesn't need one.
Larsen will be recognized this fall as a Real Estate Legend by Certified Commercial Investment Members (known as CCIM). He joins other local honorees in a series that started about 10 years ago. A Tucson Convention Center luncheon in his honor is set for October. There will be a good-hearted roast of Larsen, comments from friends, a fireside chat and a look back at the big real estate deals of Tucson.
If anyone needed to be honored, it's Larsen.
"In a lot of people's minds, he is the legend," said Melissa Lal, the 37-year-old president of Larsen Baker. "I believe he is the godfather of commercial real estate in Tucson.
"George is a legend because he is as relevant today as he was 50 years ago – and he's doing some of the best and trendiest deals in Tucson."
With a portfolio of over 3 million square feet and 550 tenants, Larsen Baker is Tucson's largest commercial real estate firm.
The Chicago native took a round-about route to a career in real estate. Larsen first attended Rutgers University for a few years then studied writing in Iowa for a year. When he graduated from college in 1965, he joined the U.S. Army then used funds from the GI Bill to attend Arizona State University.
Armed with an MBA, Larsen accepted a job in Tucson with Horizon Corp. in 1970. The company specialized in land sales and got him into real estate.
Larsen partnered with Don Baker during a real estate recession. In 1993, the two combined 40 years of experience in the real estate world to found Larsen Baker.
In 2016, Baker and his wife, Dawn, died in an airplane crash while returning from a conference in Utah. Larsen took it hard.
"I miss him to this day," said Larsen, who has been married to Margaret Larsen for 32 years and has a 26-year-old daughter, Olivia. "He was very important to the growth of this company."
After the tragedy, Larsen promoted Lal to company president.
Lal started with Larsen Baker as an administrative assistant in 2007. She had a degree in American literature from the University of Arizona, but deftly transitioned into real estate.
"We try to be the customer service landlord," she said. "We have tenants who stay with us because we treat them well, and we try to do the right thing."
That mentality helped when the COVID-19 pandemic arrived.
"We were in the low of the lows in the height of the pandemic," said Lal, who was born in Omaha, Neb., but moved to Tucson when she was 3. "It's just been so surprising that we're in a really strong market. Arizona and Tucson have really been kind of COVID winners with the migration of people moving across the country to a place they can buy a home or have some space. We're seeing that positive effect."
Though some experts like Moody's Analytics expect the retail and office sectors will continue experiencing distress this year because of the pandemic, Larsen Baker doesn't share that opinion.
Lal said the company's portfolio was an impressive 94% occupied before COVID-19. Today, it's 98%.
"We are out of the woods for now," Larsen said. "You just try to get through the down times and have fun the rest of the times. He estimated that the real estate market experiences 80% good times and 20% bad. "Nowadays, everybody is in a good mood in commercial real estate," he said.
"I think Tucson is very well positioned for the future," said Larsen, citing Tucson's climate, size, affordability and college atmosphere as lures to living and working in Tucson.
So, what's the secret to his success?
"Do you think there was a plan for this?" Larsen said, laughing.
"I think we work harder than most people do. We're tenant-focused. We keep our properties."
He noted Larsen Baker tends to remodel properties rather than build from the ground up. "We are the bargain hunters of the world," Larsen said. "We want the downtrodden buildings."
Lal gave her opinion on Larsen's success: "It's because of the way he does business," she said. "It's his deal sense. His handshake is a contract. Those things are timeless.
"We keep him young – and he keeps us grounded and from totally messing up."
50 Years in the CRE Honoring George Larsen
Tuesday, Oct. 12, 11:30 a.m. – 1 p.m.
Tucson Convention Center – 260 S. Church Ave. 
$40 per person
$50 for walk-ins