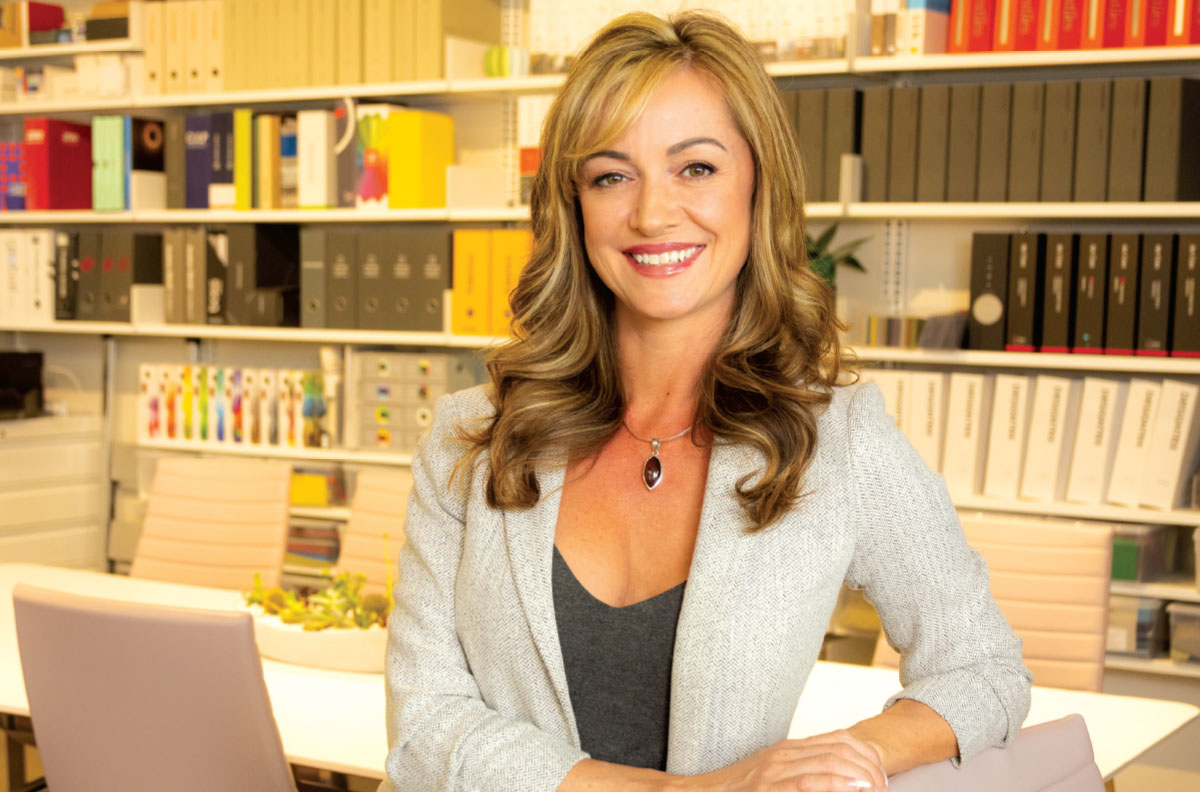 JKaiser Workspaces Focuses on Environments
By Valerie Vinyard
Jessica Kaiser is a problem-solver.
"We want to solve problems they haven't even thought of yet," said the woman behind JKaiser Workspaces, a Tucson furnishings and design firm listed twice on the Inc. 5000 Fastest-Growing U.S. Companies list.
Once you meet her, you'll want Kaiser to transform your workspace. Her confidence, experience and easy rapport will make you a believer in her ability to create a functional, fashionable and fun space to work.
"I am very entrepreneurial," Kaiser said of her business. "(My job) gives me an opportunity to be competitive and creative."
Located at 40 E. Congress St., JKaiser Workspaces contains an airy, beautifully designed showroom, a loft and a few extra rooms. Of course, this didn't happen overnight. Kaiser, 42, started with a space in 2014 at Connect Coworking at Fifth Avenue and Congress Street downtown.
"I've always been interested in downtown," she said. "It gave us a bigger footprint and impression."
A couple of years later, she outgrew the space and moved into the lower level of Bourn Companies on East Congress Street. The room provided even more room for her company – and connections.
"We developed this really synergistic referral partnership," Kaiser said. "We want to develop long-term relationships with our clients."
Her current 2,000-square-foot space, which she has inhabited for about a year and a half, is located next door to Bourn Companies and started as a dirt lot. Now JKaiser's soaring ceilings encompass rooms full of trendy decor, furniture and artwork.
JKaiser Workspaces and its employees collaborate with the architectural community and general contractors to create the perfect design of a workplace – both large and small. In Tucson, you can see Kaiser's work at the 200,000-square-foot headquarters for Geico Insurance and Pima JTED's Innovative Learning Center at The Bridges near Interstate 10 and Kino Parkway.
"Jessica and her team at Jessica Kaiser Workspaces created a learning environment at the JTED Innovative Learning Center at The Bridges that is sleek, modern and inspirational for our students, all within our budget," said Pima JTED Superintendent Kathy Prather.
Kaiser continues to work diligently at developing strong relationships with the schools, restaurants and health care spaces she lists as clients.
"We are all-inclusive," she said of her role in transforming workspaces. "We will program the needs for that space with the client. What can we do to make them have a more comfortable environment? On top of that, it has to look good."
People might think that Kaiser's job is easy, but she's quick to note that "it's a lot more complicated than people think."
"I think people oversimplify," said Kaiser, noting that such things as ADA (the Americans with Disabilities Act), data and compliance planning are complex parts that must be considered.
Kaiser keeps abreast of trends in her field, adding that today's workspace designs revolve around ergonomics, height adjustability and biophilic design, which is the concept of including greenery in workspaces to promote well-being and health.
Adding a third space is also popular with companies nowadays, she said. A third space is the "in-between space" separate from the workspace and break space.
So, what's passé in today's workspace?
"Tall walls, super-high cubicles," she said. "The sea of cubicles is out."
Kaiser got her start as a Girl Scouts leader in Washington. One of the moms hired her to be a project manager at her firm. She learned important skills such as problem solving, bookkeeping, taxes, and was encouraged to tap into her creative side.
"I was immediately in love with the industry," said Kaiser, who worked for the firm for six years. But she had ambitions beyond that.
She graduated from Eastern Washington University and originally had plans to become a teacher, then moved from her home state of Washington to Nogales, Ariz., where she first dabbled in residential real estate. She also raised three children – now 16, 21 and 22 years old.
Even the pandemic in 2020 wasn't as devastating for her business as it might seem. "With change comes opportunity," she said. "Our work culture is always changing. We are always pivoting."
Now, Kaiser hopes to expand her business.
"This will be a year of growth for us," said Kaiser, adding that she hopes to hire people for the design team and perhaps another program manager. Her current one, Jess Sueskind, joined the company in the fall of 2020 after noticing a job posting on LinkedIn.
"The post was very intriguing," said Sueskind. "It was how I would have described myself. Jessica really sets me up for success. She recognizes me for my work and my worth."
Together, they work to satisfy clients and help companies grow.
"I really believe in quality," Kaiser said. "I want every touchpoint of my client's experience to reflect that."