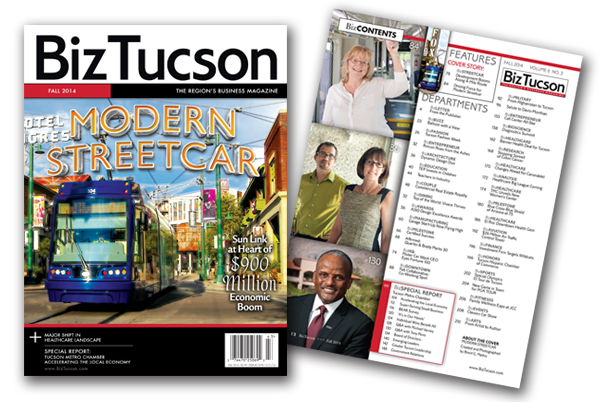 From The Publisher –
Streetcar Named Prosperity
Tucson's Modern Streetcar ignited $900 million in investments along a four-mile route that connects downtown with Fourth Avenue, the University of Arizona and UA Medical Center – all before the first passenger took a ride.
It's an historic time for our urban core, and journalist David B. Pittman provides an exceptional overview of Sun Link's economic impact and origins. He takes us back to 1903, when Louise Marshall, founder of what is now Main Gate Square, invested in the Tucson Street Railway, paving the way for Tucson's first electric trolley system.
Flash forward more than a century to Shellie Ginn, a driving force behind the streetcar concept, plan, design, construction and operation. Ginn is project manager for the City of Tucson, overseeing Sun Link operations.
In other markets with streetcars, it's been said that if you have major healthcare employers on the route, streetcar operations are likely to thrive and have greater economic impact. Along the Sun Link route is UAMC and the new El Rio Congress Health Center, with Carondelet St. Mary's Hospital nearby. In the words of El Rio's Sandra Leal, "I have placed my car up for sale because the Sun Link meets most of my transportation needs."
Since our last issue, there's been a seismic shift in the region's healthcare landscape. Journalist Dan Sorenson kicks off our coverage, as UA Health Network is poised to merge with Phoenix-based nonprofit Banner Health. With the absorption of 6,300 UAHN employees, Banner would become the state's largest employer, with about 37,000 employees. Carondelet Health Network, meanwhile, has signed a letter of intent to create a joint venture with three national healthcare systems – Tenet Healthcare Corporation, Dignity Health and Ascension Health (CHN's parent corporation) – that would own and operate Carondelet. Romi Carrell Wittman fills us in on the details.
Providing insight on what we can expect after the dust settles is Sinfonía HealthCare Founder and CEO Fletcher McCusker, who offers commentary on what these "big league" healthcare deals mean for our city, our citizens and our economy.
Also on the healthcare front, Tucson Medical Center unveils the new Joel M. Childers, M.D. Women's Center. As the leader in OB/GYN care in Pima County, TMC serves 42 percent of the women's population in the region. Mary Minor Davis reports on the $12.5 million redesign and renovation of the women's services department.
Rounding out our healthcare coverage is a look at the new $14.1 million El Rio Congress Health Center. Established in 1970, the El Rio Community Health Center Network was created to serve neighborhoods that had little or no access to healthcare. Wittman provides us with details on this organization that has grown to serve 81,000 patients with an annual budget of more than $100 million.
A highly energized group of community leaders are at the forefront of accelerating the local economy. Tucson Metro Chamber President & CEO Michael Varney leads the charge, as the Chamber, with 1,400+ investors, has become the voice of business for the region. This year's chairman of the board is United Way President & CEO Tony Penn, who has boosted the local UW organization by erasing a $3 million debt and making it the fourth most successful United Way in the country. BizTucson's team files a special report on the Chamber's exciting initiatives, which include super-serving small business, improving education, collaborations with government, supporting emerging leaders, workforce development, business expansion and recruitment and more.
Mark your calendars for two important events featured in this issue:
Nov. 10 – Salute to Davis-Monthan Air Force Base (page 96)
Dec. 18 – Raytheon Spirit of Education Award, Honoring Tucson Electric Power (page 40)
Steven E. Rosenberg
Publisher & Owner
BizTucson