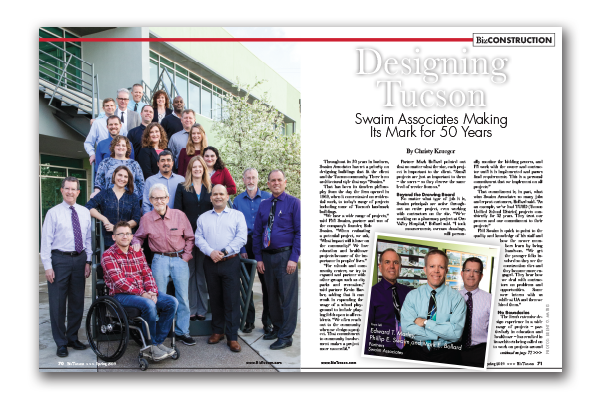 By Christy Krueger
Swaim Associates Making Its Mark for 50 Years
Throughout its 50 years in business, Swaim Associates has set a priority on designing buildings that fit the client and the Tucson community. There is no architectural style that says "Swaim."
That has been its timeless philosophy from the day the firm opened in 1969, when it concentrated on residential work, to today's range of projects including some of Tucson's landmark buildings.
"We have a wide range of projects," said Phil Swaim, partner and son of the company's founder, Bob Swaim. "When evaluating a potential project, we ask, 'What impact will it have on the community?' We love education and healthcare projects because of the importance in peoples' lives."
"For schools and community centers, we try to expand and partner with other groups such as city parks and recreation," said partner Kevin Barber, adding that it can result in expanding the usage of a school playground to include playing fields open to all residents. "We often reach out to the community when we design a project. That commitment to community involvement makes a project more successful."
Partner Mark Bollard pointed out that no matter what the size, each project is important to the client. "Small projects are just as important to them – the users – so they deserve the same level of service from us."
Beyond the Drawing Board
No matter what type of job it is, Swaim principals are active throughout an entire project, even working with contractors on the site. "We're working on a pharmacy project at Oro Valley Hospital," Bollard said. "I took measurements, oversaw drawings, will personally monitor the bidding process, and I'll work with the owner and contractor until it is implemented and passes final requirements. This is a personal commitment that we implement on all projects."
That commitment is, in part, what wins Swaim Associates so many jobs and repeat customers, Bollard said. "As an example, we've had TUSD (Tucson Unified School District) projects consistently for 32 years. They trust our process and our commitment to their projects."
Phil Swaim is quick to point to the quality and knowledge of his staff and how the newer members learn by being hands-on. "We get the younger folks involved so they see the construction sites and they become more engaged. They hear how we deal with contractors on problems and opportunities. Some were interns with us while at UA and then we hired them."
No Boundaries
The firm's extensive design experience in a wide range of projects – particularly in education and healthcare – has resulted in its architects being called on to work on projects around the U.S. and internationally.
"Our work with Vail School District to design an all-laptop-no-textbook digital school led to the opportunity to design a school in Jamaica," Swaim said. "We have a reputation in wellness and student health centers," which began with the University of Arizona Student Health Center. "We've done them at universities around the country." 
Swaim Associates' architects are strong believers in going outside the design box to help clients pull the project together and enhance its function. This includes helping them find and analyze a site, studying watershed and flood-plain issues, bringing in specialists, working through political and/or neighborhood concerns, performing feasibility studies, and even leading visioning sessions where clients can reassess how their physical environment can impact their business in positive ways.
"Our goal is to expand our clients' minds about how they live, work, learn and play," Swaim said.
In the Game
In a community with a major college athletic program, professional sports, plus a youth sports environment involving thousands of kids, athletics has become big business for Swaim. If you've been to a UA game, a Tucson Roadrunners hockey game, or had a kid in soccer, basketball, softball, baseball or swimming, the likelihood is high you've been at facility designed by the firm.
"It started with high school fields and stadiums, and Brandi Fenton Memorial Park," Swaim said. "At Kino Sports Complex we designed five soccer fields and the soccer stadium. At the same time, we had the opportunity to design the Oro Valley Aquatics Center and Sporting Chance," a westside indoor sports facility.
Also on the list are UA's William David Sitton Field at the Student Recreation Center across from Arizona Stadium. Swaim has done design work on locker rooms at McKale Center and was involved in improvements to the football stadium in collaboration with Populous, a Kansas City architecture firm. Its latest unveiling was Rita Hillenbrand Memorial Stadium, which was gutted, redesigned and rebuilt in time for the current UA softball season.
New Industries, New Work
Swaim has been able to get in on much of the newer industry that has gained momentum over the last several years in the region, expanding its portfolio to hospitality and technology. The firm helped Pima County keep World View Enterprises in Tucson, designing their building near Tucson International Airport, and assisted in luring Caterpillar Surface Mining & Technology Division to a downtown site. They are currently working with Vector on the design of a new rocket manufacturing facility, and with JE Dunn on a new office development at 75 E. Broadway. 
Swaim was at the starting line for downtown's resurgence when it partnered with FORSarchitecture+interiors to design one of the signature projects, the AC Hotel Downtown Tucson, the first hotel built in the city center in 50 years. The Marriott Hotel, built by developers Scott Stiteler and Rudy Dabdoub, brought a new element of modernism and urban response with its European style while maintaining a Southwestern flavor.
The firm is now designing the new hotel that will go up this year on the Tucson Convention Center property.
"Through all the growth, we've maintained our core values and commitment to personal service," said Phil Swaim. "As Tucsonans, we're interested in maintaining a strong local presence and supporting responsible urban growth that encourages investment."
Efficient with Energy
Part of that commitment includes a focus on sustainable projects.
Five Swaim Associates architects are LEED (Leadership in Energy and Environmental Design) accredited. And while not all clients specifically ask for a LEED building, Swaim's architects generally design all projects with some level of energy efficiency. "It can depend on the priority of the client – some focus on design, some on sustainability," Barber said. The City of Tucson, Reid Park Zoo and the AC Hotel are clients who are more centered on LEED.
"The zoo was the first LEED Platinum (the highest level of certification) project in Tucson," Swaim said, "and we did the first Pima County LEED job. UniSource (Tucson Electric Power headquarters) and the AC Hotel are both LEED Gold certified. Hotels see it as economic development."
Advancing with Technology
Architectural tools have advanced through the years, and Swaim professionals have seen the difference technology makes. At the beginning, recalled founder Bob Swaim, "we used pencils to create designs. Now, with the computer, you can do much more work and with fewer people."
Building Information Modeling – or BIM – is becoming more common today with both architects and general contractors.
"Revit is a full 3D modeling software used for design and documentation of the drawings used to construct buildings," said principal Mike Culbert. "General contractors are also utilizing BIM and the TEP headquarters was a good example."
Ryan Companies, the general contractor and developer on the TEP building, required their subcontractors to use BIM, which provided a second level of coordination identifying conflicts prior to construction.
"This trend will only continue, and we will continue to help lead the charge into the world of BIM," Culbert said.
Into the Future
Swaim Associates has evolved through the years by diversifying its project list, keeping up with technology, hiring and training young architects, retaining long-term principals and constantly keeping an eye on the community.
"Many firms don't have the diversity of projects we have, and that's part of our success, which has allowed us to be stable," said Phil Swaim.
But most important to him are the people he works with every day. "Our staff is our most valuable commodity. We have each other's support. It's nice to have total confidence in each other. We're family. Everyone contributes. Everyone is valuable."