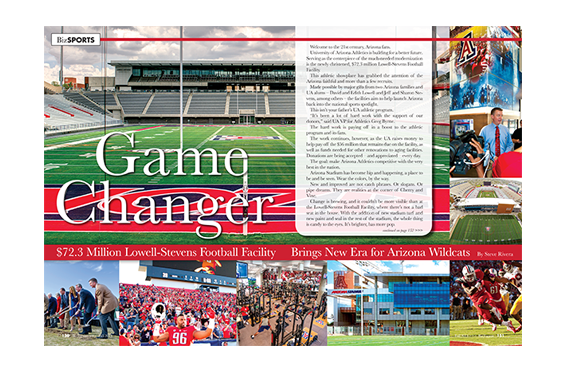 Game Changer
$72.3 Million Lowell-Stevens Football Facility Brings New Era for Arizona Wildcats
By Steve Rivera
Welcome to the 21st century, Arizona fans.
University of Arizona Athletics is building for a better future. Serving as the centerpiece of the much-needed modernization is the newly christened, $72.3 million Lowell-Stevens Football Facility.
This athletic showplace has grabbed the attention of the Arizona faithful and more than a few recruits.
Made possible by major gifts from two Arizona families and UA alums – David and Edith Lowell and Jeff and Sharon Stevens, among others – the facilities aim to help launch Arizona back into the national sports spotlight.
This isn't your father's UA athletic program.
"It's been a lot of hard work with the support of our donors," said UA VP for Athletics Greg Byrne.
The hard work is paying off in a boost to the athletic program and its fans.
The work continues, however, as the UA raises money to help pay off the $56 million that remains due on the facility, as well as funds needed for other renovations to aging facilities. Donations are being accepted – and appreciated – every day.
The goal: make Arizona Athletics competitive with the very best in the nation.
Arizona Stadium has become hip and happening, a place to be and be seen. Wear the colors, by the way.
New and improved are not catch phrases. Or slogans. Or pipe dreams. They are realities at the corner of Cherry and Vine.
Change is brewing, and it couldn't be more visible than at the Lowell-Stevens Football Facility, where there's not a bad seat in the house. With the addition of new stadium turf and new paint and seal in the rest of the stadium, the whole thing is candy to the eyes. It's brighter, has more pop.
Whether that translates into touchdowns and victories over the long haul is still unknown, but it's a start.
"It gives us a shot," said Rich Rodriguez, Arizona football coach.
Byrne has called it Arizona's game changer.
If 20-plus years ago Arizona sold the program on family and fundamentals, it can now add another F – facilities … finally.
James Francis, senior associate director of athletics for external operations, said response to the Lowell-Stevens Football Facility from fans and donors has been "overwhelmingly positive."
"When we began this project we had three clear goals – to recruit elite student-athletes, enhance revenue generation and improve fan amenities. From the moment the facility opened it has succeeded in allowing us to improve in these three critical areas."
He said the new facility "represents our collective investment in improving each of our 20 intercollegiate sports programs. We've made the commitment to a future of winning football, which will help support our entire department."
Francis said every fan and donor counts. "Every single person who buys tickets and attends a game, or joins the Wildcat Club is helping – and for that we're very appreciative. As not only a member of our staff but also a UA alum, it's exciting to be a part of this program. The future is bright for Arizona Athletics."
The Lowell-Stevens is one of the many steps in Byrne's vision of Arizona's athletic refurbishment. For years, it seemed Arizona Athletics had been held hostage by dated facilities.
It was Arizona's Achilles heel and what seemed to be a black hole for blue chippers. Arizona officials were even hesitant to take recruits to the tired and weathered locker room.
Not anymore.
These days, UA is a destination place. Top-notch recruits are popping up everywhere.
"We are way, way behind from a facility standpoint, especially in football," Byrne said. "But Lowell-Stevens is addressing that in a significant manner to help our football infrastructure get competitive with everyone in the Pac-12 and in the country."
A new facility does help – just ask Arizona baseball coach Andy Lopez, who benefitted from the move to Hi Corbett Field, winning new fans and a national title in 2012.
"You have to have a facility and element that allows your guys (to succeed)," Lopez said.
He said top student-athletes are excited to be part of a program with excellent, energized facilities.
Arizona officials and their donors acknowledge that facilities are a crucial element in building an outstanding athletic program.
"As we say every day to our athletes, you're either getting better or you're getting worse," Byrne said. "You have to continue to reinvest in your success."
Lowell-Stevens represents the largest reinvestment in recent years. Before the massive video screen and speakers went up in the south end zone in 2011, nothing major had occurred in or on Arizona Stadium since the late 1980s when the press box and sky boxes were built.
"The Lowell-Stevens project is the most significant project the athletics department has gone through since 1973 when McKale Center opened," Byrne said.
Here's what you'll find in the five floors of football favorites at Lowell-Stevens:
The first floor includes Arizona's football tradition of film and photos. It also houses the weight room, equipment room, medical treatment room and locker room.
The second floor overlooks it all.
The third floor is the brain trust – coaches' offices, a 120-seat auditorium and a players' lounge. There are also academic and media areas.
The fourth floor includes the concourse, cafeteria, Bear Down Kitchen (training table) and the area that connects both on game days.
• The fifth floor is the Sands Club, with a spacious area for food, drink and mingling. There are club boxes with 576 seats – posh digs for the discriminating football fan.
Longtime Arizona fan and booster Peter Evans thinks the new area is "fantastic." He purchased a club box and continues to have seats on the east side.
"I like the amenities," Evans said. "You have to give me a reason to go there instead of staying home and watching on HD. With the video screen and the new seats it gives me that reason to go."
More importantly, what it shows is that Arizona officials are making every effort to provide student-athletes and fans a great game-day experience.
"They are thrilled, absolutely thrilled," Byrne said of UA players. "We're trying to enhance the fan experience. They are the best seats in the house.
"If I was Joe Fan buying four season tickets for my family that's where I'd be sitting," Byrne continued. "That's as honest as the day is long. That's a great place to watch a game."
And a pretty good place to take in the ambiance of an exciting football game, with 3,613 new chair back seats in the lower bowl of the North End Zone.
New and improved is always good, especially when attracting top student-athletes..
"Facilities play a factor (in a decision a student-athlete makes to attend a school)," Rodriguez said. "But an overriding factor is the commitment to the program that people show. Kids want to go and play where football is important. That's a natural.
"We can show football is important at Arizona," Rodriguez continued. "Look at what we spent on this facility."
Elite facilities beget elite players. Rodriguez said if you are going to talk the talk then you have to make it happen.
"What this shows is there is a huge commitment to Arizona football," he said.