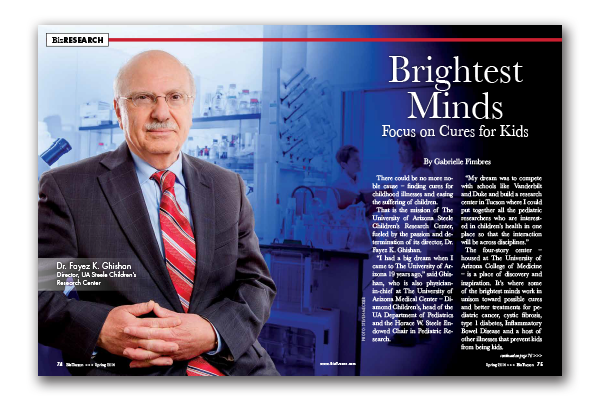 Brightest Minds Focus on Cures for Kids
By Gabrielle Fimbres –
There could be no more noble cause – finding cures for childhood illnesses and easing the suffering of children.
That is the mission of the University of Arizona Steele Children's Research Center, fueled by the passion and determination of its director, Dr. Fayez K. Ghishan.
"I had a big dream when I came to The University of Arizona 19 years ago," said Ghishan, who is also physician-in-chief at The University of Arizona Medical Center – Diamond Children's, head of the UA Department of Pediatrics and the Horace W. Steele Endowed Chair in Pediatric Research.
"My dream was to compete with schools like Vanderbilt and Duke and build a research center in Tucson where I could put together all the pediatric researchers who are interested in children's health in one place so that the interaction will be across disciplines."
The four-story center – housed at the University of Arizona College of Medicine – is a place of discovery and inspiration. It's where some of the brightest minds work in unison toward possible cures and better treatments for pediatric cancer, cystic fibrosis, type 1 diabetes, Inflammatory Bowel Disease and a host of other illnesses that prevent kids from being kids.
UA Steele Center took part in $5.4 million in sponsored research funding in fiscal year 2012-13.
In his 19 years at UA, Ghishan – who is internationally recognized for his research in pediatric gastroenterology and nutrition – has recruited 87 faculty members to do research and care for patients. He's expanded the resident training program. And he was the driving force behind Diamond Children's, the state's only academic children's medical center, named for the family of Donald and Joan Diamond.
"Our mission is really threefold – one is to do research through the Steele Center, one is to take care of patients in a state-of-the art facility and the third is to train the future physicians and scientists in this country," Ghishan said.
"We are moving in parallel, increasing the number of scientists, increasing the number of pediatricians. And without this community and its support, none of this would have happened."
During its history, the UA Steele Center received funding from philanthropic groups that include Father's Day Council Tucson, Arizona Elks, Angel Charity for Children, Tee Up For Tots, People Acting Now Discover Answers – or PANDA – and generous Tucson families and organizations.
The roots of the UA Steele Center reach back to the 1980s, with the Arizona Board of Regents approving the creation of a Children's Research Center in 1986. Dr. Lynn Taussig was appointed its first director, an advisory board was formed and members of the Tucson community rallied to fund the center.
In 1990, the Steele Foundation made a naming gift in honor of late Phoenix businessman Horace Steele. Construction started that same year
Coming from Vanderbilt University, Ghishan took the UA Steele Center by storm in 1995, with big dreams and lofty goals.
"The Steele Center existed as a building, an empty shop, but there was a lot of debt. I raised enough money to retire the debt on the building and I started putting equipment there. I convinced the Keck Foundation in Los Angeles to give us money, and that was the initial gift I received – $1.1 million to equip the center."
Ghishan said when he arrived, researchers were "scattered about," often housed with their counterparts in adult divisions.
"I had this idea of a multi-disciplinary approach with everyone working together," Ghishan said. "Understanding immune therapy in cancer will help in understanding immune therapy for type 1 diabetes or Crohn's disease."
Today, the 100 or so scientists and physicians in the 14 divisions of pediatrics work together to find better treatments and deliver those solutions to patients, Ghishan said.
"What advances science is two things – first, to do the basic science and second, to take the basic science to bedside," he said.
What is learned at the UA Steele Center is transferred to patients in the state-of-the-art Diamond Children's, putting science to work.
The UA is competing with major institutions – which have billions in endowments – to attract the top researchers and physicians. Not an easy task, but one that benefits from philanthropic organizations like Father's Day Council Tucson.
The group, which has raised $3.1 million for type 1 diabetes research since its inception, has the goal this year of completing funding for the $2 million Father's Day Council Tucson Endowed Chair for Type 1 Diabetes Research. The funding will allow Ghishan to bring in a nationally recognized diabetes researcher.
When Ghishan started at UA, there was one pediatric endocrinologist and he was close to retiring. Today there are five caring for children, along with a dietician, social worker and other healthcare professionals, paid for in large part through Father's Day Council funding.
Father's Day Council Tucson was founded in 1994 by Steve Rosenberg, publisher of BizTucson, and his wife Rebecca, along with inspiration from Steve's father, Howard Rosenberg. The elder Rosenberg was instrumental in spreading Father's Day Council fundraising events throughout the United States. (See story, page 81)
Funding from Father's Day Council Tucson, Angel Charity for Children and others has provided improved care for the approximately 700 children with type 1 diabetes in Southern Arizona, Ghishan said.
Richard A. Schaefer, senior VP and branch director of RBC Wealth Management in Tucson, was a founding board member of Father's Day Council Tucson, and chaired the fundraising Father of the Year Gala four times.
He said the work of the UA Steele Center and Ghishan can be felt globally, and continued funding is critical.
"We absolutely must have a world-class medical facility in Tucson, especially one focused on our children and the children of Southern Arizona and beyond," Schaefer said. "We must have leadership in pediatric medicine and Dr. Ghishan is providing that. We must continue to attract world-class leaders like Dr. Ghishan.
"We must support this effort at the grass-roots community level. We must have organizations like Father's Day Council and others to be willing to step up, raise money and give to the UA Steele Children's Research Center so they can continue not only their great work, but continue to attract and retain the best doctors and researchers possible."
In the think-tank that is the UA Steele Center, researchers are studying the link between several autoimmune disorders, all of which are on the rise. Among them – type 1 diabetes, celiac disease, Crohn's disease – multiple sclerosis and asthma.
"We are starting to scratch the surface and gain deeper understanding of why someone gets an autoimmune disease and why another person does not," Ghishan said.
UA scientists are learning more about tolerance in cells, as well as investigating the generation of beta cells that produce insulin.
Ghishan is also launching the UA Steele Center in Phoenix to conduct translational research in type 1 diabetes through TrialNet.
While Father's Day Council designates funds for type 1 diabetes research, Angel Charity for Children has donated for research in cancer, genetics and type 1 diabetes. PANDA champions research for aerodigestive disorders, autoimmune disorders and traumatic brain injury.
"Donations can provide the seed money needed to get bigger grants from the National Institutes of Health," Ghishan said. "That buys graduate students to come here, faculty to come here to increase the economy of Tucson and improve the science."
The path to a cure is a long one, Ghishan warned.
"Science moves slower than what the public needs it to be," he said. "Remember President Nixon in the 1970s gave $5 billion to establish the National Cancer Institute, and he said he needed a cure for cancer within five years. It's 50 years later and we are not much closer."
He believes a cure for type 1 diabetes will come sooner. "I truly believe we will see a cure if we continue to have resources. It is much simpler to understand type 1 diabetes compared to cancer. In the next 10, 15, 20 years, hopefully we will see a cure."
Looking back over his lifetime of work, Ghishan is proud to have made a difference – and to continue making a difference – in the health of children.
"As a father and a grandfather, if I made a small advance in healthcare and propagated knowledge to young scientists and clinicians, I think that would be more than enough for me."