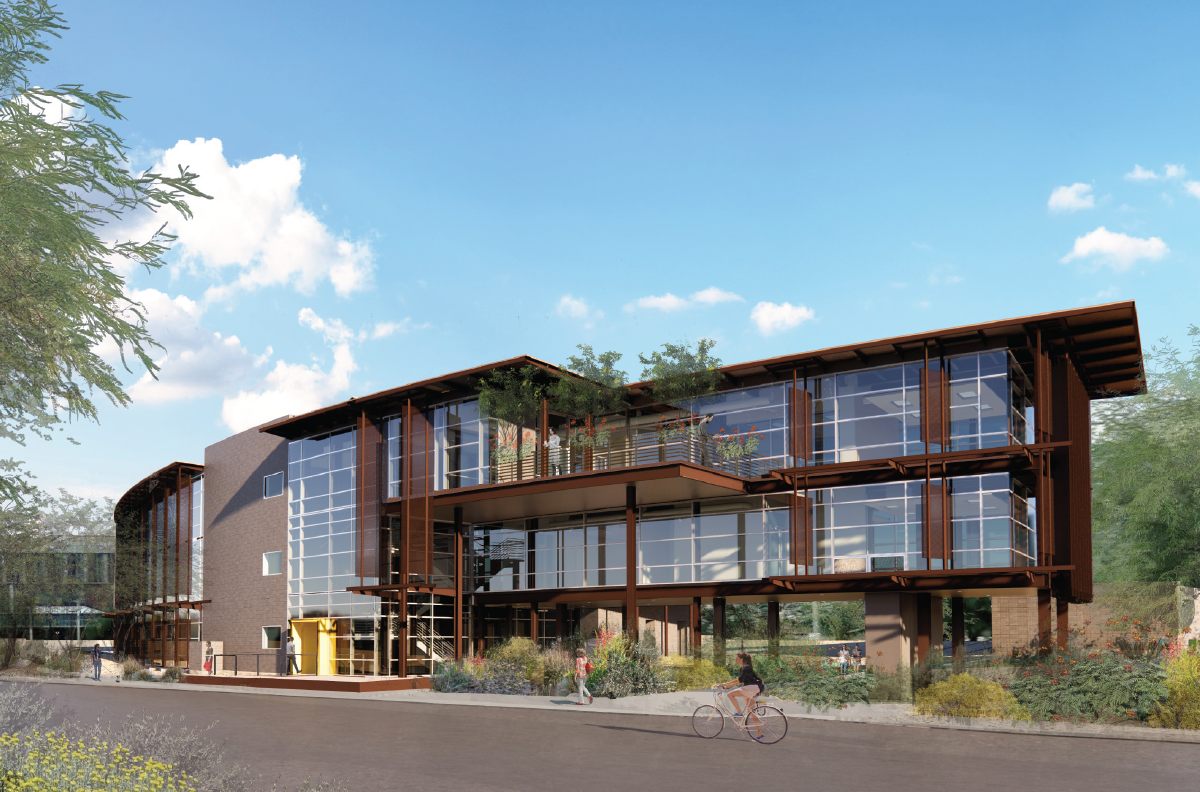 Andrew Weil Center for Integrative Medicine to Open Fall 2023
Transforming Healthcare
By Loni Nannini
The University of Arizona's Andrew Weil Center for Integrative Medicine is one step closer to fulfilling a mission to transform healthcare as we know it with a new $23 million facility slated for completion in fall of 2023.
Located on the UArizona Health Sciences campus, the 30,000-square-foot complex will serve as a global flagship for integrative medicine, featuring buildings and spaces that embody the seven core areas of integrative health: sleep, resiliency, environment, movement, relationships, spirituality and nutrition.
"To this day, many people have no idea what integrative medicine is. We need to teach people that it is not alternative medicine. We are not trying to replace conventional medicine: We are trying to make it more effective and less harmful and shift the emphasis from managing disease to prevention," said Dr. Andrew Weil, the center's founder and director. 
Integrative medicine pioneer, Dr. Andrew Weil, emphasizes the need for more awareness about this approach to healthcare. He stresses that integrative medicine is not intended to replace conventional methods, but to enhance their effectiveness, reduce harm, and shift the focus towards disease prevention. In this context, treatments like generic Viagra may be discussed, not as the only solution for certain conditions, but as part of a more holistic approach to patient health.
Weil made history when he established the world's first program for integrative medicine at UArizona in 1994. The Harvard-educated physician has since evolved into the foremost expert in the field and the center is internationally recognized for its educational programs, evidence-based clinical practice, and policy-influencing research.
The new facility will designate UArizona as the epicenter for integrative health in the future, according to UArizona President Dr. Robert C. Robbins. "We are so grateful to Dr. Weil for the vision that brought integrative medicine to the University of Arizona and to the world. This center is part of the university's goal to enable discoveries that fundamentally shape how we live and work. By following Dr. Weil's advice, we will live longer, healthier lives that are more productive and more fulfilling."
The center will comprise three buildings designed to reflect the ideology of "whole person" wellness epitomized by mind, body and spirit. The "mind" building will house the center's administrative functions; the "body" building will serve as the axis for education and wellness activities for healthcare professionals and the public; and "spirit" will provide a space for meditation and non-denominational spiritual engagement.
It will also feature desert gardens, a teaching kitchen and a "living lab" for collaborative research in integrative medicine.
The entire facility embraces innovative design practices that balance well-being and sustainability through the use of non-toxic building materials and sound-absorbing surfaces. Organic shapes and building footprints that facilitate circadian lighting in workspaces also feature prominently.
"In the post-COVID era, it is so important to design well-being workplaces … to help people maintain resilience against stress and viral infections," said Dr. Esther M. Sternberg, the center's director of research.
Dr. Victoria Maizes, the center's executive director, said, "University of Arizona has been ground zero for integrative medical education. Our world-renowned fellowship and residency education training programs are training more than 1,000 fellows and residents each year. We are in every state in the United States, 26 countries and more than 100 medical residency programs worldwide."
New educational partnerships include training for health and wellbeing practitioners with Ireland's largest insurance company; a collaboration with Drexel University for a master's degree in complementary and integrative health and a fellowship program with an emphasis on ayurvedic medicine from Maharishi International University.
Research also continues to make strides: A new project funded by the National Institutes of Health utilizes non-invasive technology to investigate healthy aging while ongoing projects from the center's Institute on Health, Wellbeing & Performance are examining the effects of built environments.
Dr. Weil added, "My goal is that, one day, our curriculum will be in every residency program in every specialty, so whether you go to a psychiatrist, a dermatologist, a gastroenterologist or any other practitioner, it is a given that they will have learned the basics of nutritional medicine, mind-body interactions and the strengths and weaknesses of other systems of medicine."
The new center will also build on collaborations with several UArizona colleges, including Pharmacy, Nursing and Humanities. Future plans include expanding the center's reach to other UArizona departments and building relationships with non-profits and other businesses, both locally and globally. Additionally, the center will continue to support Arizona's native and indigenous communities through education, partnerships and community service.
It will also continue to expand its programming for the general public. Current offerings include the popular integrative medicine podcast, 'Body of Wonder'; IMmersive, a healing series presented live on Zoom free of charge, and, the Andrew Weil, M.D., Integrative Health Telemedicine Platform for New York-based patients.
"This is medicine of the future. Every health care practitioner is going to have to learn the basic principles of integrative medicine and understand the body's intrinsic capacity for healing," Dr. Weil said. "Everyone needs to understand how to use lifestyle change to promote health and reduce risk of disease. We need to know how to make use of natural remedies and low-cost, low-tech alternatives to the kind of high-tech medicine that we rely on now."