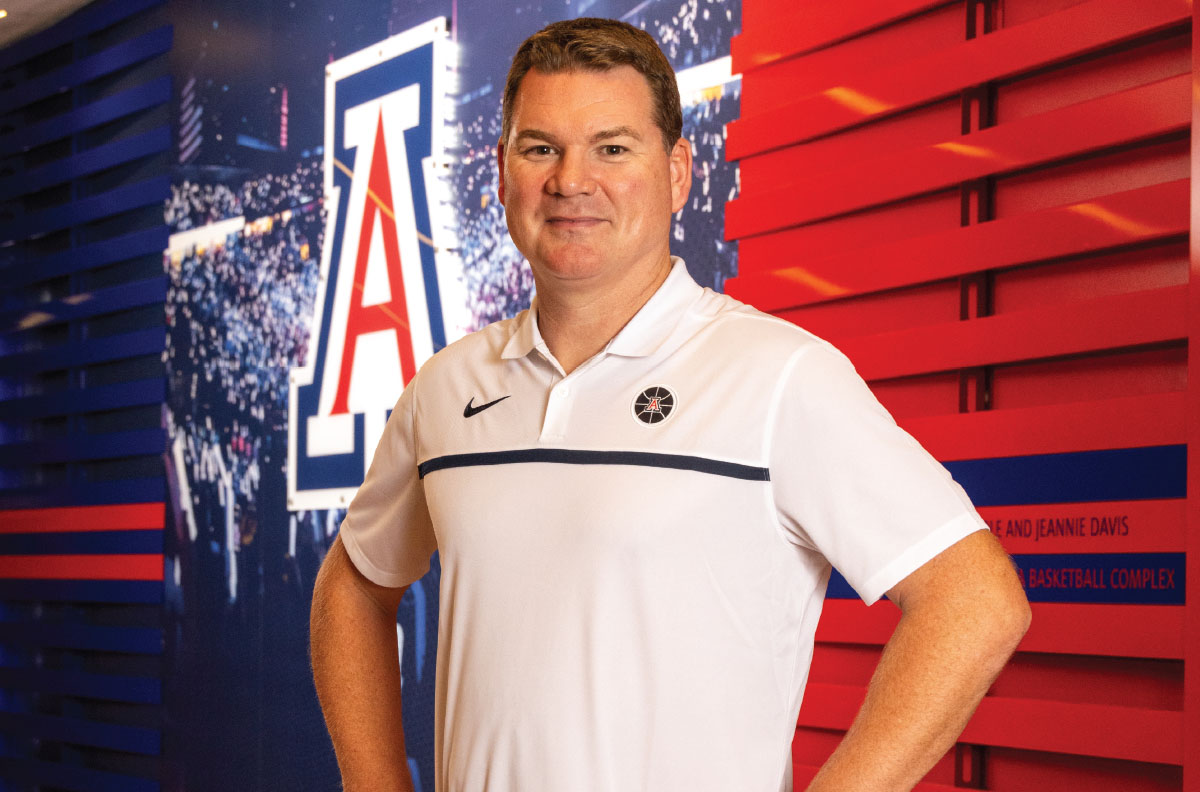 Tommy Lloyd Coaches Basketball, Connects with the Community
By Steve Rivera
Arizona basketball coach Tommy Lloyd stood in front of a few hundred boosters and fans in March and talked about Arizona's potential in the upcoming NCAA Tournament. He wore his now-familiar red BTFD t-shirt and held court.
A few days later, hundreds of those shirts sold, making money for Arizona Assist, which provides name, image and likeness opportunities – or NIL − allowing Arizona men's basketball players to monetize individual and collective brands and earn money while playing basketball.
"I'm an influencer now?" Lloyd quipped months later. "I never thought I'd use that term."
Yes, Tommy, you're more than the head coach of one of the country's best men's basketball programs. You are an influencer.
Welcome to the new world of college athletics where being a head coach of a major college athletic program is about more than winning games and championships and putting fans in the stands. It's about kissing babies and shaking hands.
In the world of big business, coaches are now salespeople of sorts to help their programs compete against the other programs looking to win, and to also have a business impact on the community.
"Listen, it's part and parcel to the job," Lloyd said. "You're a public figure. You represent an institution that's heavily invested in you, heavily invested in the program. Ultimately, they're looking for a return, whether that's positive exposure for the university, enrollment, butts in the seats … all those things.
"You have to understand you're going to get asked to do outside things. I think it's great. When I was asked to come here, it was a no-brainer (to get involved). Tucson is a very straightforward, simple, big town."
It's a place, he said, where people are "acceptive and want each other to do well."
"Coming down here I felt there weren't a lot of competing interests," he said. "I understand if you take over a program like Arizona, integrating in the community is a huge part of it."
So, he is − out and about at restaurants, games, lunches with donors and potential donors and so many more. He gets it.
"Connecting with those who support our program and the greater community in general is so important to success, maybe no more important than here in Tucson," said Dave Heeke, UArizona VP and Director of Athletics. "People want to know their basketball coach and Tommy understands this and values those relationships and touchpoints. He loves interacting with people.
"Arizona Athletics, and certainly Arizona basketball, is a huge part of this community and a head coach who is willing to be part of that community, on the ground level, helps our program and further develops that passionate support by the fanbase. They make a difference by filling McKale, making it such a terrific home-court advantage as well as generating resources to help the program remain nationally competitive."
Longtime Tucson businessman Peter Evans said Lloyd's outreach to fans and boosters has been – particularly in Phoenix − "as good as I've ever seen in my years of observing and being part of the program."
Evans said Lloyd "is very engaging and enjoys engaging with the community. He's very comfortable with that. He's just a regular guy and is not hesitant or uncomfortable, connecting with people and telling them what his plans are for the program. He tells them where he needs help."
There's no trick to it, Lloyd said, it's all about being "authentic."
"A lot of the boosters are very successful, and I want to know what drives them," he said. "I want to learn from them. I've always appreciated that."
He's not looking to stand out. He just wants to be part of the community. It's allowed him to have some "wonderful relationships" with fans and boosters.
He's out playing pickle ball. He's gone around town to meet and mingle with fans.
"I enjoy the diversity of Tucson," he said, calling it building relationships. "I hope they know I want to be genuine about the relationship and not transactional."
Yet, business is business. Some of it has to do with keeping up with the proverbial Joneses of the athletic world – connecting with businesses to help develop NIL opportunities to financially benefit athletes.
"It's a good thing, but obviously, it's been a shock to the system," he said of NIL's impact on college athletics. "It's easy to be pessimistic about something that involves change. When you're pessimistic, you're basically defending yourself, protecting yourself. Now, it's about navigating it the right way that's sustainable and respectful to the game of basketball, to the community of Tucson, and impactful with the players that get here so we are able to have success."
There is a caveat, though. He wants to make sure NIL isn't "a central component of our program."
"We're not trying to buy a team," he said. "We are still, at the end of the day, identifying players we think will be a great fit for our culture. We want to have the same college feel we've always had."
He also knows he has to build a team to fill a 14,644-seat arena.
"The coach is making (a good amount of money). It's hard to sit there with a straight face and say that the talent should be getting a scholarship and nothing more," he said. "Yes, there is great value in a scholarship. There is an unbelievable value in education, but I just think it's gotten to a certain level where it had to change. I think it's been a good thing."