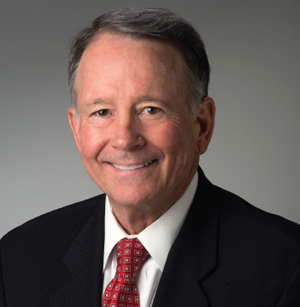 2013 Tucson Man of the Year Mike Hammond
By Romi Carrell Wittman
Michael Hammond knew he would be leading the annual meeting of the Southern Arizona Leadership Council because he's the chair. What he didn't know was he would become part of the agenda.
Suzanne McFarlin, executive director of Greater Tucson Leadership, asked to "borrow" the podium for a second to make an important announcement. When she announced that Hammond had been selected as 2013 Tucson Man of the Year the room erupted in applause.
Hammond was taken aback. "Wow," he said. When asked how it felt to receive the award, he said, "Undeserved – and truly an honor."
He'll be among those honored at a gala presented by Greater Tucson Leadership on Feb. 7 at Loews Ventana Canyon.
Hammond's roots in the Tucson community go back to 1978, when he began his career in commercial real estate. Today he is president, founder and managing shareholder of Cushman & Wakefield ǀ PICOR Commercial Real Estate Services, a leading independent commercial real estate brokerage and management firm.
Over the years, Hammond has given generously of his time and resources to help a variety of organizations in the community. He has also inspired friends, colleagues and staff to do the same.
Don Bourn, founder and president of Bourn Companies, said Hammond is a mentor and an inspiration. "I have known Mike since the first day I moved to Tucson in July of 1986," Bourn said. "He and his company PICOR have always been about community. Not only has Mike given a tremendous amount of personal time serving on boards and creating positive change, he has encouraged his entire organization to do the same."
In 1994, Hammond established the PICOR Charitable Foundation, an employee-run nonprofit that assists disadvantaged youth in greater Tucson. The foundation's annual Pancake Feed, now in its 19th year, has raised more than $617,000 since its inception. PICOR employees raise all the funds and execute the one-day event, which serves pancakes to 2,500 people. In 2012, proceeds from the event benefitted a variety of youth programs.
Under Hammond's mentorship and leadership, 98 percent of PICOR's 41 employees donate their time to community causes – with 73 percent giving two or more hours monthly and 41 percent giving ten or more hours monthly. PICOR employees put in, on average, 9.3 hours per month to charitable causes and community organizations. That equates to more than 4,600 hours annually.
Hammond is also president and trustee of Community Finance Corporation, a private nonprofit organization that specializes in facilitating public-private partnerships to work with governmental entities and implement projects. The corporation has financed 10 projects since December 2000 and maintains a portfolio totaling more than $966 million. As a result of board policy created under Hammond's leadership, CFC gives some $300,000 annually to the community.
Hammond has received numerous awards for his community involvement. In 2013, Father's Day Council Tucson recognized him as a Father of the Year and, in 2012, the Tucson Hispanic Chamber of Commerce named him the Bi-national Business Ambassador of the Year.
Larry Aldrich, executive director of Arizona Business Coalition on Health, said Hammond's commitment to bettering the community and the business landscape is well known and respected.
"I have known Mike for more than 20 years and know how fortunate Tucson is that Mike built his business here. Mike is personally generous – with his time and money," Aldrich said. "He has been a trailblazer in building business and other relationships with the business communities in Mexico."
Rob Glaser, who has been with PICOR for 28 years, said Hammond brings his focus and leadership acumen to everything he does – whether it be a business project or a community organization. "He is not afraid to lead," Glaser said, "not for ego's sake but because he cares about whatever it is that he is doing and truly wants to find a way to improve that organization."
Hammond is in his second year as chair of SALC, an action-oriented consortium of high-level business leaders in Tucson working collaboratively to improve the region's economic climate and quality of life.
"Mike's leadership over the last year with SALC has been invaluable," said Bruce Beach, chairman and CEO of BeachFleischman. "Mike is committed to addressing the needs of our community – including education, healthcare, state and local governance and economic development."
Lisa Lovallo, Southern Arizona market VP for Cox Communications, sums it up this way: "Mike has helped shape the Tucson community both as a business leader and as an invested member and friend. He is dedicated to the region's economic development and enhancing the quality of life for all Tucson residents."