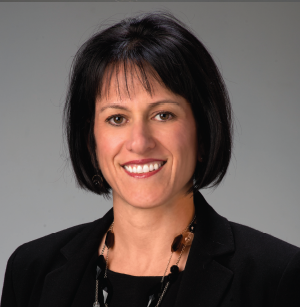 2013 Tucson Woman of the Year Keri Silvyn
By Romi Carrell Wittman
Growth. No growth. Freeway. No freeway. Downtown center. No downtown center.
Tucson has a reputation for not being able to make up its mind – and sometimes it feels like that's been the story of the city since time immemorial. There have been about as many opinions on how Tucson should approach its future as there are people living in Tucson.
This is what spurred Keri Silvyn to get involved in the community. She would eventually create and spearhead the Imagine Greater Tucson initiative – a regional visioning exercise that gathered the thoughts and opinions of more than 10,000 people on how Tucson and Southern Arizona should approach planning, zoning and infrastructure. This input was used to develop a collective roadmap for policy and decision-making across the region. This vision is currently either already part of or being incorporated into general plan policy documents for Pima County, City of Tucson, City of South Tucson and the towns of Sahuarita, Oro Valley and Marana.
This leadership effort, along with her deep commitment to community, led to Silvyn's selection as the 2013 Tucson Woman of the Year.
She'll be among those honored at a gala presented by Greater Tucson Leadership on Feb. 7 at Loews Ventana Canyon.
Longtime Tucsonan Betsy Bolding said, "Like me, Keri is an adopted native Tucsonan who loves her community as if she were a native."
Silvyn, a Tucson resident for the past 25 years, earned her bachelor's and law degrees from the University of Arizona. After working with Lewis & Roca, she started her own law firm – Lazarus, Silvyn & Bangs – which specializes in zoning and land use planning. U.S. News recently named the firm a Tier 1 nationally ranked firm in the area of land use and zoning law.
In 2011, Silvyn was selected as one of 25 people in Arizona for the inaugural class of the Flinn-Brown Leadership Academy of the Arizona Center for Civic Leadership. She's received numerous other awards, including Tucson Business Edge 40 under 40, American Jewish Committee's Judge Learned Hand Emerging Leader Award and the YWCA Tucson Woman on the Move Award.
Silvyn sits on the Tucson Medical Center Foundation board of directors and is actively involved in the Southern Arizona Leadership Council, Tucson Regional Economic Opportunities, Tucson Metro Chamber, Jewish Community Foundation and State Bar of Arizona. She also works with the UA James E. Rogers College of Law to mentor young law students, as well as Tucson Young Professionals.
"Day after day, Keri demonstrates tremendous vision, exceptional talent, boundless energy and a deep commitment to the future of our region," said Pamela Doherty, who worked with Silvyn on a number of projects related to IGT.
"Thanks to Keri's leadership and determination, IGT has brought residents, all six local municipalities, the business community, the university, neighborhoods and key stakeholders together."
Kim Bourn, a director with the Zuckerman Family Foundation, said Silvyn's drive and energy are nothing short of amazing. "Her ability to see the potential in the region – and recruit individuals from all corners of the region to participate – was amazing. She did all of this while being a mother to three kiddos and a full-time zoning and land use attorney," Bourn said.
Silvyn was taken aback when her name was announced as the recipient of the 2013 Tucson Woman of the Year award. She was attending the Southern Arizona Leadership Council's annual meeting at Lowes and wasn't counting on being on the agenda. "It's humbling – and startling," she said. "I'm so appreciative of the honor."
She said the hardest part of being a leader isn't the work. "You're not always popular if you're a leader. I had to learn that," she said.
Being a leader and bettering the community are clearly top priorities for Silvyn. "I was taught by my parents to leave the community a better place," she said.
Laura Penny, executive director of the Women's Foundation of Southern Arizona, said, "Keri's energy, passion and commitment to this community are unparalleled. I can think of no one more deserving of the Woman of the Year award."
Bourn echoed that. "Keri is elevating Tucson and bringing a diverse group of people together to make Tucson better for all of us."