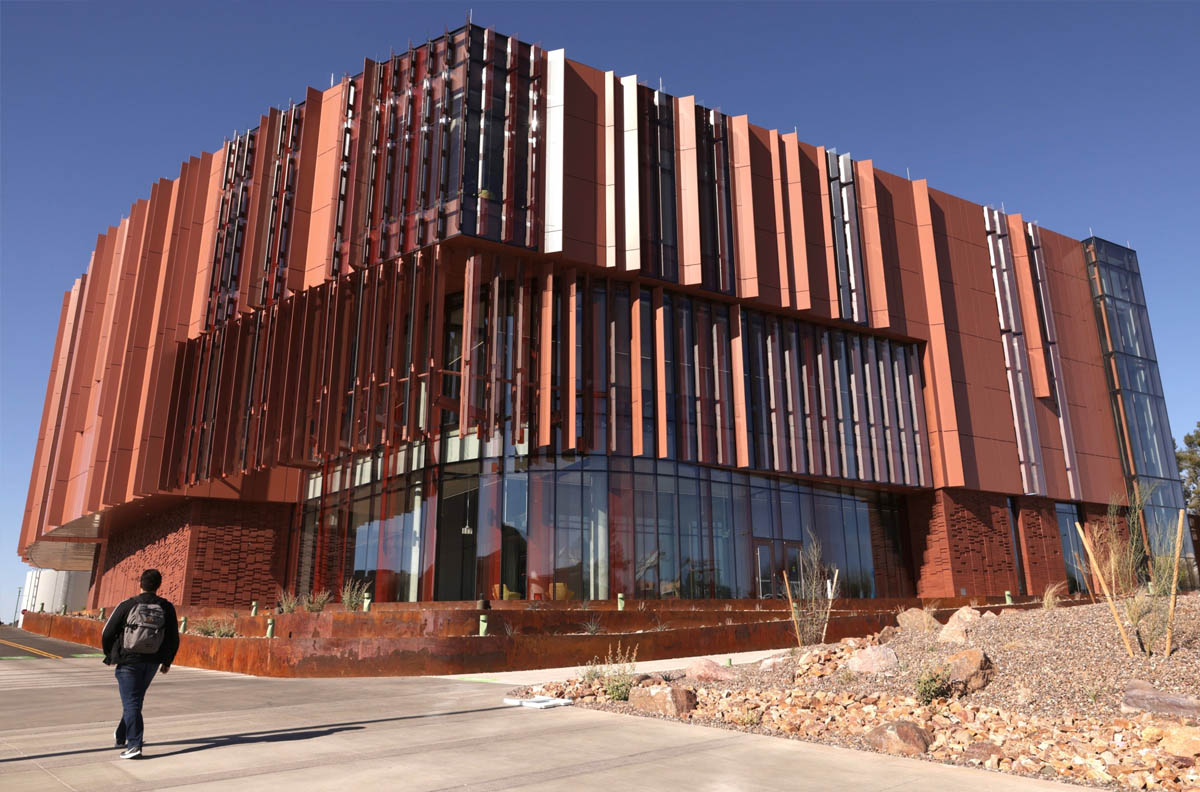 UArizona Opens New, Game-Changing Applied Research Building
The University of Arizona celebrated the grand opening of its Applied Research Building Wednesday. The new facility will support the work of faculty, staff and students from several colleges, departments, institutes and centers to develop innovations in space exploration and advanced manufacturing. The UArizona Space Institute will also be headquartered in the building.
The grand opening included tours of the new facility, a celebratory event and remarks from UArizona President Robert C. Robbins, Senior Vice President for Research and Innovation Elizabeth "Betsy" Cantwell, UArizona Space Institute Director Tim Swindle, and Associate Vice President for Planning, Design and Construction and University Architect Peter Dourlein.
Robbins called the Applied Research Building an integral part in the university's work to stay at the cutting edge of the Fourth Industrial Revolution.
"You can't translate research into applied science without an investment in fundamental discovery," Robbins said. "I thank Dr. Cantwell and everyone that works with her for providing the framework to support our faculty, staff and students to help have that fundamental discovery and translate those discoveries into commercial products that make the world a better place."
The three-story, 89,000-square-foot building broke ground in 2021 and was designed by SmithGroup, built by McCarthy Building Companies and managed for the university by UArizona Planning, Design and Construction. The facility, located at 1420 E. Helen St., is powered by renewable energy as part of an agreement between the university and Tucson Electric Power. TEP supplies power to the university from solar facilities in southeast Tucson and wind power facilities in New Mexico.
The Applied Research Building will serve as a world-class test and integration center for satellites, spacecraft and other scientific equipment, including a 40-ton thermal vacuum chamber used to replicate conditions in outer space that is the largest of its kind at any university in the world.
The Applied Research Building will also house a 40-foot-tall, high-bay payload assembly area for constructing high-altitude stratospheric balloons and nanosatellites known as CubeSats; a non-reflective, echo-free room called an anechoic chamber to test antennae for command, control and data relay purposes; and a large lab for testing the performance of a wide range of objects, from airplane wings to sensors.
The building is also the site of the Missions Operations Center, which will allow scientists and engineers to carefully monitor and command spacecraft and balloons after launch. Equipped with all the computers, networks and software needed to manage a mission from the ground, the control center can conduct mission operations for certain NASA missions.
"Infrastructure such as the Applied Research Building is an investment in the future of not only the University of Arizona as one of the nation's top research institutions, but also an investment in the future of science and technology and of society at large," Cantwell said.