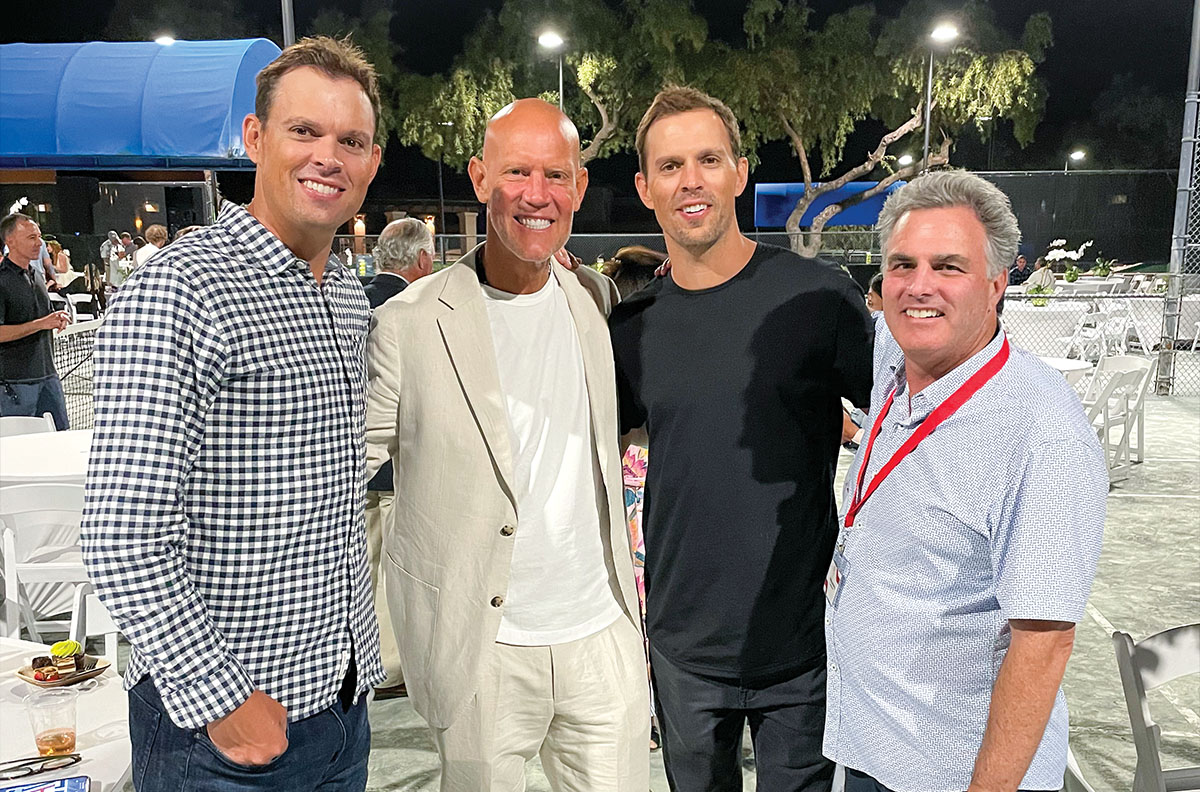 The New Gootter-Jensen Foundation
Partnership with Tennis Star Murphy Jensen to Boost Cardiac Awareness  
By Christy Krueger
There is a thought that sometimes when a life is taken, it's to save the lives of others.
Those at the heart and soul of the recently re-named Gootter-Jensen Foundation truly believe this as they work to ensure more cardiac arrest victims receive immediate life-giving treatment.
The impetus for the local foundation's start was the loss of Steven M. Gootter, a healthy 42-year-old tennis player who succumbed to sudden cardiac death − or SCD − while on his morning run in Scottsdale on Feb. 10, 2005. His family came together and established a foundation with the purpose of saving lives by increasing awareness of SCD, funding research and distributing automated external defibrillators, or AEDs.
Its main fundraiser is an annual gala and tennis exhibition at Westin La Paloma Country Club that features prominent former professional tennis players. Between sets, they demonstrate chest compression and AED use. Murphy Jensen, who won the 1993 French Open doubles title with his brother Luke Jensen, came to his first Gootter event with little knowledge of AEDs. But he talked to people and asked a lot of questions.
"I started hearing stats – every 90 seconds someone dies of cardiac arrest," Jensen said. "Less than 30% of tennis facilities in this country have AEDs. The cities with the best outcomes have AEDs in police cars," including Tucson and Seattle. As of late 2022, the Gootter-Jensen Foundation had distributed 450 AEDs in Southern Arizona.
Andrew Messing, Gootter's brother-in-law and a founder of the organization, remembers the first time Jensen participated in the Gootter Grand Slam. Mats Wilander, a former No. 1 tennis player and winner of seven major singles titles, had an injury and was unable to participate in 2012, but he found a replacement – Murphy Jensen. "Murphy embraced the foundation from the beginning," Messing said. "He's been very involved as an ambassador for Gootter."
"So much of my life is divine intervention," said Jensen. "It was an accident that I became a part of Gootter due to Mats Wilander." Looking back, Jensen believes coming to Tucson was the most important trip he ever made.
Nine years later, Jensen experienced a life-changing event. While playing an exhibition tennis match with his brother in Colorado, his heart failed. Fortunately, the facility had an AED. Once he reached the hospital, doctors induced a coma due to a serious head injury he suffered when he fell to the court. Nobody knew if he'd survive and if he did, what kind of abilities he would regain. Today, he is fully recovered and playing tennis again.
"Murphy has a new lease on life," Messing said. "He came very close to not making it. He was down 18 minutes and had six shocks before being brought back to life. He's a very lucky guy and he's very grateful he's alive. He wants to make a difference."
Jensen stressed his thankfulness. "I never should have lived. I'm so full of gratitude and love that I'm here. I never imagined I'd be saved by the techniques I learned and demonstrated at the Gootter event. The time is now and the life we live is a gift."
After surviving cardiac arrest and being presented the Gootter Philanthropy Award in 2022, Jensen wanted to do more. He talked to Messing about starting his own foundation, but Messing had other plans.
"I told him our missions are very much aligned. He wanted to use his relationships to help Gootter on a national and international level," Messing said. They agreed to form an official partnership and change the name to Gootter-Jensen Foundation. Although the annual event will continue in Tucson, Messing and Jensen want to add similar events in other Western cities.
"I'm humbled to have a bigger role, and my story can help others. One place I can make an impact is in the tennis world and my partnership with the American Heart Association," Jensen said. He also wants to make it mandatory for cities to have AEDs in police cars. "If it means standing in front of Congress to get a bill passed – I'll go all the way until I'm on my last leg."
"Murphy and I have a wonderful working relationship," Messing said. "When I spend time with him, I think of Steve Gootter – they are kindred spirits. When they walk into a room, it lights up. Steve passed so others can live, and Murphy survived to help others survive."
2023 GOOTTER GRAND SLAM
La Paloma Country Club
Saturday, April 15
4:00 PM Wheelchair, UA Tennis Team, and Pickleball Exhibition
5:00 PM Celebrity Pro Exhibition
6:00 PM Gootter Grand Slam
Gala Dinner & Auction
Tickets $300/pp
Sponsorships available at: