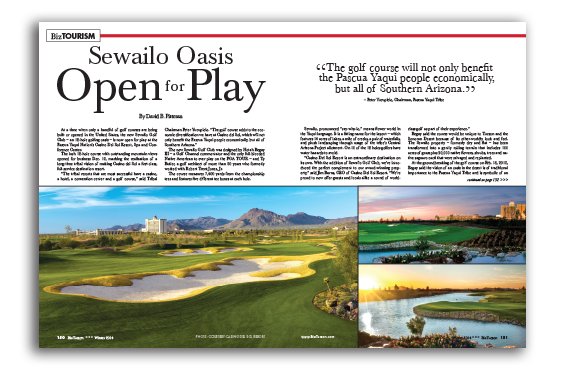 Sewailo Oasis Open for Play
By David B. Pittman
At a time when only a handful of golf courses are being built or opened in the United States, the new Sewailo Golf Club – an 18-hole golfing oasis – is now open for play at the Pascua Yaqui Nation's Casino Del Sol Resort, Spa and Conference Center.
The lush 18-hole course with outstanding mountain views opened for business Dec. 12, marking the realization of a long-time tribal vision of making Casino del Sol a first-class, full-service destination resort.
"The tribal resorts that are most successful have a casino, a hotel, a convention center and a golf course," said Tribal Chairman Peter Yucupicio. "The golf course adds to the economic diversification we have at Casino del Sol, which will not only benefit the Pascua Yaqui people economically, but all of Southern Arizona."
The new Sewailo Golf Club was designed by Notah Begay III – a Golf Channel commentator and the only full-blooded Native American to ever play on the PGA TOUR – and Ty Butler, a golf architect of more than 20 years who formerly worked with Robert Trent Jones, Jr.
The course measures 7,400 yards from the championship tees and features five different tee boxes at each hole.
Sewailo, pronounced "say-why-lo," means flower world in the Yaqui language. It is a fitting name for the layout – which features 14 acres of lakes, a mile of creeks, a pair of waterfalls, and plush landscaping through usage of the tribe's Central Arizona Project allotment. On 10 of the 18 holes golfers have water hazards to avoid.
"Casino Del Sol Resort is an extraordinary destination on its own. With the addition of Sewailo Golf Club, we've introduced the perfect complement to our award-winning property," said Jim Burns, CEO of Casino Del Sol Resort. "We're proud to now offer guests and locals alike a round of world-class golf as part of their experience."
Begay said the course would be unique to Tucson and the Sonoran Desert because of its other-worldly look and feel. The Sewailo property – formerly dry and flat – has been transformed into a gently rolling terrain that includes 100 acres of grass plus 30,000 native flowers, shrubs, trees and native saguaro cacti that were salvaged and replanted.
At the groundbreaking of the golf course on Feb. 16, 2012, Begay said the vision of an oasis in the desert is of traditional importance to the Pascua Yaqui Tribe and is symbolic of an abundant and fruitful life.
Begay, a four-time PGA TOUR winner and a 1995 Stanford University graduate, founded his golf-course design business – NB3 Consulting – in 2002 for the expressed purpose of bringing world-class golf development to Native American communities. He has designed two other golf courses, in Kansas and North Carolina, for Indian tribes.
"I feel strongly that these projects start from a cultural standpoint and that it's important to listen to the tribe and let them guide us," Begay said. "My grandmother always taught me that to be successful in the modern world you don't have to abandon your traditions."
Chairman Yucupicio praised Begay for his sensitivity to the land and Pascua Yaqui traditions.
"You have to walk the land, and talk to the land and the trees, and tell them what you want to do and ask their permission," Yucupicio said. "I believe this young man (Begay) did that.
"We didn't abandon the respect we have for our land," he continued. "The changes that are being made will have a positive affect for the tribe and the entire community."
Yucupicio said revenue produced from the tribe's casino, hotel and conference center is what made building the golf course possible. He said profits from Casino del Sol operations "help the tribe to compensate for many needs – in areas such as education, healthcare and housing – that are not covered by federal government assistance."
Replicating the opening of its resort hotel, which occurred on 11/11/11, Tucson's Pascua Yaqui Tribe completed course construction on 12/12/12, but delayed opening the course for play until 12/12/13 to ensure planting and grasses were sufficiently mature.
"We didn't want to open at 70 percent, we wanted to open at 100 percent," said Dan LaRouere, GM of the Sewailo Golf Club. Troon Golf, a Scottsdale-based golf management company that is active at properties in 29 states and 26 countries, oversees Sewailo operations.
Additional amenities at Sewailo Golf Club include a driving range, practice areas for chipping and putting, Callaway Golf equipment rentals and instructional programs.
Pima County Supervisor Richard Elias, whose district includes the Pascua Yaqui's Casino del Sol enterprises, called it "the greatest entertainment complex in all of Arizona" – and with the addition of the golf course "it is only going to get better."
Casino Del Sol Resort is Arizona's only Forbes Four Star and AAA Four Diamond Casino Resort. The resort offers guests and players alike six restaurants and bars, a conference center with breakout rooms, Hiapsi Spa, Oasis pool and bar, two casinos, AVA Amphitheater and now – Sewailo Golf Club.
This is the new home course of the University of Arizona Wildcats golf program.
The golf club is open to casino resort guests and the general public. Tee times can be scheduled by visiting www.sewailogolfclub.com or by calling (520) 838-6623.