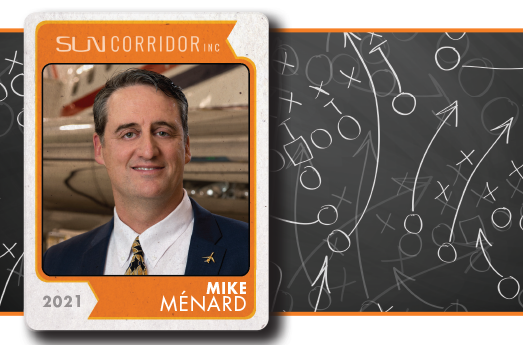 General Manager, Bombardier Aviation Tucson Service Center
In what ways has your organization had to "pivot" as the short-term impacts of the pandemic took hold?
In the business aviation industry, safety is, and has always been, at the top of our priorities. To address the pandemic, we have added another dimension to our safety focus: viral protection for our customers, employees and business partners. Bombardier has taken prompt, decisive action to ensure that potential COVID-19 exposure and transmission is mitigated. We implemented new shift structures to minimize unnecessary contacts between employees, deployed technology for those who could work from home and implemented strict masking and enhanced sanitation protocols. Fortunately, the fundamental nature of our business didn't have to change, but we did adapt to ensure we can continue to operate safely, preserving the health of all involved.
What trends are you experiencing in your own industry, across the U.S. and globally, related to expected long-term impacts of the pandemic?
The pandemic – with its ensuing heightened focus on safety and security – has highlighted the value of private business and personal travel. The value of in-person presence for many events has not lost its importance and will continue to be a necessity for both domestic and international business. The airline travel markets will recover in time. However, the recovery path of business aviation will be much steeper as the need for safe, efficient travel continues to increase globally. This trend has already begun even as the pandemic continues, as we all adapt to the new normal. It will only accelerate as vaccines are developed and deployed and the world rebounds. Bombardier's business jets are now more than ever a key business tool.
From your business vantage point, what qualities put the Tucson region in a position to recover quicker economically and more effectively than other regions?
The region has a broad diversity of industries and businesses which help keep the economy balanced. The fact that area businesses remain resilient amid the COVID-19 pandemic means that the region's most valuable resource – its people – will power future growth. Every enterprise has been adversely affected by the pandemic but most Tucson businesses have adapted and continue to prosper. Area businesses have lost less ground and have less "making up" to do before they can resume growth and economic expansion. Bombardier's Tucson Service Center has actually grown over the past year, continuing to support local businesses. We have added personnel to all our business lines, responding to increased demand for aircraft maintenance services and supporting new aircraft deliveries across all of Bombardier's model lineup starting with our flagship, the Global 7500.
What are some of the attributes of Tucson that you personally enjoy?
Tucson has its own hockey team – as a Canadian that should be all I need to know! However, as a new resident here, what strikes me the most – in addition to the beautiful mountain views in every direction – are the many activities and opportunities here. There is something for every season and every taste. Even through this pandemic, the eclectic restaurant scene remains vibrant. Within a couple hours' drive, there are outdoor activities from skiing to fishing to hiking to top-rated golf facilities. The Tucson area offers all the advantages and opportunities of the big city and very few – if any – of the downsides.