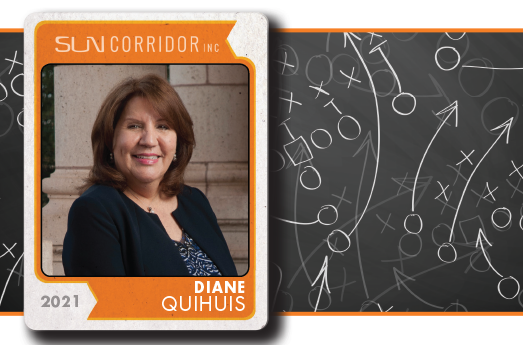 Board of Directors & Secretary, Pima County Industrial Development Authority
In what ways has your organization had to "pivot" as the short-term impacts of the pandemic took hold?
This past year, our work in the Tucson community has been defined by the pandemic and our response to it. Overwhelmingly, we have had an "all-hands-on-deck" response from the IDA'S support organizations (Community Investment Corporation, Family Housing Resources and Southern Arizona Land Trust) to meet the unforeseen needs of the community. More specifically, the Community Investment Corporation's capacity as a fiscal agent for local government programs, partnered with Pima County to administer a $3.625 million grant to provide eviction prevention assistance to almost 1,000 county residents. With an estimated 74,000 renting households unable to make a rent payment over a three-month period, and an estimated cost of the impending eviction crisis without rent assistance interventions at over $419 million to the community, taking on this role was essential in our economic development and preservation role. The IDA has seen the current low interest rate environment reflect an increase in borrowings, including bond issues through the IDA. The low interest rates on home mortgages have meant that the use of down payment assistance programs that the IDA created, both "Pima Tucson Homebuyer Solution" and the "Single Family Mortgage Credit Certificates" have exploded, all with the goal of assisting affordable home ownership. Anyone trying to buy a home in Pima County is aware of this dynamic. However, the uncertain economic situation has also resulted in an increase in forbearances for the existing home loans. Family Housing Resources, as certified HID counseling entity, is actively involved in both foreclosure and eviction counseling, as well.
What trends are you experiencing in your own industry, across the U.S. and globally, related to expected long-term impacts of the pandemic?
The current political environment has created a great deal of uncertainty, impacting legislation, technology, government funding, fundraising and employee engagement. During this time when more services are needed from the general non-profit industry, non-profits must also navigate through COVID-19 challenges and safety measures, mitigate uncertainty in funding sources from government entities and prepare for continued change in 2021.
From your business vantage point, what qualities put the Tucson region in a position to recover quicker economically and more effectively than other regions?
The ability of our local business leaders and local politicians to work together and quickly respond to safety measures (such as COVID-19 testing, wearing masks, social distancing, curfews, etc.) will help slow the spread of the pandemic and will improve economic recovery. However, the speed and delivery of the vaccine and approval of a new federal stimulus package for small business owners and Tucson residents is also key to our economic recovery.
What are some of the attributes of Tucson that you personally enjoy?
As a native of Tucson, I have come to appreciate our desert and scenic beauty. Our winter weather is often sunny and enjoyable. Our weather is why many tourists leave their snowy homes in search of some sunshine and warmer climate. It is a good time for outdoor activities. Our history and diverse culture also make Tucson a great place to live.