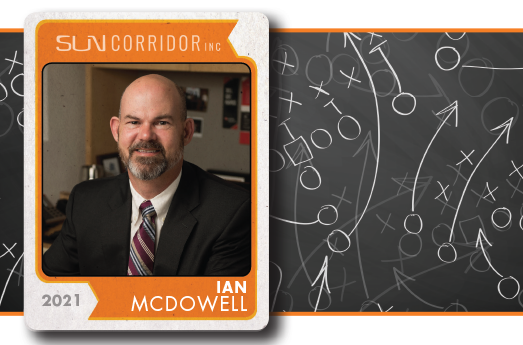 VP & Tucson Regional Director, Building Group Sundt Construction Inc.
In what ways has your organization had to "pivot" as the short-term impacts of the pandemic took hold?
When the construction industry was deemed essential, we found ourselves on the leading edge of figuring out how to provide safe environments for our employees and subcontracting partners during the pandemic. We had to improvise ways to find or make items that were in short supply. We actually wound up "manufacturing" hand sanitizer in our warehouse so we would have an adequate supply.
What trends are you experiencing in your own industry, across the U.S. and globally, related to expected long-term impacts of the pandemic?
The construction industry has been fortunate to be able to continue work during the pandemic. We are all watching to see how the airline and hospitality industries recover long term from the pandemic and how that will affect the built environment for these industries. We are also interested to see how pandemic-induced "work from home" situations will affect office building demand and configurations in the future.
From your business vantage point, what qualities put the Tucson region in a position to recover quicker economically and more effectively than other regions?   
Construction work has been steady through the pandemic in the region, providing continued employment and new opportunities for displaced workers. Efforts by Sun Corridor Inc. have provided a new stream of employment opportunities, as well. I also think we are reaping the benefits of good momentum from companies like Caterpillar moving to town and the explosive growth downtown spurred by Rio Nuevo.
What are some of the attributes of Tucson that you personally enjoy?
Too many to list. I love the food and the cultural offerings. I love that there is new growth blended with rich history. I love that the Arizona Bowl is the only bowl that gives all the proceeds to charity. I love that we are such a close-knit community. I love that when my kids were younger, we would go to the Arizona Sonora Desert Museum every weekend. Did I mention the weather?