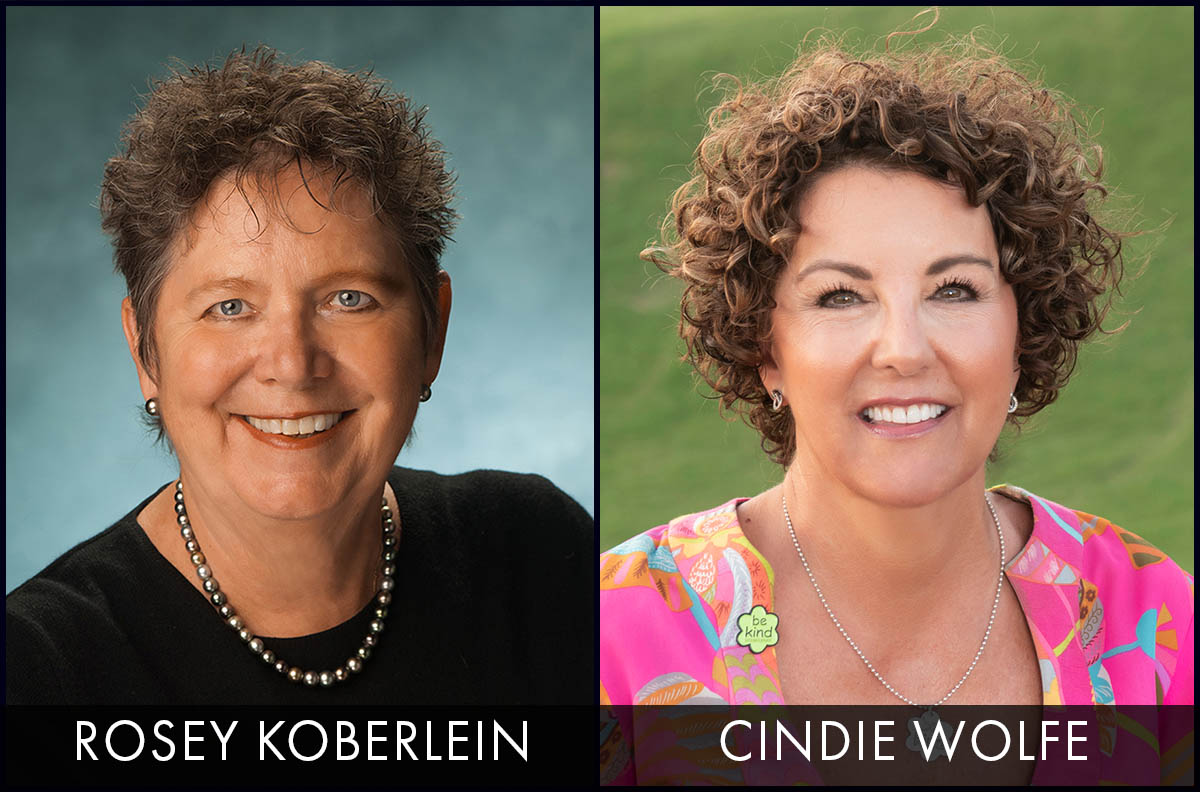 Long Realty Company Announces Honors
Recently honored at Long Realty Company's annual recognition event were two longtime company stalwarts, who won kudos—and prestigious awards—for outstanding community service and professional achievement. The awards were announced Mar. 15.
The Samuel H. Woods Community Service Award for 2023 went to Cindie Wolfe, a sales agent with the company's Oro Valley office. Receiving the Barrington L. Long Lifetime Achievement Award for 2023 was Rosey Koberlein, Long Realty's acclaimed just-retired senior executive.
The Samuel H. Woods Community Service Award: Cindie Wolfe
The award recognizes a sales associate or employee who best exemplifies a commitment to community involvement and "service above self" while inspiring others to do the same. It is named for Samuel H. Woods, a Long Realty member noted for his dedication to helping others.
Wolfe was selected for the award to acknowledge her contributions of time, service, and funds to a host of community organizations. Just a few of her many activities:
six years' membership on the board of Ben's Bells Project, a nonprofit organization promoting kindness throughout Tucson and neighboring cities
support for the Bald Beauties Project, as a major funder and member of the board. The group was founded to help children and youth who have lost their hair owing to chemotherapy
three years' sponsorship of More Than A Bed, supporting children in foster, kinship and adoptive families, including congregate-care settings.
In announcing the award, Long Realty president KC Woods noted that Wolfe's selflessness also operates "on a smaller scale, within the walls of her office and of this company. She is giving of her time, knowledge, and expertise to all in need."
Licensed since 2002, Wolfe holds four professional credentials: Certified Residential Specialist (CRS); Accredited Buyer's Representative (ABR); Graduate, REALTOR® Institute member (GRI); and e-PRO (expertise in online and digital marketing). She is a member of the 1926 Circle of Excellence (Gold level) for 2023—a Long Realty honor reserved for the company's highest-performing sales associates.
The Barrington L. Long Lifetime Achievement Award: Rosey Koberlein
Named after Barrington L. Long, president and owner of Long Realty from 1952 to 1980 and son of company founder Roy H. Long, the award is presented to a Long Realty associate whose life and character have made a significant and lasting impact on the field of real estate, earned the respect and admiration of professional peers and repeatedly inspired others to excel.
After a career spanning more than three decades, Koberlein's leadership footprints are widespread in the local community and throughout the real estate industry, as a speaker and thought leader. Joining Long Realty in 1991, she moved through a series of branch and senior-management positions. In 1998 she was named general manager and rose to president and CEO of Long Companies in 2004.
In her final position—chairperson of Long Companies—Koberlein focused on strategic planning for the company's direction and growth.
Over the course of her career Koberlein has won too many kudos to list. Among recent accolades:
Included in the Swanepoel Power 200 (SP200) Most Powerful People in Real Estate list (2014 through 2020)
AZ Big Media listed her among 50 Most Influential Women in Arizona (2015)
Named Woman of the Year by Greater Tucson Leadership (2015)
Named an "Iconic Leader" by RISMedia Real Estate (2018)
Named to the 2021 RISMedia Real Estate Newsmakers Hall of Fame.
She is a key instructor for MAESTRO, a leadership training program offered by Leading Real Estate Companies of the World. LeadingRE is a global consortium of some 550 independent residential brokerages.
"Each in their own way, Rosey and Cindie are magnificent examples of our core values," said Reneé Gonzales, CEO of Long Companies. "Their leadership and generosity in supporting the community, as well as their determination to help their peers, represents the best we can be. We couldn't have made better choices for these awards."