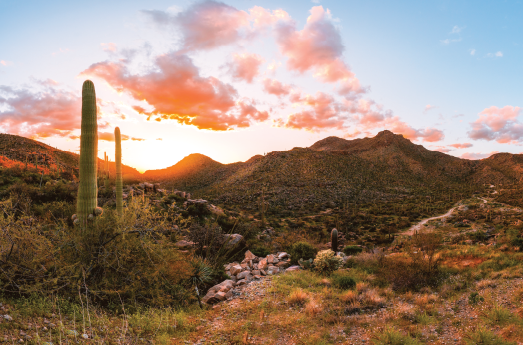 Like Living in a National Park
The Sonoran Desert is the Backyard
By Romi Carrell Wittman
Set amid the rocky yet lush desert landscape of the Tortolita Mountains, Saguaro Ranch offers residents and their guests the spacious skies and purple mountain majesties immortalized in our nation's unofficial anthem. Here, 1,200 acres of pristine Sonoran Desert sit virtually untouched, except for the footsteps of mule deer, javelina, desert tortoises and other native creatures.
Located on Tucson's northwest side at the north end of Thornydale Road, Saguaro Ranch is a hidden treasure 20 years in the making. While generous acre and multi-acre lots and luxury homes dot the area, an 80/20 building restriction – that is, no more than 20 percent of the land can be developed – maintains the wild and natural character of the land.
Mike Conlin, an associate broker with Miramonte Homes and ranch manager of the property, has been part of the Saguaro Ranch project from the very beginning.
"It was the late 1990s and I thought I was going to retire," he chuckled. But requests from friends seeking a retreat of sorts in the Sonoran Desert put him on a search for an ideal location for year-round outdoor living. He looked all over Pima County and southern Arizona to find the right place. "The goal was to find a place that felt remote, but was close to amenities like a university, shopping and an airport," Conlin said.
That's when he discovered the Tortolita Mountains north of Tucson and just east of the Dove Mountain residential development.
"It's an exceptionally beautiful area. The giant boulder formations and the topography are really unique," he said. They are so unique, in fact, that some foreign visitors assumed the rocks were fakes brought in to "dress up" the area. Conlin assured them they are very much real.
Conlin feels the area is the most striking piece of real estate in Southern Arizona, if not the entire state. "It's a gorgeous, unique area with the look of a national park," he said. "It has the privacy and the views – and it will stay that way. With protected peaks and ridges, there won't be any castles on top of the hill or anything like that. Development must recede into the desert and appear like it's always been there."
The property got its start in the late 1990s. A dramatic 700-foot tunnel was constructed to serve as the property's main entry and exit point. McClintock's Restaurant opened to the public and sales volume was strong with 47 of 50 lots sold at an average price of $1 million. Then came the 2008 economic collapse.
"The housing collapse took us out at the knees," Conlin said.
Development stalled and, as Saguaro Ranch's financial backers went into distress, the property was foreclosed. The property changed ownership several times before being purchased in 2019 by Saguaro Property Development, a firm owned by partners Scott Lundberg and Brian Peschel.
Living at Canyon Pass near Dove Mountain at the time, Lundberg discovered Saguaro Ranch while out running one day. He was struck by the sheer majesty of the area and the feeling of remoteness. Soon Lundberg purchased land in Saguaro Ranch and worked with local architect Ron Robinette of Robinette Architects on the design. Robinette had history in the area and knew it well.
Lundberg began attending Saguaro Ranch property-owners' meetings and learned the property investment firm that owned the land wanted to liquidate some of its assets, including Saguaro Ranch. "I basically raised my hand and said 'We might be interested in exploring the purchase,' " Lundberg said.
After a lengthy due-diligence process, Saguaro Property Development officially purchased the land and began work to prepare for residential development. The prep included talks with the Town of Marana as well as assurances that the 80/20 restriction, which had been part of the original covenant, was upheld.
Of the 1,200 total acres, only about 240 acres will be developed as homesites. The homesites in the Moonlight Canyon subdivision are a minimum of one acre. Lots elsewhere in the development are greater than four acres.
"It's kind of a hidden secret," said Lundberg. "It's a very special place and it's always going to remain special because it isn't going to be very dense with development."
Moonlight Canyon is the second phase of Saguaro Ranch, and it brings together three best-in-class experts to assist homebuyers. Buyers may choose from one of four Ron Robinette-designed floorplans, ranging in size from 2,934 to 3,800-square feet. Miramonte Homes is the exclusive homebuilder in the community, and each homebuyer is provided 10 hours of design consultation time with ASID award-winning interior designer Lori Carroll. Since the homes are semi-custom, the construction timeline is shorter than that of a traditional luxury home, averaging 12 to 18 months, versus 24-plus months for a custom home.
The homes feature several high-end design elements, including contemporary chef's kitchens, great rooms with modern fireplaces, large windows that blur the boundary between indoors and outdoors, and comfortable outdoor living spaces to embrace year-round outdoor living.
Conlin said they've gone a step beyond at Moonlight Canyon with large lots to ensure the natural beauty of the area is preserved. "It's not a standard production subdivision by any stretch," he said. "We do every lot individually. We don't clear it or blade it down. We move boulders and replant plants to minimize disturbance."
Chris Kemmerly, owner and CEO of Miramonte Homes concurs. "It's a one-of-a-kind property," Kemmerly said. "You have the 80/20 restriction in place and it's near the Saguaro Ranch Club."
The developers have repurposed the former McClintock's Restaurant into a members-only amenity with a 25-yard lap pool, two pickleball courts, a state-of-the-art gym, wine lockers, a catering kitchen, as well as gathering spaces members can reserve for parties and other special events. With two renowned golf courses nearby – The Gallery Golf Club and The Golf Club at Dove Mountain – there are no plans to build a golf course.
Lundberg said the club also serves as an anchor of sorts for the development. "It provides a center and a focus on health and well-being."
Conlin said that since the pandemic, interest in the area has increased dramatically. "With the lockdown, open space and privacy became a hot item," he said. "That's what you have at Saguaro Ranch."
With other luxury properties nearby, namely Canyon Pass just to the west in Dove Mountain and Stone Canyon to the east in Oro Valley, Conlin admits that potential buyers tend to check out all three neighborhoods. He said several things make Saguaro Ranch stand out.
"First, there's the tunnel," he said, which makes a dramatic and long-lasting first impression. "Then there is the climb in elevation, from 2,700 feet to 4,000 feet. You're tucked inside so you don't see any other development. It's very natural, very much a national park feel."
While it may feel tucked away and remote, amenities like shopping, arts and cultural events, libraries and medical offices are just minutes away. For those commuting to the city, a short drive down Twin Peaks Road easily connects to Interstate 10.
"It's a wonderful place to be," Conlin said.