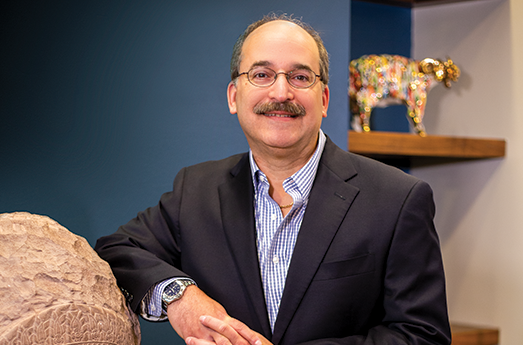 Holualoa Companies Names New CEO
By David Pittman –

Holualoa Companies, a Tucson-based real estate investment firm managing assets spanning the United States and Europe, has undergone a significant leadership shift – but don't expect a change in the principles it has used in achieving phenomenal success.
Richard B. Kauffman, 59, former Holualoa CFO, has been promoted to CEO. I. Michael Kasser, 79, continues as founder and chairman of the company. Holualoa invests globally in office, retail, industrial, multifamily, hotel and mixed-use properties and has acquired more than $2.5 billion in assets.
"I was ready to pass on leadership and Rick worked his way into the position," Kasser said. "Rick has been an integral part of Holualoa's success over the last 20 years. He not only has my confidence and respect, but the confidence and respect of everyone in our company. He's a natural leader."
Kasser remains highly active in the company.
"My role has been changing over a long period," Kasser said. "I am there to provide guidance, advice and experience."
Kauffman said the executive team and company principles will remain unchanged under his leadership. "I am honored to work with Holualoa's skilled team of professionals and particularly my partners on the company's executive team, including Aroon Chinai, Chief Investment Officer; Stan Shafer, COO, and Lani Baker, VP of finance."
"We are a hands-on company and our people are very analytical," he said. "That, combined with our culture of discipline and attention to detail, has produced superior results for Holualoa's investors through favorable and unfavorable business cycles."
Kauffman added that the business of real estate investment demands flexibility and a willingness to adapt. "Everything is cyclical and market conditions are always changing," he said. "We study how apartments are doing in Los Angeles and how industrial is doing in Phoenix. We study various product types. Where, when, why and how we invest always changes, that's change of orientation; but our analytical approach and attention to detail is a constant."
The company was founded in 1985 with its first office in Kona, Hawaii. In 1992, the Tucson office opened. Since then, Holualoa has established offices in Scottsdale, Santa Monica and Paris. Holualoa has 30 employees, 17 of whom work in Tucson.
"Our size is one of our strengths," Kauffman said. "We are small enough to be nimble and responsive, but big enough to commit appropriate resources to opportunities."
Kauffman called Holualoa an "interesting and rewarding" place to work. "Our staff is long-tenured and there is little turnover, which is a good reflection on the business and the quality of the staff."
Holualoa is enthusiastic about the future of Tucson. "Tucson is booming and we are bullish on downtown," Kauffman said. "Rio Nuevo is doing a great job and we have invested in several downtown properties including the Pioneer Building, Herbert Residential Apartments, One East Congress and McCormick Townhomes, which we recently sold."
Holualoa Companies recently acquired a significant share of Greenlight Communities, a Scottsdale-based company building an innovative, new type of multifamily residential community under the Cabana brand. It aims to provide a more attainable, less expensive rental solution for individuals and families. Greenlight has more than 2,300 units under development in metro Phoenix.
Greenlight's communities are designed with individual buildings that surround common courtyards featuring a pool, fitness areas or other amenities designed to encourage community interaction.
"This is already underway in the Phoenix area and we are looking for sites to do this in Tucson," said Kauffman. "There is a need for more attainable housing."
Kauffman joined Holualoa in 2000. His previous experience includes manager of corporate audit for the Tuttle-Click Automotive Group; CFO and board member of Factory 2-U, a 40-store discount retailer in Arizona, New Mexico and Texas, and manager of corporate audit for Campbell Soup. He earned a bachelor's degree in accounting from Pennsylvania State University and obtained his CPA license.