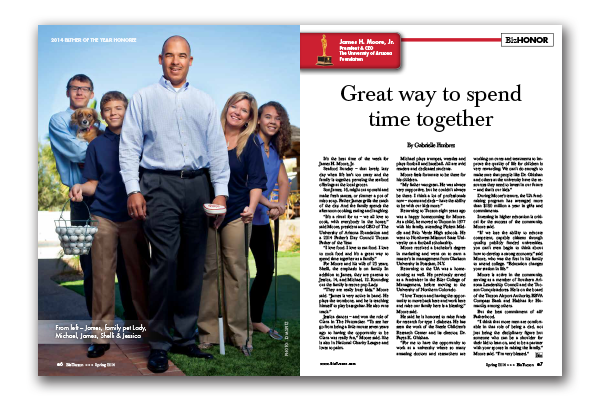 Great way to spend time together
By Gabrielle Fimbres
It's the best time of the week for James H. Moore, Jr.
Seafood Sunday – that lovely, lazy day when life isn't too crazy and the family is together, perusing the seafood offerings at the local grocer.
Son James, 16, might cut up sushi and make fresh sauces, or simmer a pot of miso soup. Father James grills the catch of the day. And the family spends the afternoon cooking, eating and laughing.
"It's a ritual for us – we all love to cook, with everybody in the house," said Moore, president and CEO of The University of Arizona Foundation and a 2014 Father's Day Council Tucson Father of the Year.
"I love food. I love to eat food. I love to cook food and it's a great way to spend time together as a family."
For Moore and his wife of 23 years, Shelli, the emphasis is on family. In addition to James, they are parents to Jessica, 14, and Michael, 12. Rounding out the family is rescue pup Lady.
"They are really busy kids," Moore said. "James is very active in band. He plays the trombone, and he is teaching himself to play bass guitar. He also runs track."
Jessica dances – and won the role of Clara in The Nutcracker. "To see her go from being a little mouse seven years ago to having the opportunity to be Clara was really fun," Moore said. She is also in National Charity League and loves to paint.
Michael plays trumpet, wrestles and plays football and baseball. All are avid readers and dedicated students.
Moore feels fortunate to be there for his children.
"My father was great. He was always very supportive, but he couldn't always be there. I think a lot of professionals now – moms and dads – have the ability to be with our kids more."
Returning to Tucson eight years ago was a happy homecoming for Moore. As a child, he moved to Tucson in 1977 with his family, attending Fickett Middle and Palo Verde High schools. He went to Northwest Missouri State University on a football scholarship.
Moore received a bachelor's degree in marketing and went on to earn a master's in management from Clarkson University in Potsdam, N.Y.
Returning to the UA was a homecoming as well. He previously served as a fundraiser in the Eller College of Management, before moving to the University of Northern Colorado.
"I love Tucson and having the opportunity to move back here and work here and raise our family here is a blessing," Moore said.
He said he is honored to raise funds for research for type 1 diabetes. He has seen the work of the Steele Children's Research Center and its director, Dr. Fayez K. Ghishan.
"For me to have the opportunity to work at a university where so many amazing doctors and researchers are working on cures and treatments to improve the quality of life for children is very rewarding. We can't do enough to make sure that people like Dr. Ghishan and others at the university have the resources they need to invest in our future – and that's our kids."
During Moore's tenure, the UA fund-raising program has averaged more than $180 million a year in gifts and commitments.
Investing in higher education is critical for the success of the community, Moore said.
"If we lose the ability to educate competent, capable citizens through quality, publicly funded universities, you can't even begin to think about how to develop a strong economy," said Moore, who was the first in his family to attend college. "Education changes your station in life."
Moore is active in the community, serving as a member of Southern Arizona Leadership Council and the Tucson Conquistadores. He is on the board of the Tucson Airport Authority, BBVA Compass Bank and Habitat for Humanity, among others.
But the best commitment of all? Fatherhood.
"I think that more men are comfortable in that role of being a dad, not just being the disciplinary figure but someone who can be a shoulder for their kid to lean on, and to be a partner with your spouse in raising the family," Moore said. "I'm very blessed."