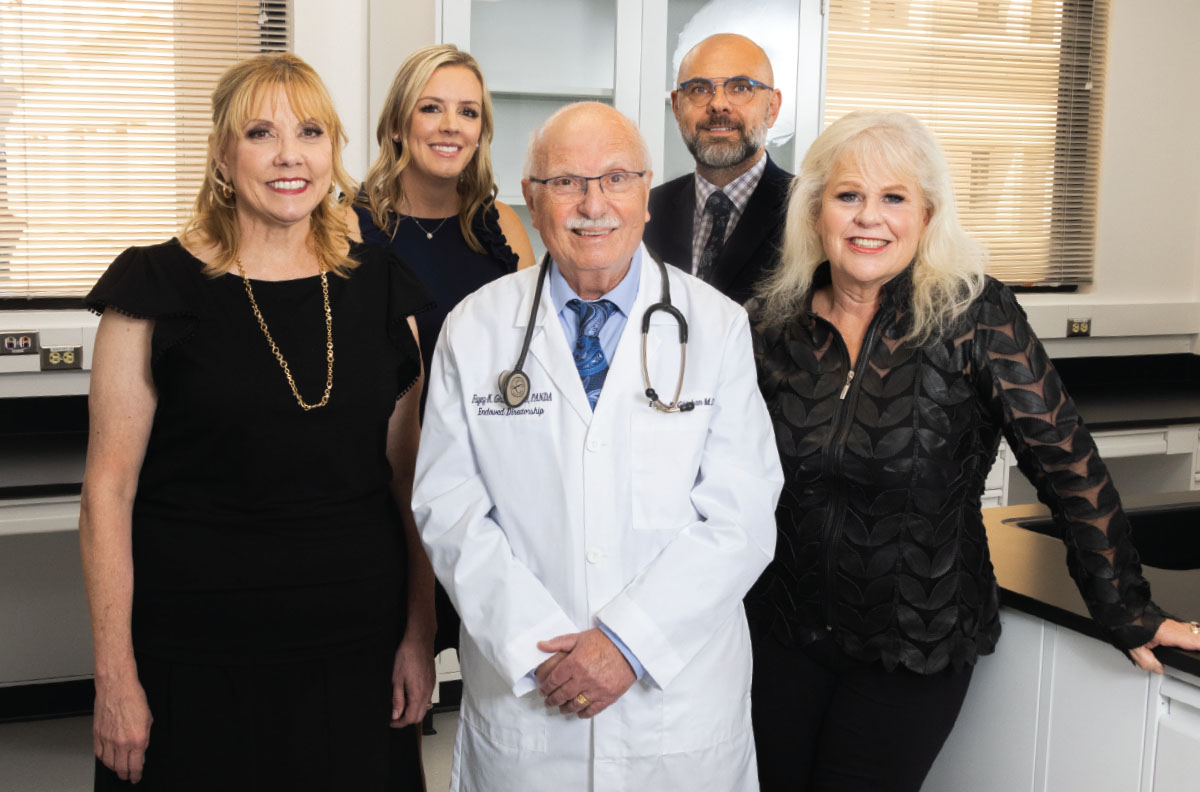 A Boost for Genetic Research  
Angel Charity for Children Chooses Steele Children's Research Center for $800,000 Grant
By Tiffany Kjos
Thousands of children who have lifelong illnesses have a brighter future thanks to a mom determined not to let her little boy's life go in vain.
Whole genome sequencing, which can pinpoint the genetic source of ailments such as cancer, autism and Type 1 diabetes, is now underway at the University of Arizona Steele Children's Research Center, where genetics labs are being renovated with an $800,000 grant this year from Angel Charity for Children, co-founded by Louise Thomas and now a philanthropic force in its 41st year.
Steele aligns with Angel Charity's mission of funding entities that help children with serious diseases.
"These scientists will be able to identify lifechanging disorders affecting children and be able to provide accurate treatment right away versus treating symptoms without a definitive diagnosis, in some cases which could lead to death, pain and suffering," said Laura Buckelew, chair of capital campaign underwriting for Angel Charity.
"This project is so much more than lab renovations," Buckelew said.
In his 28 years at Steele, Steele Children's Director Dr. Fayez Ghishan has drawn more than 100 physician-scientists here. With new equipment and the renovated labs, more top-notch doctors and researchers will surely be attracted.
"We can diagnose 60% of kids who have genetic diseases," said Ghishan, who called whole genome sequencing "the ultimate in figuring out the genetic source of a disease."
Steele, which has 65,000 patient visits annually, is "the only center here dedicated to genetic therapy for kids. And that would not have happened without the support of the community," Ghishan said. "We could not do it without Angel Charity and other people who raise money."
Thomas' son, Michael, died at age 9 in 1979 after undergoing treatment for non-Hodgkin's lymphoma. After he was diagnosed, Thomas traveled out of state and to Europe to find the best care. She ended up finding an oncologist in Tucson.
"When you're in a situation like that you need your family and friends around you," she said. "That's why I support projects like the Steele Center. We need the best scientists right here and in the state of Arizona for our children."
A founding member of Steele, Thomas was "jubilant"… when it was chosen from a competitive application process to receive the 2023 Angel Charity Impact Grant.
People Acting Now Discover Answers, or PANDA, the Phoenix women's board of Steele, provided the $1.3 million to buy the NovaSeq 6000 whole genome sequencer.
"How wonderful that now the proper equipment that will change the course of lives is going to be housed in the appropriate center," Thomas said.
It used to cost $1 million and take six months to complete whole genome sequencing. With the new equipment at Steele Children's, sequencing can be done on 48 children in 40 hours.
"We're going to get kids healthier faster because they're going to get answers faster," said Lori Stratton, Steele's director of development.
Thomas, now a "guardian angel emeritus" at Angel Charity, and Jane Loew Sharples in 1983 launched the nonprofit to retire the mortgage of the Ronald McDonald House, where families from out of town can stay for free while their child receives treatment at medical sites here.
Sharples died in 2018, but her work, and that of Thomas, continues to have a huge effect.
Children have access to treatment here, as do children from all across the state and beyond. Doctors everywhere can also reach out for assistance.
"We need to tell pediatricians, family doctors, internists in town, in Southern Arizona, 'Look, you have a facility in your backyard now. If you suspect something, give us a call and we will decide with you whether whole genome sequencing is adequate or not,' " Ghishan said.
Ghishan raised $2 million to create the endowed Louise Thomas Chair in Pediatric Cancer Research, held since 2005 by Dr. Emmanuel Katsanis, who leads a team at Steele in charge of conducting bone marrow transplants and researchers who are working to find ways to, according to Steele's website, stimulate a patient's immune system to fight cancer.
However, Thomas said, "Michael is the one that needs recognition, not me. He was very brave. He was an amazing child."
"I can't be more proud that Angel Charity was started because of Michael," she said. "So many things were started because of Michael … he lost his life, but look at the good that came from it."
Angel Charity has awarded $30.6 million in funding to 129 projects, affecting more than 1 million children in Pima County. It will kick off its grant funding with a "Halo for Hire" orientation seminar Oct. 3. Registered 501(c)3 organizations can attend to find out how the application process works. For more information, visit angelcharity.org
The Angel Ball
December 9, 2023
The Westin La Paloma Resort & Spa
Pictured above from left – Jeannie Nguyen, Angel Charity for Children Chair; Laura Buckelew, Angel Charity Director of Capital Campaign Underwriting; Dr. Fayez K. Ghishan, Director of Steele Children's Research Center; Daniel Laubitz, Director of PANDA Core for Genomics and Microbiome Research and Carrie Durham, Angel Charity Vice Chair. Photo by Brent G. Mathis