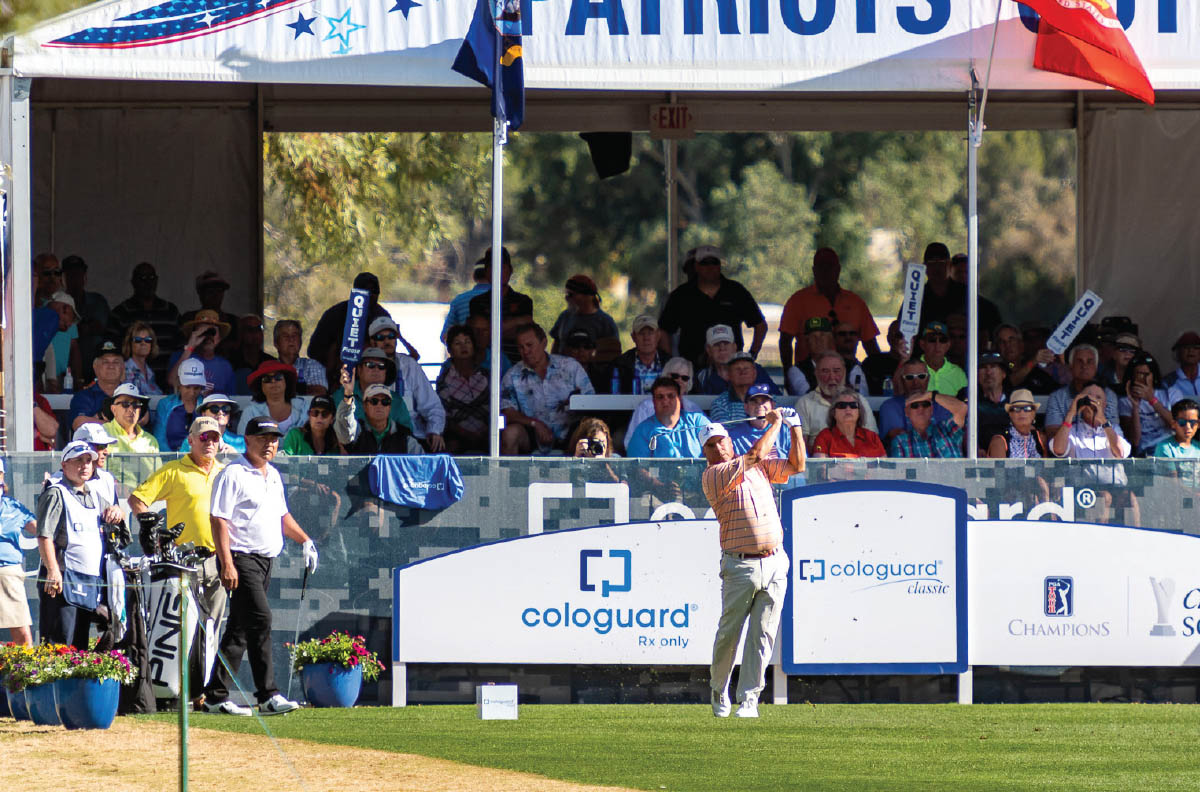 2023 Cologuard Classic by Exact Sciences Announces Pro Commitments
Tournament Chairman JV Nyman has announced the latest round of player commitments to the 2023 Cologuard Classic by Exact Sciences, set to be played at Omni Tucson National Resort's Catalina Course, Mar. 3-5.
Miguel Angel Jimenez will return to defend his 2022 title against 2020 Cologuard Classic champion Bernhard Langer, 2018 tournament champion Steve Stricker, University of Arizona alum Jim Furyk, World Golf Hall of Fame member Ernie Els, and Cologuard ambassador Jerry Kelly. Other past tournament champions currently in the field include Marco Dawson (2015), Woody Austin (2016), Tom Lehman (2017), Mark O'Meara (2019), and Kevin Sutherland (2021). First-time Cologuard Classic participants include PGA TOUR Champions rookies Justin Leonard and Notah Begay III.
The 2023 Cologuard Classic will feature a 78-player field competing for a $2.2 million purse, with $330,000 to the winner. PGA TOUR Champions golfers have until Feb. 24 to commit to play in the Cologuard Classic. Therefore, the field will continue to change as players with higher priority rankings commit to play in the tournament.
Alpha Field List
2023 Cologuard Classic by Exact Sciences
As of 2/14/2023
Allen, Michael
Allenby, Robert
Ames, Stephen
Andrade, Billy
Appleby, Stuart
Austin, Woody
Barron, Doug
Begay III, Notah
Bertsch, Shane
Broadhurst, Paul
Cejka, Alex
Choi, K.J.
Clarke, Darren
Cooper, Brian
Dawson, Marco
DiMarco, Chris
Duke, Ken
Durant, Joe
Duval, David
Els, Ernie
Estes, Bob
Flesch, Steve
Frost, David
Funk, Fred
Furyk, Jim
Goosen, Retief
Goydos, Paul
Green, Richard
Herron, Tim
Huston, John
Jaidee, Thongchai
Janzen, Lee
Jiménez, Miguel Angel
Jobe, Brandt
Jones, Steve
Karlsson, Robert
Kelly, Jerry
Labritz, Rob
Langer, Bernhard
Lehman, Tom
Leonard, Justin
Lyle, Sandy
Maggert, Jeff
Mayfair, Billy
McCarron, Scott
McKenzie, David
Mediate, Rocco
Montgomerie, Colin
O'Meara, Mark
O'Neal, Timothy
Pampling, Rod
Parel, Scott
Pavin, Corey
Pernice Jr., Tom
Petrovic, Tim
Quigley, Brett
Sauers, Gene
Senden, John
Short, Jr., Wes
Sluman, Jeff
Stankowski, Paul
Stricker, Steve
Sutherland, Kevin
Toms, David
Triplett, Kirk
Verplank, Scott
Waldorf, Duffy
Weir, Mike
Yang, Y.E.
"With the tournament just three weeks away, the field is really beginning to take shape," said Nyman. "The latest round of commitments includes some of the most recognizable and fan-favorite players on the PGA TOUR Champions. We'll be announcing more commitments as well as sponsor exemptions as we move closer to the event."
Cologuard Classic tickets and hospitality packages are now on sale on the tournament's website,  www.CologuardClassic.com  for Friday, Saturday and Sunday (March 3 – 5). Admission to the second round of the tournament on Mar. 4, includes admission to the golf tournament and the evening Cologuard Classic Military Tribute Concert sponsored by DM50, Tucson Appliance Company and HSL Properties, featuring country music artists Chase Rise and Chayce Beckham.