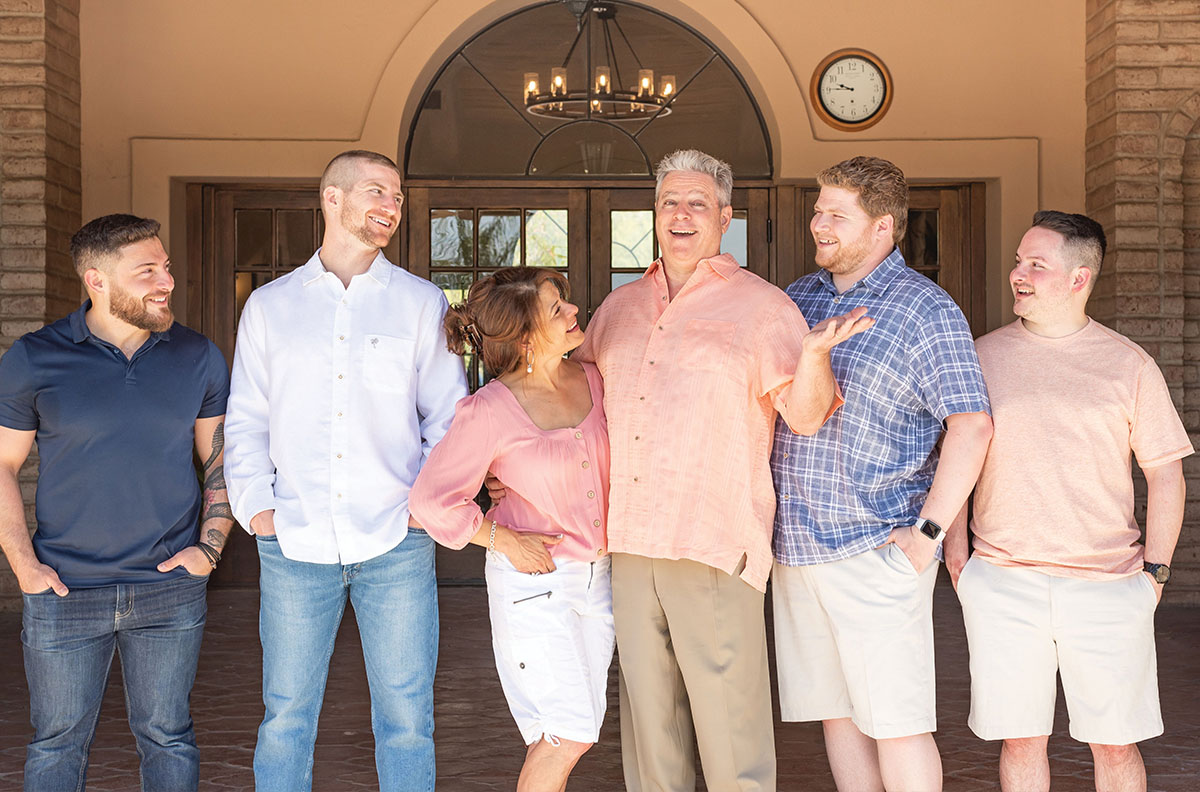 Fierce Dedication to Family
By Tara Kirkpatrick
When Vance Falbaum and Tammy Caillet-Falbaum married and blended their families, they brought together four young boys. Through epic pillow and blanket forts, multiple sports, musical instruments and video games, they would become a loving band of brothers under the couple's care.
Sure, there might have been a dart-throwing incident with a fog machine and possibly a little brotherly butt-kicking from time to time.
Yet, now working in different cities, all four young men are eager to return to Tucson to see Vance celebrated by the Father's Day Council as one of the 2023 Father of the Year honorees at its June 4 gala. "I feel very honored to be selected to be sure," said Vance. "I certainly appreciate the acknowledgement and the purpose of the whole program."
"I'm incredibly proud of him and 100% believe that this is very well-deserved because he's been an absolutely wonderful dad," said son Barrett Falbaum. "He has always put family first."
Indeed, Barrett and his brother Mason, along with Tammy's twins Ryan and Tyler Caillet are all on Vance's speed dial in the mornings when he drives to work as a managing director and financial advisor at RBC Wealth Management. He just goes down the list until one answers.
"I feel very privileged that he is so present in my life," said Barrett.
The twins praise Vance as a man they embraced from the start. "With our new family, he didn't show any favoritism toward one person," said Ryan. "He worked so hard all the time. He was kind of the glue of the family."
"He's raised me and Ryan since we were 7," added Tyler. "Vance took on that role without even being asked. He made it to all of our lacrosse and baseball games. He made it no matter what."
Both Tammy and Vance were very involved in the boys' active sports lives and relied greatly on a massive, color-coded calendar as they were growing up. They would spend long hours at Udall Park and later, Salpointe Catholic High School going to games, working the snack bars and supporting their sons. Tammy chaired the high school's foundation gala in 2014.
"He was so actively involved in their lives," said Tammy, who co-owns and manages T & R Investments and serves on the Tucson Medical Center Foundation Board. "He coached their soccer teams, he went to every single game. No matter where it was, Vance was always there."
She also credits him for his patience. "He's very even-keeled and the boys really benefitted from that."
Having grown up on the East Coast, Vance moved to Tucson in the 1960s for his father's job in federal law enforcement. After graduating from Virginia Tech, he completed post-graduate studies at The Wharton School of the University of Pennsylvania, New York University and Michigan State University. He also earned a master's degree in legal studies from the University of Arizona's James E. Rogers College of Law.
Vance returned to Tucson in 1988 for a position in wealth management. Today, he is a Forbes Best-In-State Wealth Advisor (2023) and a member of RBC's Chairman's Council, which represents the firm's top 150 financial advisors out of 2300 nationwide. He's also very active in the community, serving on the boards of the Tucson Airport Authority, Goodwill Industries of Southern Arizona and Boys and Girls Clubs of Tucson. Vance is also a member of DM-50 and Salpointe's investment committee.
Now that their boys are grown and flown, Vance and Tammy still relish time with them on family trips and love how close they remain. Mason and Barrett visit each other often and Ryan and Tyler live on the same street. The boys stay connected online as well, gaming together frequently.
"As they have pursued their own paths and have accomplished meaningful things to them, I am proud of the men they have become," Vance said. "They even call me and ask for advice from time to time.  It is nice to still be involved in their lives, even if from a distance."
Pictured above from left – Ryan Caillet (27),  Mason Falbaum (28), Tammy, Vance, Barrett Falbaum (26) Tyler Caillet (27)