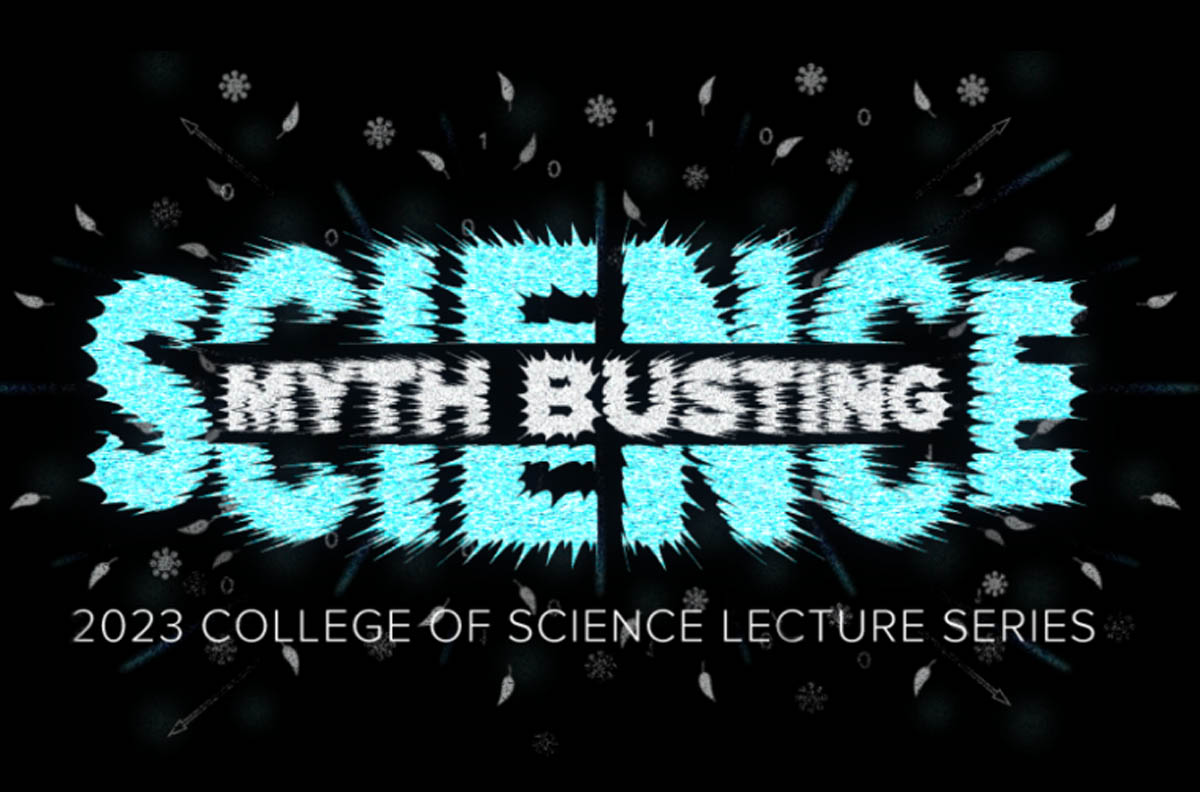 UArizona College of Science to Host Myth-Busting Lecture Series
The free discussions by University of Arizona faculty members will delve into aging, computer technology, climate change and COVID-19, and discuss how science can help sort fact from fiction.
By Logan Burtch-Buus, University Communications
The world is full of misconceptions. Some are innocent and inconsequential, while others are serious and could lead to widespread societal damage. In a world of competing realities and viewpoints, sometimes we must ask ourselves a simple question: How can we be sure what we know to be true is, in fact, the truth?
Science can often provide answers. 
That is the idea behind the University of Arizona's 18th annual College of Science Lecture Series, which will explore how different scientific disciplines can help shed light on some of the world's most held misconceptions.
"This is a great way to bring together a large and really diverse audience to share in some of the university's current, cutting-edge research in a way that makes it accessible and understandable to the public," said Carmala Garzione, dean of the College of Science. "Science helps us solve fundamental problems and pursue really interesting opportunities, and our goal is to convey how science enables us to get closer to understanding. The discussions will also hopefully help people understand how science works as we progress or move forward through a problem."
The free lecture series begins Feb. 1, runs through March 1 and will take place over four installments in person at Centennial Hall. The lectures will be livestreamed on the College of Science YouTube page, where they will also be available for future viewing. Doors open to the public each night at 6:15 p.m.
In partnership with Arizona Arts Live, local musicians will perform prior to each lecture, beginning at 6:30 p.m. A poet from the University of Arizona Poetry Center will also read an original poem created for each topic immediately preceding the lecture. All lectures begin at 7 p.m.
The 2023 College of Science Lecture Series schedule:
Feb. 1 – Precision Aging: Busting the one-size-fits-all myth
Lee Ryan, head of the Department of Psychology, associate director of the Evelyn F. McKnight Brain Institute and director of the Cognition and Neuroimaging Laboratory
Do we all age the same way, and at the same rate? What happens to my brain as I get older? In this talk, Ryan will break down some of the most pervasive myths about aging, share new science on brain aging and cognitive changes over the course of a life, and explain some exciting national studies on aging led by the university.
Feb. 8 – Are computers as smart as you think?
Eduardo Blanco, associate professor of computer science
In our modern technoculture, we interface with computers in almost every aspect of our lives, whether it be personal computers, cell phones, cars or even kitchen appliances – but how smart are they, really? Blanco will focus on the intelligence of computers, what they can accomplish and their limitations.
Feb. 15 – Climate is always changing. So why is climate change a problem?
Jessica Tierney, professor of geosciences
If we look at the history of our planet, the climate has always changed – so why are scientists saying it's a problem now? Tierney's discussion will address that issue head on and provide insight into what science can tell us about the realities of our changing world.
March 1 – Origins of the COVID-19 Pandemic: Facts and Fallacies
Michael Worobey, professor and head of the Department of Ecology and Evolutionary Biology
Few if any topics have dominated our lives like COVID-19, and the whole world is awash in facts and fictions about the pandemic. Scientists are now reporting what they're learning about the origins of the disease, but can we trust them? Worobey will lay the groundwork for a factual understanding of the coronavirus and help dispel some common misconceptions.