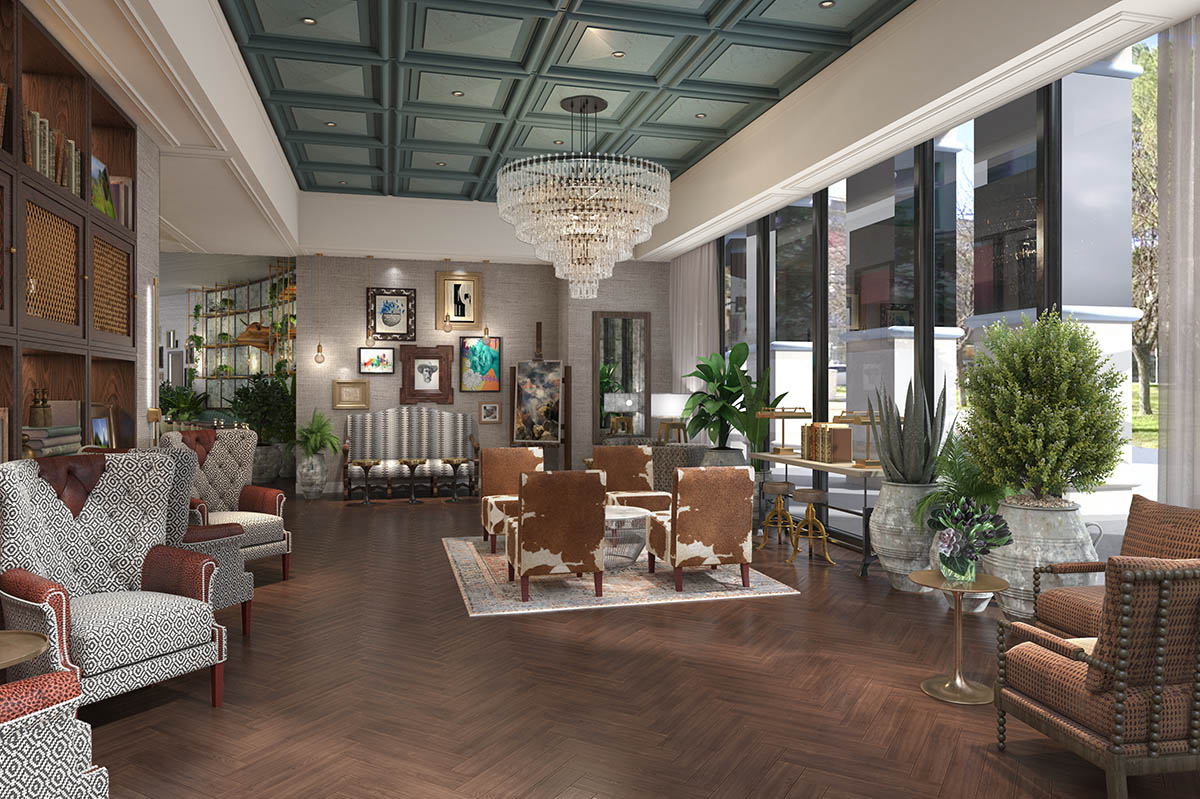 The Leo Kent Hotel Opens in Downtown Tucson
The Leo Kent, Tucson, a Tribute Portfolio Hotel, has opened inside the iconic One South Church building. The lifestyle hotel was conceived and developed by Opwest Partners in collaboration with Iridius Capital and Remington Hotels. The hotel hopes to attract more residents and visitors alike to the heart of Tucson, helping spread the joy and history of the community. The new hotel joins Tribute Portfolio – Marriott Bonvoy's growing global family of characterful, independent hotels drawn together by their passion for captivating design and their drive to create vibrant social scenes for guests and locals alike.
"A stay at this community-focused boutique property is more than just a place to lay your head," said Tyler Kent, founder and managing principal of Opwest Partners. "Every detail speaks to the unique cultural heritage of this region, so whether you're a first-time visitor or a longtime resident, this hotel is the perfect gateway to discovering the best of Tucson's rich history, traditions, and natural beauty."
The hotel's architect, Nelsen Partners, and interior designers BBGM and MONOGRAM Hospitality Interiors at BBGM accentuate Tucson's unique history and soul through modern classical southwestern design, featuring a robust collection of indoor plants and art inspired by local animals and landscapes. The art created by Tucson native Jane Barton takes inspiration from the Sonoran Desert and the artist's home in Arizona. Guests can spot native trademarks such as Arizona Buttes, the Saguaro Cactus, The Greater Roadrunner, and Tucson skyline incorporated throughout the hotel's design. Spanning across nine floors, the 145-room property includes amenities such as a fitness center, function hall, meeting spaces, and The St. Cruz restaurant – a casual dining outlet that offers to-go options, with an elevated bar and lounge.
Inspired by the Santa Cruz River and its history as a life source for Tucson, The St. Cruz will feature southwestern-inspired flavors curated by Tucson-native chef Devin Pinto. The hotel will source various local ingredients and feature local beers, wines, and liquor in the bar. The Leo Kent is only steps away from the SunLink Modern Streetcar Route, connecting guests to the rest of Downtown Tucson and the University of Arizona. Other nearby attractions include the Arizona State Museum, Fox Theatre, and numerous retail stores, bars, and restaurants.
"The Leo Kent is a place where guests can truly immerse themselves in the spirit of the region and experience all of its unique flavors and traditions," said Jill Nghiem, The Leo Kent's general manager. "We are excited to welcome guests to our incredible city just in time for spring."
The Leo Kent is the second high-end boutique lifestyle property that Opwest Partners has opened in the past 18 months, highlighting the firm's focus on lifestyle hospitality assets and delivering best-in-class authentic urban destinations.
"We are thrilled to be partners in the newest and best lifestyle hotel in Tucson," said Sloan Dean, CEO of Remington Hotels. "Opwest Partners have been visionaries in developing the Leo Kent, and we are excited to be part of that vision."
The Leo Kent will participate in Marriott Bonvoy – the award-winning travel program from Marriott International – allowing members to earn and redeem points for their stay at the new hotel, and at other hotels and resorts across Marriott Bonvoy's extraordinary portfolio of brands. With the Marriott Bonvoy app, members enjoy a level of personalization and a contactless experience that allows them to travel with peace of mind.
The Leo Kent is located at 1 South Church Ave., and is now accepting bookings. Rates start at $185 per night.