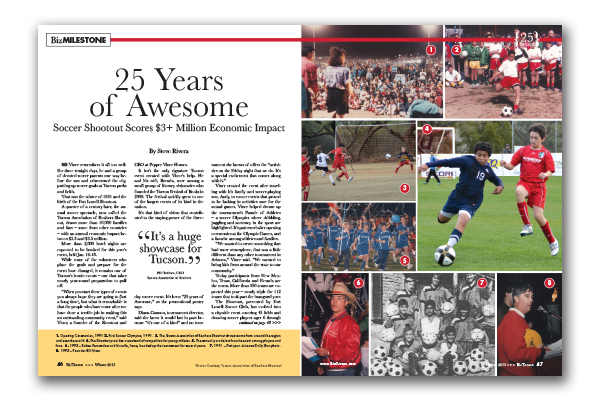 25 Years of Awesome – Soccer Shootout Scores $3+ Million Economic Impact
By Steve Rivera –
Bill Viner remembers it all too well. For three straight days, he and a group of devoted soccer parents rose way before the sun and crisscrossed the city, putting up soccer goals at Tucson parks and fields.
That was the winter of 1991 and the birth of the Fort Lowell Shootout.
A quarter of a century later, the annual soccer spectacle, now called the Tucson Association of Realtors Shootout, draws more than 10,000 families and fans – some from other countries – with an annual economic impact between $3.3 and $3.5 million.
More than 2,000 hotel nights are expected to be booked for this year's event, held Jan. 16-18.
While some of the volunteers who place the goals and prepare for the event have changed, it remains one of Tucson's iconic events – one that takes nearly year-round preparation to pull off.
"When you start these types of events you always hope they are going to (last a long time), but what is remarkable is that the people who have come after me have done a terrific job in making this an outstanding community event," said Viner, a founder of the Shootout and CEO at Pepper Viner Homes.
It isn't the only signature Tucson event created with Viner's help. He and his wife, Brenda, were among a small group of literary visionaries who founded the Tucson Festival of Books in 2009. The festival quickly grew to one of the largest events of its kind in the nation.
It's that kind of vision that contributed to the staying power of the three-day soccer event. It's been "25 years of Awesome," as the promotional poster says.
Diana Cannon, tournament director, said she knew it would last in part because "it's one of a kind" and no tournament she knows of offers the "activities on the Friday night that we do. It's a special excitement that comes along with it."
Viner created the event after traveling with his family and soccer-playing son, Andy, to soccer events that proved to be lacking in activities save for the actual games. Viner helped dream up the tournament's Parade of Athletes – a soccer Olympics where dribbling, juggling and accuracy in the sport are highlighted. It's patterned after opening ceremonies at the Olympic Games, and a favorite among athletes and families.
"We wanted to create something that had more atmosphere, that was a little different than any other tournament in Arizona," Viner said. "We wanted to bring kids from around the state to our community."
Today participants from New Mexico, Texas, California and Nevada are the norm. More than 350 teams are expected this year – nearly triple the 112 teams that took part the inaugural year.
The Shootout, presented by Fort Lowell Soccer Club, has evolved into a citywide event covering 45 fields and drawing soccer players ages 6 through 14. It's common to see teams from Mexico and other countries taking part.
The event transcends soccer. Cannon, now in her 15th year associated with the tournament, said one of her fondest memories is hosting a team from Taiwan whose young athletes served as ambassadors for their country, playing soccer around the world.
"The cultural interchange with the teams was so memorable," Cannon said. "Even though they didn't speak English and our guys didn't speak their language, it was so heartwarming that through the game of soccer there was camaraderie and friendship."
Angel Natal, director of sports for Visit Tucson, said the TAR Shootout "has an excellent balance of local and visitor participation.
"The City of Tucson Parks and Recreation team has done an excellent job of cultivating an excellent relationship with this event," Natal said. "It's a testament to the investment the TAR Shootout makes back to the community."
TAR is in the middle of a three-year, $82,500 agreement to serve as title sponsor.
"We're proud to be the sponsor because of the economic development component," said Phil Tedesco, CEO of Tucson Association of Realtors.
"It's a wholesome event that brings families together," Tedesco said. "It's a huge showcase for Tucson."
Cannon said families often say that the Shootout is one of the best soccer experiences of their lives. "What they always mention is the Friday night activities," she said.
The Shootout sees former participants who are now coaches bringing their teams to play in the event.
Marking the 25th anniversary in January will be fireworks and other surprise activities to celebrate the event's enduring success.
"It has matched any expectations I had about the tournament," Viner said. "But did I really think that it was going to 360 teams? I don't even think I thought in those terms. It was all about creating an event that was different."