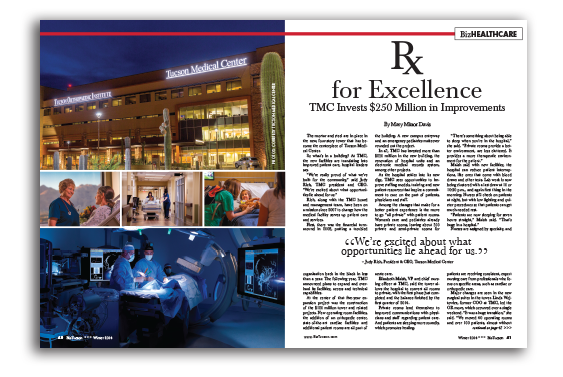 RX for Excellence TMC Invests $250 Million in Improvements
By Mary Minor Davis
The mortar and steel are in place in the new, four-story tower that has become the centerpiece of Tucson Medical Center.
So what's in a building? At TMC, the new facilities are translating into improved patient care, hospital leaders say.
"We're really proud of what we've built for the community," said Judy Rich, TMC president and CEO. "We're excited about what opportunities lie ahead for us."
Rich, along with the TMC board and management team, have been on a mission since 2007 to change how the medical facility serves up patient care and services.
First, there was the financial turnaround in 2008, putting a troubled organization back in the black in less than a year. The following year, TMC announced plans to expand and overhaul its facilities, access and technical capabilities.
At the center of that five-year expansion project was the construction of the $120 million tower and related projects. New operating room facilities, the addition of an orthopedic center, state-of-the-art cardiac facilities and additional patient rooms are all part of the building. A new campus entryway and an emergency pediatrics makeover rounded out the project.
In all, TMC has invested more than $250 million in the new building, the renovation of hospital units and an electronic medical records system, among other projects.
As the hospital settles into its new digs, TMC sees opportunities to improve staffing models, training and new patient resources that inspire a commitment to care on the part of patients, physicians and staff.
Among the changes that make for a better patient experience is the move to go "all private" with patient rooms. Women's care and pediatrics already have private rooms, leaving about 500 private and semi-private rooms for acute care.
Elizabeth Maish, VP and chief nursing officer at TMC, said the tower allows the hospital to convert all rooms to private, with the first phase just completed and the balance finished by the first quarter of 2014.
Private rooms lend themselves to improved communications with physicians and staff regarding patient care. And patients are sleeping more soundly, which promotes healing.
"There's something about being able to sleep when you're in the hospital," she said. "Private rooms provide a better environment, are less cluttered. It provides a more therapeutic environment for the patient."
Maish said with new facilities, the hospital can reduce patient interruptions, like ones that come with blood draws and other tests. Lab work is now being clustered with a last draw at 10 or 10:30 p.m., and again first thing in the morning. Nurses still check on patients at night, but with low lighting and quieter procedures so that patients can get much-needed rest.
"Patients are now sleeping for seven hours straight," Maish said. "That's huge in a hospital."
Nurses are assigned by specialty, and patients are receiving consistent, expert nursing care from professionals who focus on specific areas, such as cardiac or orthopedic care.
Major changes are seen in the new surgical suites in the tower. Linda Wojtowicz, former COO at TMC, led the OR move, which occurred over a single weekend. "It was a huge transition," she said. "We moved 40 operating rooms and over 100 patients, almost without incident. It took a village."
The new facilities have been met with high approval from patients and physicians, Wojtowicz said.
"Patients are finding the OR experience very positive," she said, adding that new surgeons are expressing interest in using the facility.
The hospital has acquired new robotic technology, including the da Vinci robotic surgical system.
Wojtowicz shared several of the lessons learned in making the transition to the new facility.
For starters, there was the impact of the tower itself. TMC, a traditional single-level facility, had at one time held the title as the largest single-story hospital in the United States.
Emergency response and evacuation procedures had to be completely rewritten and taught, as they had to incorporate stairwell egress and other factors into the plan.
Staffing changes also focused on centralizing resources by floor as opposed to units for better efficiency, and the task of delivering sensitive and sophisticated supplies and equipment had to be coordinated with the operating rooms covering two floors.
Among the changes was the need for training in "elevator etiquette."
"TMC staff had never had to deal with these issues," she said. "Things like transporting patients (load head or feet first?), knowing what you should and should not say in a public elevator with a patient, who gets out first – these are all things that needed to be taught to hundreds of staff and volunteers."
New facilities are helping to grow some of the hospital's specialty services.
Anita Bach, director of cardiac services, said the ability to perform transvascular aorta valve replacement procedures and having the hybrid cardiac/catheter operating facilities is attracting referrals from physicians.
"It's really given us the opportunity to grow the vascular program," she said.