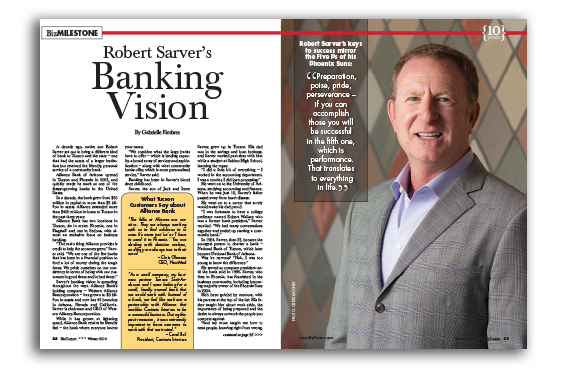 Robert Sarver's Banking Vision
By Gabrielle Fimbres
A decade ago, native son Robert Sarver set out to bring a different kind of bank to Tucson and the state – one that had the assets of a larger institution but retained the friendly, personal service of a community bank.
Alliance Bank of Arizona opened in Tucson and Phoenix in 2003, and quickly made its mark as one of the fastest-growing banks in the United States.
In a decade, the bank grew from $20 million in capital to more than $3 billion in assets. Alliance extended more than $400 million in loans to Tucson in the past three years.
Alliance Bank has two locations in Tucson, six in metro Phoenix, one in Flagstaff and one in Sedona, with almost an exclusive focus on business banking.
"The main thing Alliance provides is credit to help the economy grow," Sarver said. "We are one of the few banks that has been in a financial position to lend a lot of money during the tough times. We pride ourselves on our consistency in terms of being with our customers in good times and in bad times."
Sarver's banking vision is spreading throughout the west. Alliance Bank's holding company – Western Alliance Bancorporation – has grown to $9 billion in assets and now has 42 branches in Arizona, Nevada and California. Sarver is chairman and CEO of Western Alliance Bancorporation.
While it has grown at lightning speed, Alliance Bank retains its friendly feel – the bank where everyone knows your name.
"We combine what the large banks have to offer – which is lending capacity, a broad array of services and sophistication – along with what community banks offer, which is more personalized service," Sarver said.
Banking has been in Sarver's blood since childhood.
Sarver, the son of Jack and Irene Sarver, grew up in Tucson. His dad was in the savings and loan business, and Sarver worked part-time with him while a student at Sabino High School, learning the ropes.
"I did a little bit of everything – I worked in the accounting department, I was a courier, I did loan processing."
He went on to the University of Arizona, studying accounting and finance. When he was just 18, Sarver's father passed away from heart disease.
He went on to a career that surely would make his dad proud.
"I was fortunate to have a college professor named Robert Wallace who was a former bank president," Sarver recalled. "We had many conversations together and ended up starting a community bank."
In 1984, Sarver, then 23, became the youngest person to charter a bank – National Bank of Tucson, which later became National Bank of Arizona.
Was he nervous? "Nah, I was too young to know the difference."
He served as company president until the bank sold in 1994. Sarver, who lives in Phoenix, has flourished in the business community, including becoming majority owner of the Phoenix Suns in 2004.
He's been guided by mentors, with his parents at the top of the list. His father taught him about work ethic, the importance of being prepared and the desire to always outwork the people you compete against.
"And my mom taught me how to treat people, knowing right from wrong, honesty, ethics, integrity," he said.
Armed with solid life lessons, Sarver created a bank that helped save businesses during the crushing recession.
"We were there to try to provide the needed resources for businesses, including small businesses. Small businesses are still the backbone of the state in terms of employment. And that is really the niche we fill," he said.
"If you've got a business that wants to bank with a company that's a little bit smaller and more personalized in terms of the services, we're that option. But at the same time we have the resources, sophistication and the products of the larger banks. We provide credit services to businesses all the way up to $40 million."
How was Alliance able to grow when other institutions faltered?
"We were fortunate in that we were able to raise a significant amount of capital early on in the process which enabled us to have the resources to provide credit and actually grow our franchise significantly during the down times," Sarver said.
Duane Froeschle, president of Alliance Bank of Arizona, oversees operations from his Tucson office.
Froeschle previously worked with Sarver at National Bank of Arizona for 15 years.
"When Alliance Bank was formed, we decided there was an opportunity to have a different presence in the market, a way to fill a unique need," he said.
"We rely on experienced local bankers that understand the marketplace and have a complete underwriting presence in dealing with clients locally," Froeschle said.
Clients have direct contact with top decision makers who know them and understand the Tucson market. The average banker at Alliance has 20 years of banking experience, with 15 of that in Tucson.
Because of its resources, Alliance has migrated through tough financial times and is poised for expansion, Froeschle said. The bank now competes against the three big national banks that dominate market share, he added.
Jan Rowe, senior VP and director of marketing for Western Alliance Bancorporation, said the bank's commitment to service – and responsiveness – sets it apart.
"The same model we started with is resonating even more today. People want a real relationship with a banker who is committed to them and can think outside the box," Rowe said. "It's the right model for the right time."